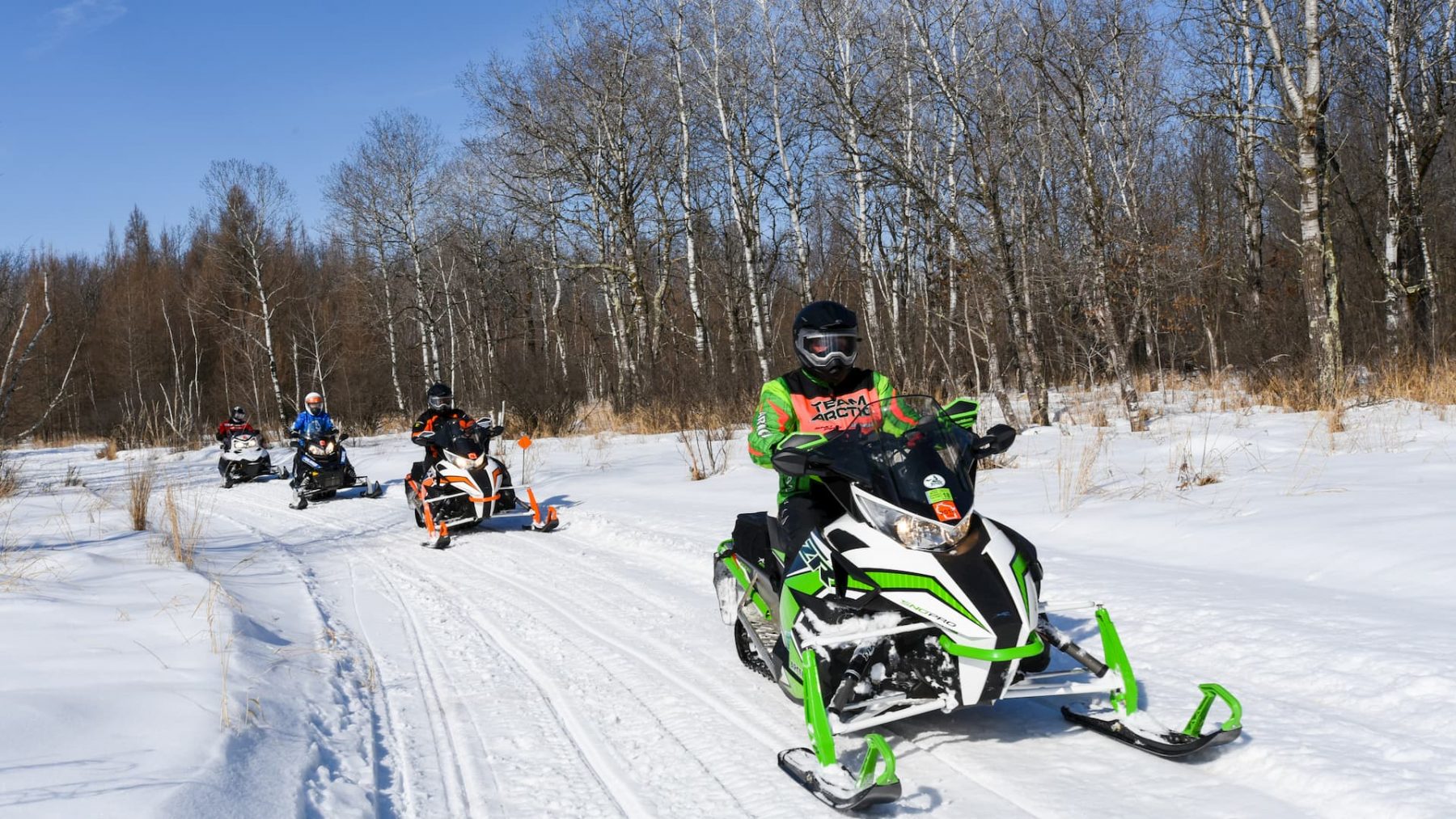 Wisconsin Snow Report: a little snow makes a big difference
Updated: 01/28/20
On many of the state's trail systems, things are finally starting to look up. In the last week, literally thousands of miles of trails opened up across Wisconsin. In all, here are trails open or partially open in more than 40 of Wisconsin's 72 counties, up from a dozen a week ago. Many trails remain in early season condition soo please use caution.  Here's an update on snow trail conditions and where you can find the best snowmobiling in Wisconsin. Enjoy the ride!
Note: Please check with individual businesses like restaurants and lodging properties for information on any changes in hours or services due to COVID-19.
Northwest Wisconsin
Conditions vary widely in northwest Wisconsin.  Sawyer County trails are rated "good" by the clubs there. The base is up to 8-10 inches. It's heavily ridden, with is keeping groomers very busy. Ashland County trails opened to the delight of riders there. Loo out for a few bare spots as the trails are rated "fair."
Trails in Bayfield County are open and rideable but rated fair with a base that ranged anywhere from 2-12 inches.
Trails also remained closed in Rusk County with riders hoping the next snow system places them in the bullseye.
Western Wisconsin
Trails in St. Croix County have opened, although the base is just 3-5 inches. Conditions were recently upgraded to "good
Northeast Wisconsin
Trail conditions continued to vary in the far northern counties. Some trails were open, although most areas would benefit from more snow. Use caution on trails and near lakes.
Trails were open in many areas of Vilas County, although the area continues to need more snow.
Some trails in Oneida County are finally open – conditions are mixed so use caution!
The Presque Isle Area has a trails that range from "good"  with a few icy corners – be careful.  Boulder Junction has similar conditions, with some sections even rated "very good." The current base is 6-10 inches.
Trails in Eagle River are rated "fair" with a mix of conditions – the base ranges from 2-10 inches.   Please stay on the trail as off-trail riding could jeopardize future easements.
Trails in St. Germain ware looking better shape, upgraded to "good" with some good riding to be found. Land O' Lakes trails were open and continue to be rated "fair" with a base of 6-8 inches.
Wisconsin snowmobile maps
Wisconsin snowmobile information