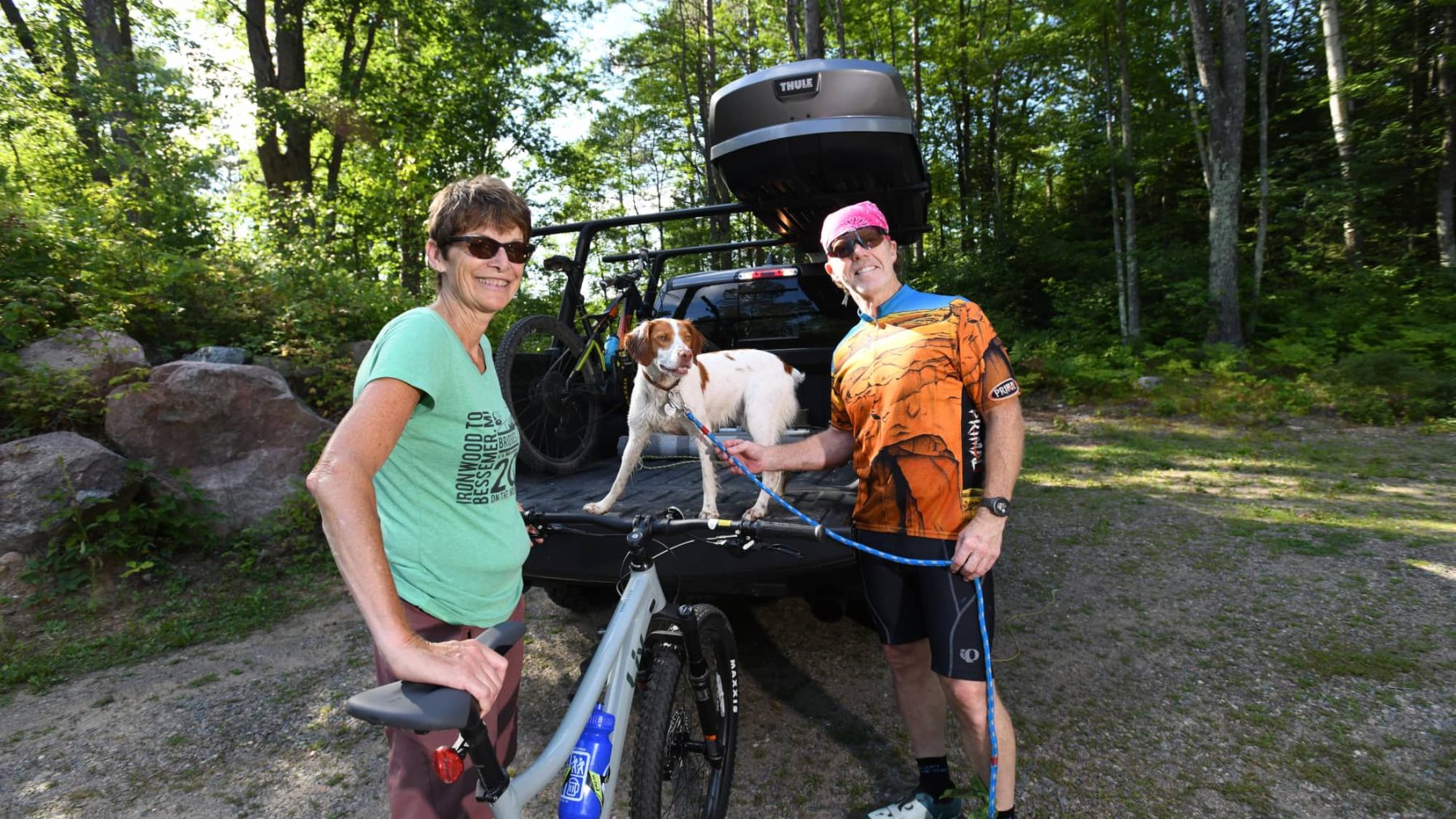 Your guide to Wisconsin's best mountain biking
Wisconsin has some of the best mountain biking in the Midwest, including trails that will take you through wild forests or past Northwoods lakes. Load up your bike and grab your helmet—here are a few of our favorite rides.
Lumberjack Trail
This trail, located between the Manitowish River and White Sand Lake just outside of Boulder Junction in Vilas County, offers mountain biking loops of 4.6 or 12.5 miles through the Northern Highland-American Legion State Forest. A Wisconsin state trail pass is required for biking. Parking is available on Concora Road west of White Sand Lake or Highway K east of White Sand Lake.
Middleton Bike Park
Some outstanding riding can be found just minutes from downtown Madison. The Middleton Bike Park is located at Pleasant View Golf Course, with an entrance just off the parking lot. The bike park features three main components: a pump track, a jump line and a short single-track loop. The pump track is a winding course that runs over mounds of dirt known as rollers. The track is approximately 5,000 square feet and is designed so that a rider doesn't need to pedal. Instead, riders maintain their momentum by moving their bodies in a pumping motion. Miles of additional trails will take you through the surrounding woods and prairie.
Standing Rocks County Park
In the Stevens Point Area, this rugged county park is a favorite spot for winter enthusiasts, featuring Nordic ski trails, snowshoe trails and a downhill run. In the warmer months, some of these trails become the domain of mountain bikers. Riders will find a challenging 13-mile network to explore in this wooded park, including plenty of climbs and thrills.
Razorback Ridges
Mountain bikers will find trail riding heaven just outside Sayner in the beautiful Northwoods of Vilas County. Razorback Ridges is a beautiful trail system containing more than 12 miles of trails, including cross-country riding and challenging single track.
Camp Vits Park
The city of Manitowoc's first mountain bike trail opened in the fall of 2013 at Camp Vits Park, a 76-acre park located along the Manitowoc River west of downtown. Park at the trailhead at South Park View Road and Westbury Court and explore a 2-mile beginner trail with three advanced sections that branch off the main loop.
Mud Lake Trail
The home of the Hodag is also home to some of the best riding in the Northwoods. Just north of Rhinelander in Oneida County, you'll find the Mud Lake Trail, an eight-mile system of single and double-track trails that occasionally hosts mountain bike races. The fun doesn't stop when the snow flies—the trails are groomed for fat biking in the winter.