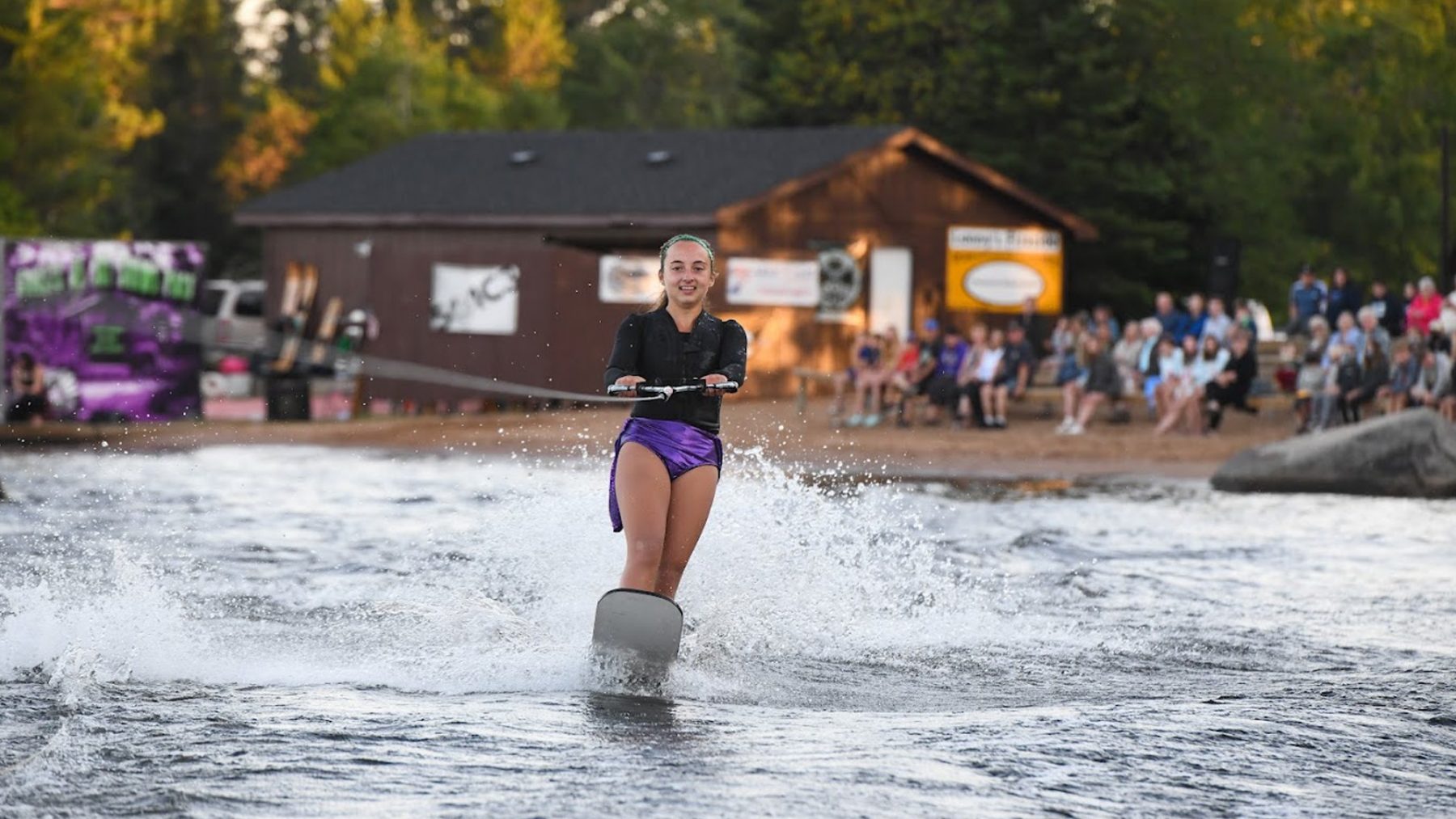 Photo Credit: Vilas County Tourism
Enjoy northern Wisconsin's waterski shows this summer
The Northwoods of Wisconsin is home to a wonderful summer tradition. Every year, visitors gather on the shores of scenic northern Wisconsin lakes to watch talented waterski teams perform amazing aquatic feats—here's a look at where you can find these fun, family-friendly shows.
One of the oldest waterski show teams in the country, the Min-Aqua Bats formed in 1950 when a group of young waterski enthusiasts began skiing on Northwoods lakes on Sunday afternoons. Those shows began attracting a crowd, and by 1952, the Min-Aqua Bats were performing shows on a regular basis. Today, the ski team performs free shows on Wednesdays, Fridays, and Sundays from mid-June through mid-August on Minocqua Lake.
Plum Lake in central Vilas County is home to the Plum Ski-ters Water Ski Show Team, which has been dazzling Northwoods visitors since the 1960s. The Ski-ters perform on Plum Lake on Wednesdays and Saturdays throughout the summer (head to Statehouse Point just off Razorback Road on the north side of the lake to catch the free show).
Another ski show to see in Vilas County takes place on Tuesdays, Thursdays, and Saturdays on Lake Pleasant along U.S. Highway 45. The Chain Skimmers started out in Eagle River in 1970 but purchased 100+ acres surrounding Lake Pleasant in the late '70s and have been entertaining locals and visitors alike there ever since.
Head to Three Lakes in Oneida County—specifically Big Stone Lake on Highway 32—to marvel at the tricks, flips, and acrobatics of the Three Lakes Aqua Devils, who have been performing since 1958. Aqua Devils shows take place every Wednesday and Saturday from mid-June to mid-August.
Visitors to Tomahawk in the summertime can enjoy an evening of family fun along the Wisconsin River as they take in a show from the Kwahamot Water Ski Show Team. Kawhamot (that's "Tomahawk" backwards) Ski Shows started in 1960 and take place on Tuesdays, Thursdays, and Saturdays from Memorial Day through Labor Day.
Other water ski shows in Wisconsin