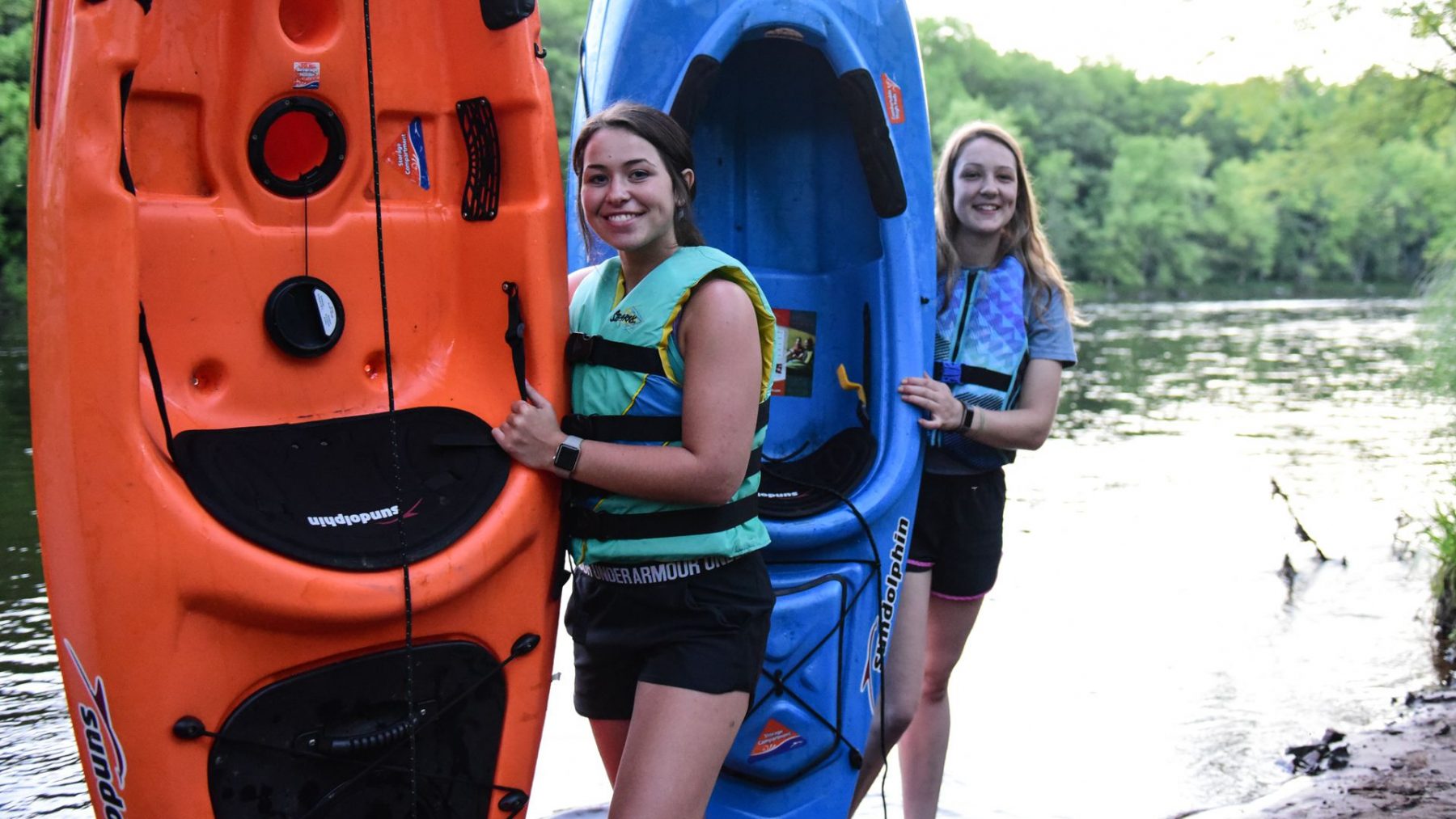 Where to find find a fun outdoor adventure with your family
Spring is an excellent time to get outdoors with your family! Check out these ways to enjoy Mother Nature with kids of any age:
Paddling
Rusk County is the perfect spot for family paddling and is home to four wild rivers: the Jump, Chippewa, Flambeau and Thornapple. The Chippewa River is a great place for families to launch a canoe or kayak. If you start at Bruce, where the Chippewa meets up with the Flambeau River, you can find about 18 miles of calm water great for beginners or families with younger kids. Bring your binoculars because loons, wood ducks and herons are common. Another nice, easy paddling option is Boom Lake in the heart of Rhinelander. This 365-acre lake is actually a flowage of the Wisconsin River, which cuts through Rhinelander, and it's easy to get on the river–there's a boat launch in Hodag Park. It's a great place to launch a canoe or kayak, and Boom Lake is a good starting point for paddling adventures on the Wisconsin River or the Rhinelander Flowage.
Biking
Head to Boulder Junction to hop on the Heart of Vilas County Paved Bike Trail System—it's a 52-mile route that connects several communities in the heart of the Northwoods, including St. Germain, Sayner, Boulder Junction, Manitowish Waters, and Mercer. As the name suggests, it's a paved route, so it's an easy ride for bikers of all skill levels. In Stevens Point, check out the 27-mile Green Circle Trail. It loops through the Stevens Point Area and connects with 45 miles of additional trails. It winds through forests and parks, over wetlands and along the Wisconsin and Plover rivers.
Hiking
The Star Lake Nature Trail is located on a peninsula extending into Star Lake, in the town of the same name in the beautiful Northwoods of Vilas County. More than a century ago, it was a pasture for horses that hauled logs to a nearby mill and was also one of the state's first tree nurseries. Now, the trail is full of mature trees and winds along the shores of beautiful Star Lake. You'll cross boardwalks and wildflower patches and pass a picnic area and a beach. You can choose from a mile-long interpretive nature trail or a 2.5-mile long hiking path, both manageable for younger kids. Keep your eyes peeled for eagles, loons, deer and porcupines.
Zoo Day
Marshfield is home to the free, 60-acre Wildwood Park & Zoo. Here you'll be free of long lines and you won't need any reserved tickets—it's an easy zoo to visit and enjoy. There are mountain lions, bobcats, timber wolves, bison, elk, raptors, prairie dogs and the stars of the show—twin Kodiak bears! These bears are a rarity for zoos and their exhibit is very impressive, giving them room to move and play in a natural environment. Visitors love to watch the bears splash, play, eat and climb.
Geocaching
West Bend is the Geocaching Capital of the Midwest, home to more than 1,600 geocaches! Geocaching is a high-tech treasure hunt where you search for hidden objects, called geocaches, using your smartphone. Kids love geocaching—it's a great way to get them excited about working together, and while it's challenging, they rarely get discouraged along the way. It's a great way to enjoy nature because many of the geocaches are found in parks, on the trails, in the Kettle Moraine and along the Milwaukee River and Sculpture Walk.
Hiking/Biking/Birdwatching all in one
If you've got a crowd to please, check out Middleton! The city's Pheasant Branch Conservancy is 550 acres of protected land where you can hike, bike or birdwatch. You're right in the middle of town, but surrounding by stillness and serenity. The conservancy is a mix of woodland, wetland and oak savanna, so the scenery is always changing as you make your way through. The creeks and ponds in the center of the preserve attract wading birds and waterfowl, while the marshes draw in ducks, herons, geese and cranes. Altogether, Pheasant Branch is home to more than 200 species of birds. Also look for turtles, mink, woodchucks, otters, fox, deer and turkey along the way. For the most part, the terrain is easy. Don't miss Frederick's Hill, which features a Native American burial mound dating back about 2,000 years.
Heart-pounding outdoor adventures
If you've always wanted to feel like you were flying, Northwoods Zip Line Adventures in Minocqua (located in Oneida County) is the place to go. It's the biggest zip line adventure course in Wisconsin, and the Northwoods pine trees provide a beautiful canopy to zip under. There's a smaller course for kids as young as three, and a more challenging course that includes nine zip lines, five adventure bridges and the chance to zip 1,000 feet over a lake. While you're flying, look for deer, eagles and other wildlife that call the area home. They also offer kayak tours, aerial trekking and an off-road ATV tour.