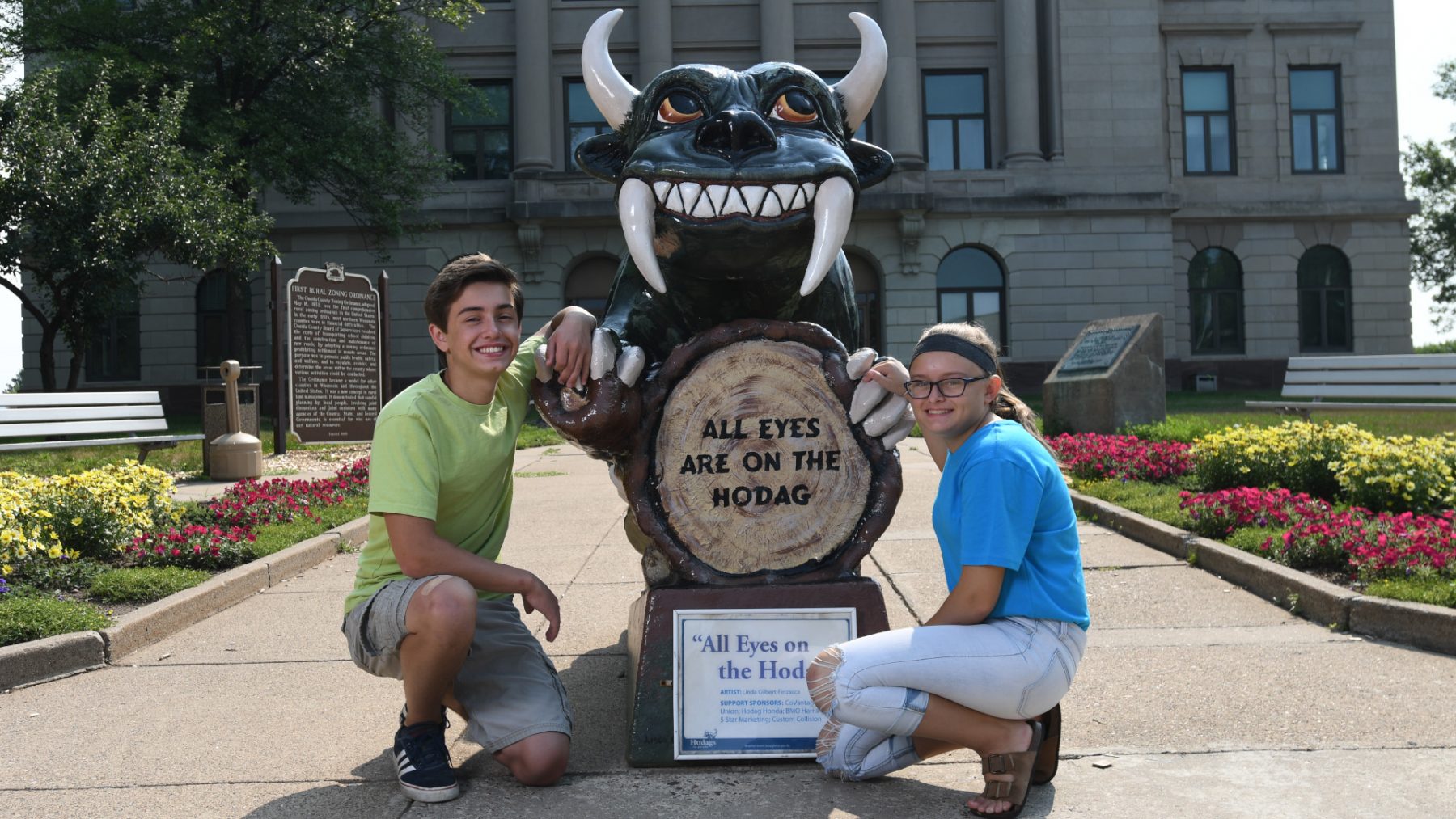 Photo Credit: Explore Rhinelander
Wisconsin's must-see roadside attractions
Whether you want to stand in the mouth of a giant musky or take a selfie with a reclusive Northwoods beast, you can find plenty of unique roadside attractions throughout Wisconsin. Here's a few you shouldn't miss.
Where to go: Hayward
What to do: See a giant musky
Hayward in northwestern Wisconsin is known for its big fish, but there are none bigger than the giant musky outside the National Freshwater Fishing Hall of Fame. The musky—which is half a city block long and 4½ stories tall—sits atop an 88,000-gallon pond and is home to the museum's "Shrine to Anglers." Visitors can walk up the stairway to reach an observation platform in the musky's massive mouth that offers views of Lake Hayward, the city and the surrounding area.
Where to go: Rhinelander
What to do: Go on a Hodag hunt
Rhinelander is the home of the mythical Hodag—something that's obvious as you set foot in this Oneida County city. You'll find Hodags pretty much every where you look, from signs for local businesses to sculptures scattered throughout town. (Be sure to stop at the Rhinelander Area Chamber of Commerce building on Kemp Street for a photo op with a larger-than-life Hodag.) Use this handy Hodag Finder to uncover the locations of all Rhinelander's Hodags and learn more about this Northwoods legend.
Where to go: Vilas County
What to do: See the world's largest penny
Head to southern Vilas County to find a tribute to a historic Northwoods humanitarian. Dr. Kate Pelham Newcomb—known affectionately as "Dr. Kate" and the "Angel on Snowshoes" to her patients—practiced medicine in the Northwoods in the mid-20th century. In the 1950s, she began raising money for a hospital in Woodruff, and that campaign led to the "Million Penny Parade," with money coming in from across the country to help construct the new medical facility. Today, Dr. Kate's contributions are memorialized at the World's Largest Penny in Woodruff (near the intersection of Highways 47 and 51) and the nearby Dr. Kate Museum.
Where to go: Marshfield
What to do: Marvel at creatures from the "Iron Age"
Just north of Marshfield in central Wisconsin, you'll find artistic oddities big and small at Jurustic Park, a folk-art haven that shows off the works of local resident Clyde Wynia. Wynia uses discarded scrap metal to create dragons, turtles, cats and anything else he can think up. Several of his works can be found along the newly established Downtown Jurustic Trail, too—take the half-mile trek past downtown Marshfield's shops and restaurants to find all the statues along the trail.
Here are a few more Wisconsin roadside attractions to add to your list: