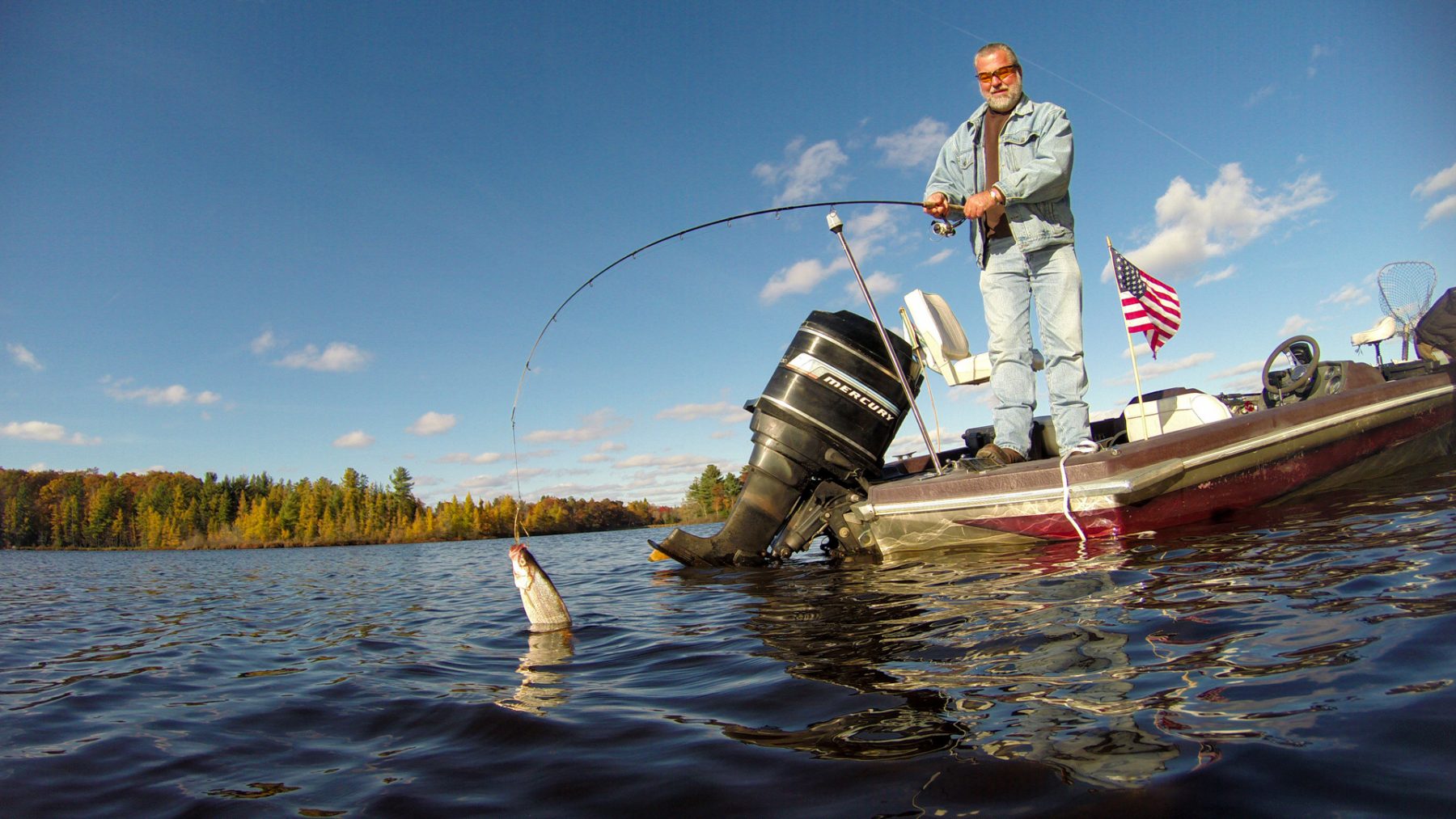 Wisconsin's best bass fishing lakes and rivers
There are few outdoor pursuits as exciting as bass fishing. Wisconsin is home to both largemouth and smallmouth bass, and you'll find one or both species in nearly every lake in the state. But bass are not just ubiquitous—they're also some of the most aggressive predators in the water. Bass don't have teeth like a musky or pike, but they do have a giant and powerful mouth with which they swallow up small fish, worms, frogs, insects and pretty much anything they can catch. When a bass hits your bait or lure, there's no doubt about it.
Almost every Wisconsin River or lake holds bass. But some Wisconsin bass fishing opportunities are in a class all their own. In no particular order, here are four of Wisconsin's top bass fishing destinations.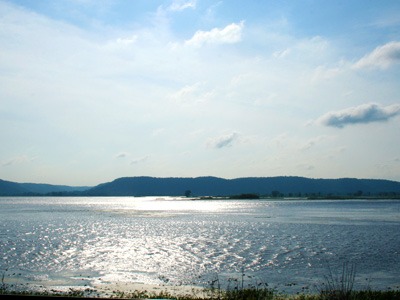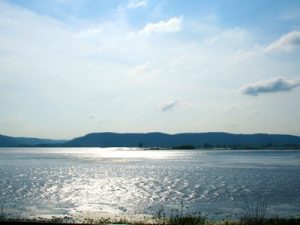 Mississippi River – Wisconsin Great River Road
On Wisconsin's western border, you will find a 250-mile-long bass fishing playground. Both largemouth and smallmouth bass are abundant in the Mississippi River. Largemouth tend to be found in the sprawling backwaters, which offer abundant forage, lush plant life and numerous places for a big bass to hide. Smallmouth, on the other hand, tend to be found in protected areas close to current. Look for fish near structures such as wing dams, small islands and deeper holes.
The Mississippi River is huge. For the bass angler, that means nearly endless fishing opportunities. In some of the wider pools, it could take a lifetime to fish all the winding backwaters. If other boats start appearing all around you and it starts feeling a little bit crowded, you only need to go a mile or two up or down the river and you'll find some peace and quiet again.
You'll find dozens of excellent boat launches all along the Wisconsin Great River Road National Scenic Byway, which follows the river from Prescott to Kieler. Bass fishing is open all year on the Mississippi River. Find information about lodging and dining along the river at https://www.wigrr.com/.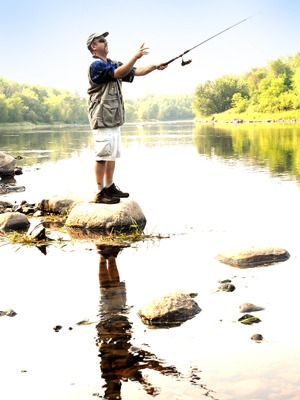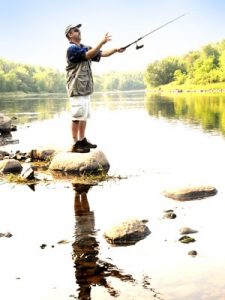 Flambeau River – Rusk County
For smallmouth bass fishing, there are few destinations as good as the Flambeau River in Rusk County. Smallmouth in the Flambeau River grow big and beefy, with wonderful color and markings.
The smallmouth lurk in both the narrow, fast-moving sections of river as well as the wide, slow-moving flowages. Successful fishing in the narrow sections means finding deeper holes and places where swift current meets slack water.
In flowages, you'll want to fish like you're on a lake. The dark-stained waters of the Flambeau lend themselves to spinner baits, buzz baits and crankbaits that send a vibration out into the water. With the Flambeau's numerous muskies, don't be surprised if you hook into a toothier predator than you expected.
The Flambeau River in Rusk County is in the Northern Bass Management Zone, which means a catch-and-release bass fishing season runs from May 7 to June 17. The regular season opens June 18. Get complete trip planning information for Rusk County at www.ruskcountywi.com.
Pelican Lake – Oneida County
There are a lot of good bass lakes in Oneida County. However, Pelican Lake stands out above all the rest. At more than 3,500 acres, it is a big lake. In addition to numerous smallmouth bass, the clean waters of Pelican Lake harbor largemouth bass, perch, bluegill, crappie, northern pike, walleye and musky. Taken as a whole, Pelican Lake offers an outstanding fishery.
If you're targeting the lake's beautiful bass, you need to pay attention to the weeds. Start your hunt for bass along the weed edges. Look for variations in the weed line and bottom structure. Another good technique is tying on a plastic worm and slowly fishing along the piers and other shore structures. The reward is a fight with one of Pelican Lake's well-fed smallies.
Oneida County is in the Northern Bass Management Zone, which means a catch-and-release bass fishing season runs from May 7 to June 17. The regular season opens June 18. Find everything you need for an Oneida County fishing trip at www.oneidacountywi.com.
Trout Lake – Vilas County
Trout Lake is most famous for two types of fish: lake trout and musky. This big, deep, cold lake is home to an outstanding lake trout fishery – something which is unusual in Wisconsin. The gin-clear waters are also home to some of the biggest muskies in the state – and their enormous size is as famous as their elusiveness. Trout Lake even supports an excellent population of whitefish.
But we're interested in bass, and in that category, Trout Lake doesn't disappoint. Big smallmouth bass are the rule on this lake. Trout Lake smallies stay close to structure and close to shore. The clarity of the water means you need to approach with more stealth than you would on darker water. The clear water also means you should use baits with a more natural coloration.
One of the best reasons for fishing Trout Lake is the beautiful surroundings. Tall pines line the shores. Bald eagles are often seen overhead. The clean water allows you to see to surprising depths. Catching fish here is just icing on the cake.
Vilas County is in the Northern Bass Management Zone, which means a catch-and-release bass fishing season runs from May 7 to June 17. The regular season opens June 18. Get a list of lodging and dining options in Vilas County at www.vilas.org.