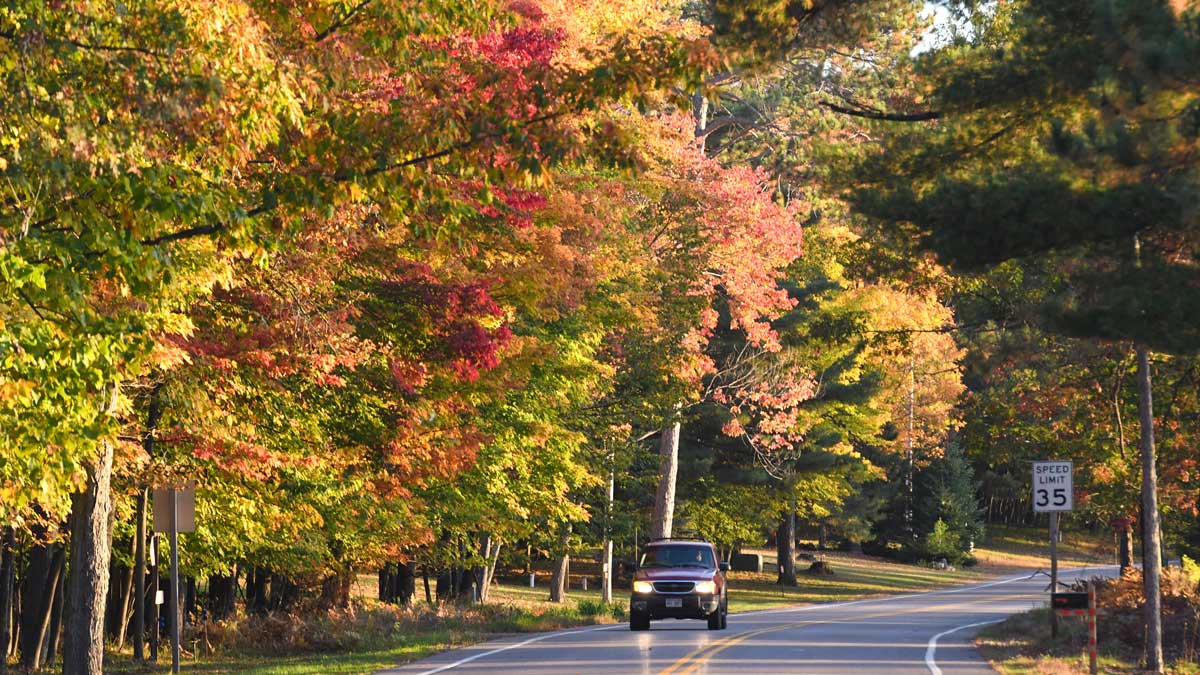 The best fall color drives in Oneida County
Sit back and enjoy the show—it's easy to take in the Northwoods of Wisconsin's stunning fall colors from your car or motorcycle. Here's a look at some great driving routes that will allow you to take in Oneida County's beautiful fall color show.
Rustic Road 58 and Rustic Road 59, Minocqua Area
Oneida County is home to two of Wisconsin's Rustic Roads—more than 100 lightly traveled rural routes notable for their scenery that can be found all around the state—and both are located in the Minocqua Area. Rustic Road 58 stretches for nearly 10 miles west of U.S. Highway 51 and south of State Highway 70 along Blue Lake Road and Mercer Lake Road, passing by the shores of both of those lakes as well as the Tomahawk River. Rustic Road 59 is basically tucked inside the route of Rustic Road 58—it's a Northwoods wilderness road that has paved and unpaved sections and travels for 4.5 miles along Sutton Road between Blue Lake Road and Highway 70.
Highway 107, Tomahawk
The northern end of this scenic state highway can be found near Tomahawk, but the highway itself stretches throughout the Northwoods, starting west of Mosinee and traveling through Merrill, where it begins to follow the Wisconsin River north to Tomahawk. The route is a popular ride for motorcyclists, especially during the fall color season, and the section of road that follows the Wisconsin River into Tomahawk offers a fun, twisty drive.
Rhinelander fall color drives
Rhinelander sits in the heart of Oneida County, so it's a great place to launch a fall color road trip. Here are three routes that will take you throughout the Northwoods.
Pelican Lake and Monico (43 miles): This route heads south and east of Rhinelander, passing the Enterprise County Forest and Pelican Lake
River Road (34 miles): Ride through the wilderness north of Rhinelander along the Wisconsin River
Sugar Camp and Three Lakes (48 miles): Take a scenic cruise through the nearby communities of Sugar Camp and Three Lakes.
See more information on these fall color routes here.
County Highway X, Three Lakes
This drive is on the shorter side—only about 15 miles—but it will take fall color seekers past some scenic Northwoods lakes. County Highway X starts just east of Three Lakes (take U.S. Highway 45 to State Highway 32 then head north) and takes a winding path before it hits Dam Road at Ninemile Creek. Along the way, motorists will see some of the lakes on the famed Three Lakes chain, including Island Lake and Little Fork Lake, as well as Long Lake. Take a short detour up Dam Road to see the Burnt Rollaways Boat Hoist, which has been lifting boats between the Three Lakes and Eagle River chains for more than a century.