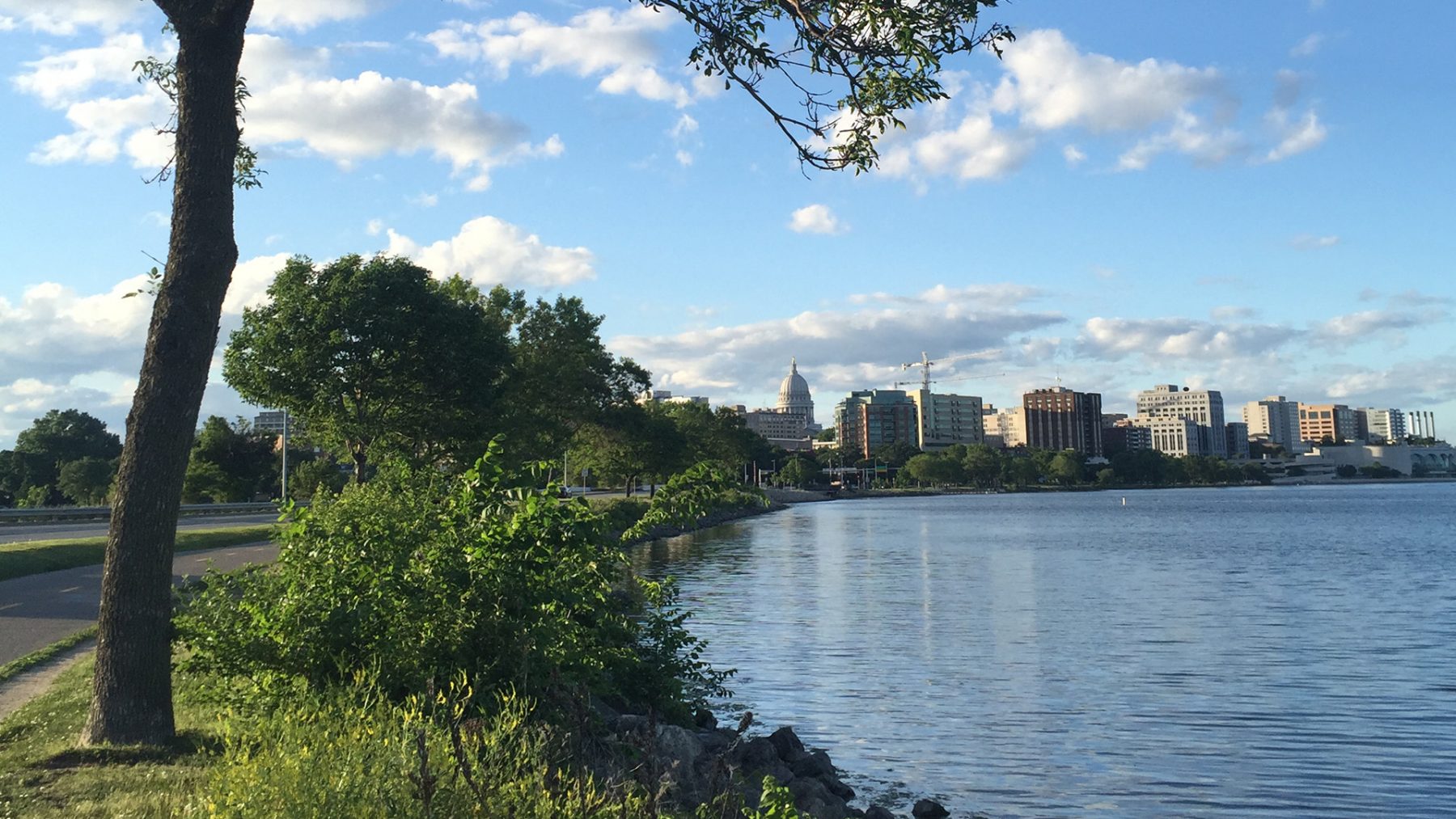 Capital City State Trail, Madison | Photo credit: Wisconsin Travel Best Bets
Your Wisconsin biking guide, by region
You'll find great bike trails all throughout Wisconsin, whether you're searching out lengthy road routes, a gentle ride to take with the whole family, or a cruise through the woods on some scenic single-track. Here's a region-by-region breakdown of some of the top places to pedal in the Badger State.
Northern Wisconsin
The Heart of Vilas County Paved Bike Trail System offers just what you'd expect: a scenic, easy ride on paved trails through the heart of Wisconsin's Northwoods. The trail extends for more than 50 miles, connecting the communities of St. Germain, Sayner, Boulder Junction, Manitowish Waters, and Mercer (which is actually across the border in Iron County, but who's counting). The ride is suitable for all ages and abilities and is a great way to explore northern Wisconsin's stunning scenery.
Nearby, mountain bikers can ride the WinMan Trails between Winchester and Manitowish Waters, home to nearly 20 miles of flow and cross-country trails.
Vilas County's neighbor to the south, Oneida County, offers a bevy of great biking options as well. The Bearskin State Trail follows a former railroad corridor from Minocqua on the Vilas-Oneida County border for more than 20 miles south to Heafford Junction just west of Rhinelander. The Three Eagle Trail stretches between Three Lakes and Eagle River to the north, and its crushed and compacted limestone surface offers an easy, enjoyable ride for bikers (it's also popular among walkers).
In northwestern Wisconsin, mountain bikers can enjoy a ride through the Blue Hills Trail System near Ladysmith, which is home to 22 miles of looping trails that pass through Rusk County's iconic Blue Hills. Another popular riding destination for mountain bikers is the CAMBA Trail System in Cable and Hayward, which has more than 300 miles of well-signed and mapped trails and has received special notice by the International Mountain Biking Association.
Central Wisconsin
Just north of Marshfield, the McMillan Marsh Wildlife Area surrounds the headwaters of the Little Eau Plaine River and contains a diverse landscape of wetlands, woodlands, and grasslands. Bikers in search of a short, scenic trip can enjoy a ride on a 5.5-mile crushed limestone and gravel path that's open seasonally from May to August.
Head to the shores of Lake Michigan in Manitowoc and Two Rivers, and you'll the Mariners Trail, a 6-mile paved trail that offers the longest continuous scenic view of the lake in the state of Wisconsin. You'll pass scenic overlooks, rocky coves, wide beaches, flower gardens, and much more. Once you reach Two Rivers, follow the signs to meet up with the Rawley Point Recreation Trail, which connects Two Rivers with Point Beach State Forest.
One of the state's most iconic trails is the Elroy-Sparta State Trail, a 32.5-mile route that connects Sparta in Monroe County with Elroy in Juneau County. Along the way, riders will traverse wetlands, prairies, and farmlands, as well as three tunnels. The Elroy-Sparta is considered the first rail-to-trail system in the United States and is enjoyed by locals and visitors alike every season.
The Fox River State Trail starts in Green Bay and winds along the Fox River before following a former railroad trail for 25 miles to the village of Hilbert in Calumet County. 
Southern Wisconsin
Mountain bikers can enjoy 10 miles of twisty single-track riding at Silver Lake Park just west of Kenosha. The fun trails offer riding for those of all abilities, and the 260-acre park is also home to a swimming beach, watersports on Silver Lake, an 18-hole disc golf course, and more.
Milwaukee's Oak Leaf Trail is an expansive system spread throughout the city and its suburbs, offering more than 135 miles of routes for cyclists. The system is mostly smooth asphalt, making it ideal for riders of all ages, and nearly 25% of the trail follows the Lake Michigan shoreline. Note that some portions of the trail use municipal streets and Milwaukee County parkways (which are shared with motorized traffic).
Wisconsin's capital city is home to the Capital City State Trail, which passes through Madison and connects the Military Ridge State Trail, the Badger State Trail, and the Glacial Drumlin State Trail. Nearly 10 miles of the Capital City State Trail pass through the Capital Springs State Recreation Area, a scenic spot south of Madison.