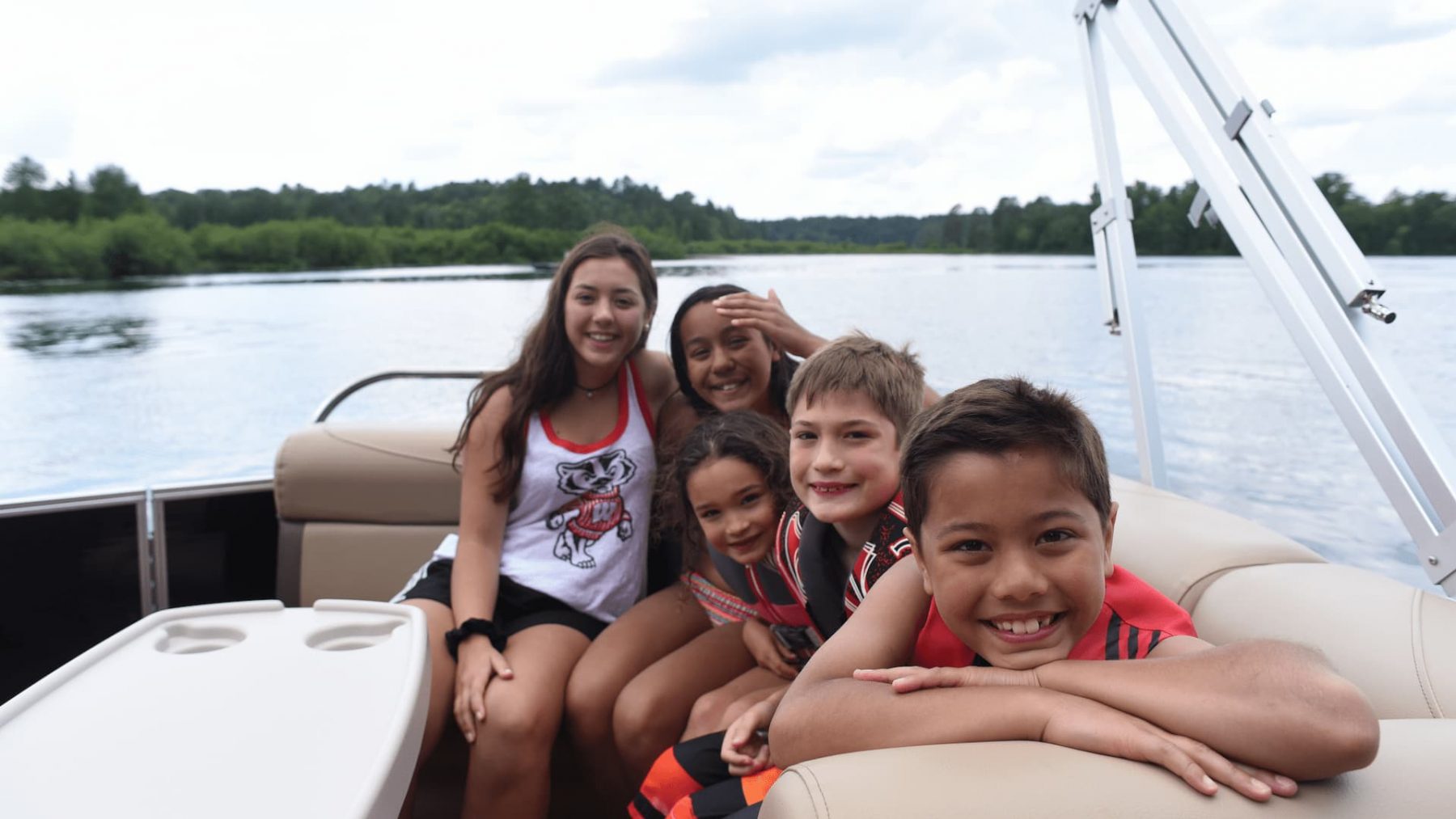 Cruise into a pontoon paradise
On a hot summer day, there's no need to move too fast, whether you're on or off the water. Wisconsin's lakes are the perfect place to soak up the sun, and a pontoon boat offers an experience that's just right for a lazy summer afternoon. There's plenty of room for friends and family, space for a cooler full of food and drinks and a stereo for your summer soundtrack. Here are three destinations that are perfect for a pontoon cruise.
Vilas County
There's no shortage of boating options in Vilas County. This Northwoods destination is home to more than 1,300 lakes, from postage-stamp-sized ponds tucked in the forest to deep and expansive lakes with endless shorelines to explore. For pontoon boating, it's hard to beat Vilas County's lake chains. The famous Eagle River chain has 29 lakes and 174 miles of shoreline to explore. In northern Vilas County, the Cisco Chain extends into Michigan waters with 15 lakes and 270 miles of shoreline. The Lac du Flambeau Chain has 10 beautiful spring-fed lakes and the Manitowish Chain O' Lakes has 10 connected lakes, including Little Star Lake, home to Little Bohemia Lodge, site of a 1934 gangster shootout involving John Dillinger.
Rusk County
Rusk County is known as the land of four rivers for good reason—it's home to the Flambeau, Chippewa, Jump and Thornapple Rivers—but the county also has some great lakes for boating. North of Ladysmith, Lake Flambeau (also known as the Dairyland Flowage) beckons boaters with more than 1,800 acres of water to explore. The flowage is popular with anglers, and it's one of the best spots in the area for a pontoon cruise (there are five boat landings that will get you on the water). The Holcombe Flowage (Lake Holcombe) extends into southern Rusk County and offers 2,800 acres of boating waters, where you'll find some boat-up establishments to get food and drinks.
Madison
For iconic Wisconsin views, take a pontoon cruise in Madison. On Madison's largest lake, Lake Mendota, you can cruise past some timeless campus sights. Passing the fraternity and sorority houses on Langdon Street, you may see a few students "studying" with a frisbee. You can boat past the famous Memorial Union, where people relax on the iconic colorful chairs with a beer, brat or ice cream. If the Tenney Locks are open, cruise over to Lake Monona and past the stunning Frank Lloyd Wright-designed Monona Terrace.