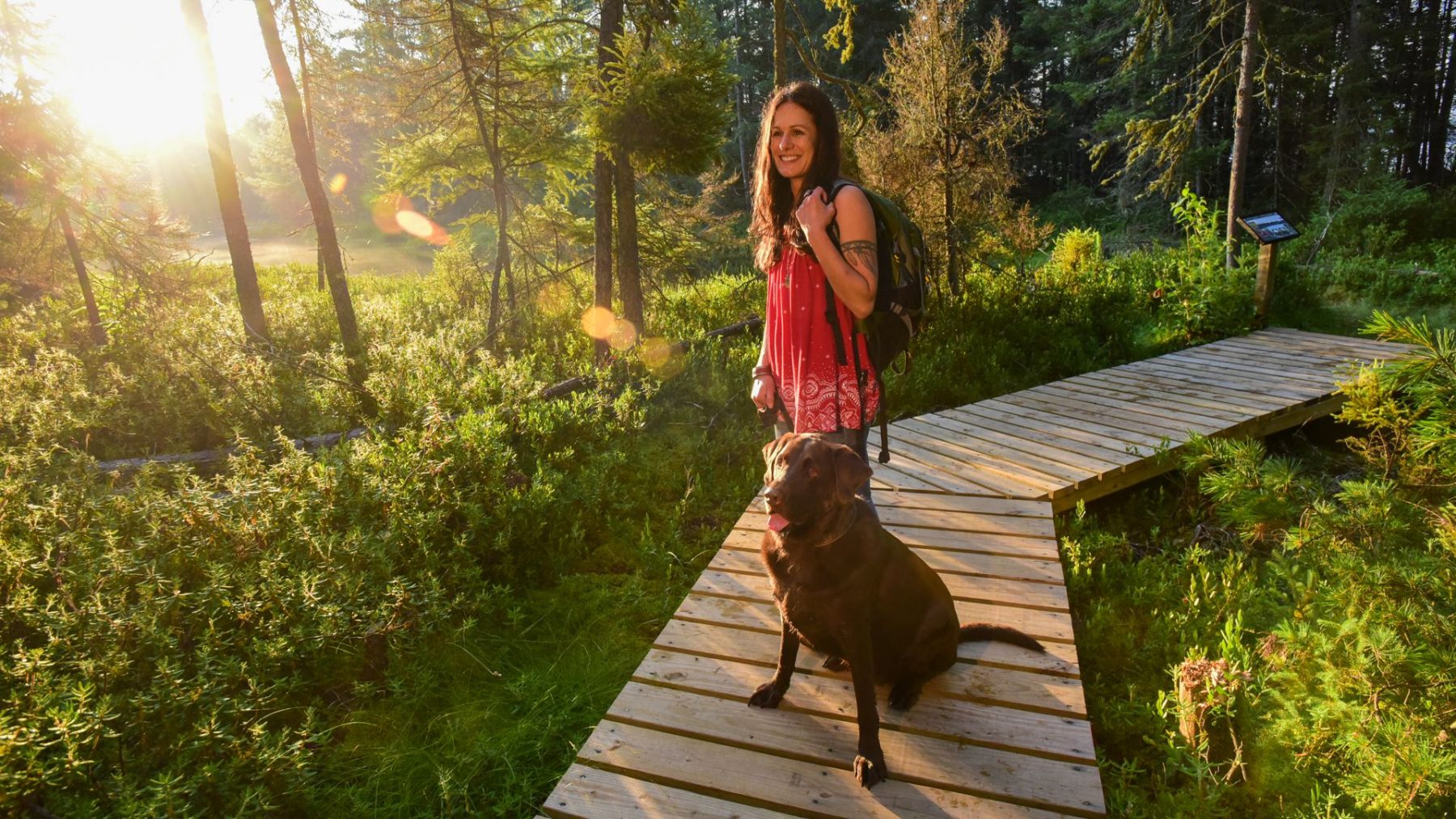 Photo Credit: Vilas County Tourism
Wild spots to see in Wisconsin this spring
Wisconsin is home to vast forests, stunning scenery, and endless trails waiting to be discovered, and spring is the perfect time to launch your next outdoor adventure. Here's a closer look at a few great places to go this spring, whether you're hiking, biking, or just taking a walk through the woods.
This scenic trail passes through four communities in Manitowoc and Brown counties in northeastern Wisconsin. Starting at Rockwood Road in Manitowoc and heading northwest to the village of Denmark, this 14-mile trail is open to walkers and bikers in the spring, summer, and fall and cross-country skiers and snowmobilers in the winter. Trail users will pass through some beautiful scenery, including farmlands, prairies, and wetlands—don't miss the views from the two steel trestle bridges (38 feet tall and 56 feet tall) that cross the Devil's River and its tributaries.
This popular trail follows a former railroad line for more than 21 miles from from Minocqua in Oneida County south to Tomahawk. (The trail takes its name from the Bearskin Creek, which it follows as it travels south.) The trail is compacted granite, meaning it's perfect for walking and bicycling in the spring and summer. A trail pass is required for bicyclists.
Set your coordinates for northwest Wisconsin: this ancient mountain range is a wild and undiscovered gem in Rusk County, filled with dense forest, glacial hills and rocky valleys. The Blue Hills are what's left of a mountain range that's older than the Rockies. The Blue Hills have been worn down by years of erosion but still rise about 600 feet above the surrounding forest. Explore on your own or hire a local guide to discover unique geologic features in the area.
In the Northwoods of Wisconsin, a paved bike trail will take you through one of the state's most beautiful forests. The Heart of Vilas County Paved Bike Trail System cuts through the Northern Highland-American Legion State Forest and connects the communities of St. Germain, Sayner, Boulder Junction and Manitowish Waters. You don't need to be an experienced mountain biker or own any special equipment—the trail system features smooth pavement suitable for all riders. All you need is your sense of adventure.
This picturesque trail near Boulder Junction in Vilas County is not long, but it's incredibly scenic and perfect for an adventure with small kids. The trail is located on a peninsula extending into Star Lake. More than a century ago, the area was a pasture used by horses that hauled logs to the nearby Star Lake Mill. The property is also the site of one of the state's first tree nurseries. Today the site bears little resemblance to a horse pasture or early tree farm—it's filled with mature trees and picturesque trails that wind along the shore of Star Lake.
Almon Park
This 160-acre park on the shores of Buck Lake is about 5 miles south of Rhinelander in Oneida County and offers lots of great opportunities for outdoor recreation, including two different nature trails (1 mile and 1.25 miles), a swimming beach, and n 18-hole disc golf course. See a map of the park here.
The Stevens Point Area in central Wisconsin is home to some of the state's best breweries, live music and public art. A special trail will take you through this lively area, and it's a particularly good bet for an adventure on two wheels. The Green Circle Trail extends 27.5 miles around Stevens Point, linking scenic natural areas along the Wisconsin and Plover rivers as it winds through forests, parks and wetlands.