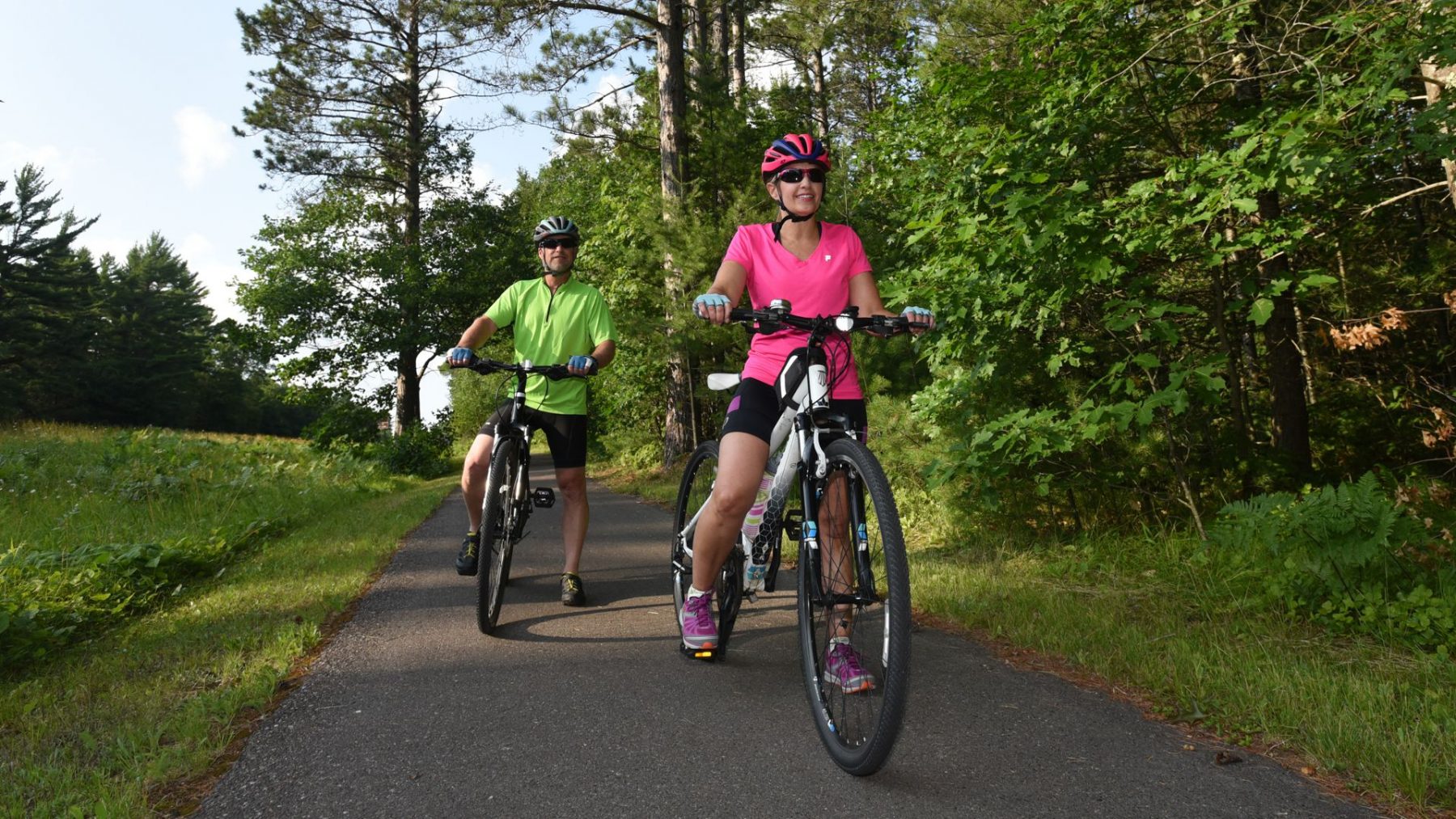 Photo credit: Boulder Junction Chamber of Commerce
Your spring recreation guide, by region
It's time to get outside in Wisconsin—the weather is starting to warm up, bringing with it great opportunities for outdoor recreation. Here's a look at a few places where you can get outside for a hike or on a bike in Wisconsin this spring.
Northern Wisconsin
Biking
The forests of northern Wisconsin are wonderful places to get out and play in the spring, whether you're strolling through the woods or exploring the Northwoods on a bike. Bikers looking for a fun-for-all-ages ride should check out the Heart of Vilas County Paved Bike Trail System, which spans more than 50 miles and passes through the communities of St. Germain, Sayner, Boulder Junction, Manitowish Waters, and Mercer.
In neighboring Oneida County, Rhinelander's CAVOC Trails are a popular destination for mountain bikers and fat tire bikers. The trail system, located west of Long Lake off South Shore Drive near Holiday Acres Resort, offers good elevation for riders (the trail is a popular cross-country skiing destination in winter).
Hiking
Also located in Oneida County, the Bearskin State Trail follows a former railroad line from Minocqua to Tomahawk. The trail—named after Bearskin Creek, which it follows along its southern end—passes through beautiful Northwoods scenery and along several railroad trestles over lakes and waterways. The 21.5-mile trail has a compacted granite surface, making it a great option for hikers, joggers, and bikers.
In northwestern Wisconsin, Rusk County offers outstanding hiking on the trails in the Flambeau River State Forest. Visitors will find several trail systems to explore, including the Flambeau Hills Trails (located along the Flambeau River), the new Oxbo Trail System, and the Lake of the Pines Trails.   
Central Wisconsin
Biking
Another fun and accessible state trail is the Eisenbahn State Trail, which starts in West Bend and passes through several communities in Washington and Fond du Lac counties. The 5-mile section of trail in West Bend is paved, while the remainder of the trail is hard-packed crushed gravel, making it an easy ride for most bikers.
On Wisconsin's west-central border lies the Great River State Trail, which travels for 24 miles through prairies and the backwaters of the Mississippi River Valley. The trail follows the river and its backwaters from La Crosse to Trempealeau, passing through two national wildlife refuges.
Hiking
Wildwood Park in Marshfield is a 150-acre natural area that's home to one of the state's leading municipal zoos. Walk through the park to see wolves, mountain goats, buffalo, and more, as well as the zoo's most famous residents, twin Kodiak bears Munsey and Boda. (Visitors can also tour the large animal drive in their cars). Aside from the zoo, the park has miles of trails for hikers, joggers and bikers to explore.
Stevens Point's Green Circle Trail is a 27-mile route that loops around the city and connects with several other recreational trails in the area. Popular hiking segments include the Schmeeckle Reserve, the Riverfront Trail, the Paper Mill Trail, and the Plover River Trail. 
Southern Wisconsin
Biking
The Glacial Drumlin State Trail stretches for 52 miles between the Madison suburb of Cottage Grove and Waukesha's Fox River Sanctuary. The trail consists of limestone and asphalt and is ideal for bikers, walkers and joggers. Note that a trail pass is required for bikers 16 and older; they can be purchased from self-registration stations on the trail and are also sold by local businesses along the trail.
Milwaukee's Hank Aaron State Trail travels from the shores of Lake Michigan in downtown Milwaukee to the Milwaukee County/Waukesha County line, offering 14 miles of paved riding through an urban (yet scenic) environment.
Hiking
Cherokee Marsh Conservation Park is a nearly 1,000-acre park on Madison's north side that sits on the banks of the Yahara River. The park is home to more than 4 miles of trails and passes through restored prairie, oak savanna, and woodlands. It is a popular destination for birders, who can see species as varied as sandhill cranes, bald eagles, bluebirds, tree swallows, and osprey.
Governor Dodge State Park—about a 45-minute drive west of downtown Madison—is one of Wisconsin's largest state parks, covering more than 5,000 acres in rural Iowa County. The park is home to a waterfall and nearly 40 miles of maintained trails, all of which are open to hiking in spring, summer, and fall.