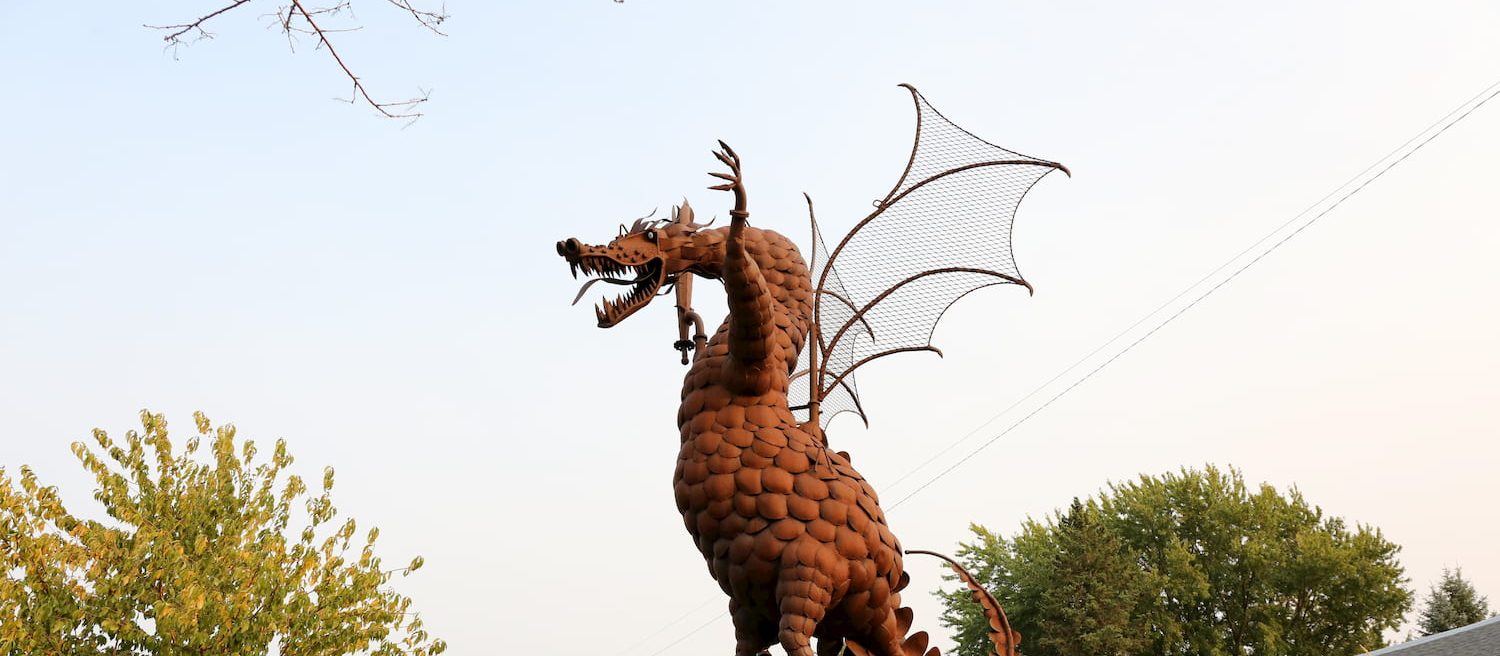 Photo Credit: Visit Marshfield
Take a road trip to see these hidden gems
Wisconsin is home to endless surprises—and who knows, you might not have even heard of some of the state's best attractions. You can find whimsical art, hidden lakes, secret trails and more, all just a gas tank away. Pack your bags and get ready for a getaway like no other: here's a road trip to Wisconsin's best-hidden gems.
Stop #1: Hidden monsters in Marshfield
Some of Wisconsin's hidden gems are hidden in plain sight. When you stop to look around in Marshfield, you'll see that you are in the company of monsters—metal dragons, turtles, cats, and whatever else folk artist Clyde Wynia has dreamed up. You can explore a wonderland of these creatures just north of Marshfield at Jurustic Park, or see many of them right in the city by walking the Downtown Jurustic Trail. It covers about a mile and a half and will take you past numerous whimsical statues.
Stop #2: A secret trail In Rhinelander
The next hidden gem on this road trip is in the heart of Hodag Country—Rhinelander. Not a lot of hikers have heard of the Holmboe Nature Preserve, but you need to lace up your hiking shoes and try it out. It's incredibly convenient to reach in Rhinelander yet it provides a taste of real wilderness. The trail is located along the Pelican River and will take you into a beautiful tract of old-growth forest. The trail is less than a mile, so it's an easy hike.
Stop #3: A lost lake in Boulder Junction
Our road trip now takes us up to Boulder Junction, deep into the Northwoods forests that time forgot. Located in the state's largest forest, the Northern Highland-American Legion State Forest, Lost Canoe Lake is pristine and completely undeveloped. If you're paddling, you can portage to the adjacent Pallette Lake and Escanaba Lake, where you'll also discover these beautiful hiking trail loops. Find Lost Canoe Lake about 7 miles southeast of Boulder Junction.
Stop #4: A forgotten garden in Vilas County
The final stop on this road trip is a place with a long history. Hundreds of years ago, Native Americans called this place the "old garden." French traders translated that into "Lac Vieux Desert," the name it still goes by today The lake is huge, sprawling 4,000 acres along the Wisconsin/Michigan border, and is where the Wisconsin River starts. From the western edge of the lake, the early stretches of the Wisconsin River are navigable as they were 400 years ago. You can get a canoe through, but you may have to portage around a beaver dam or two.