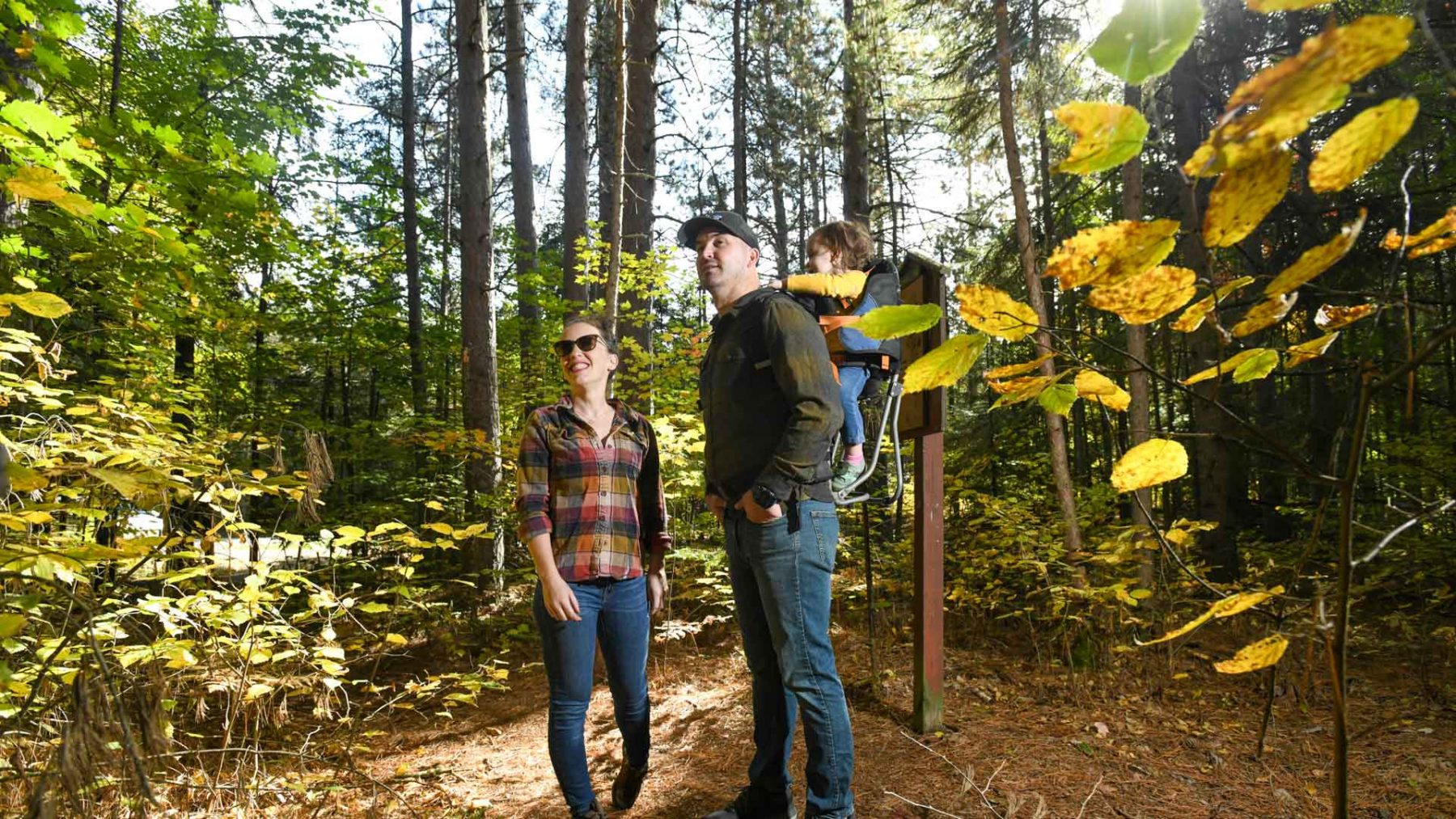 Photo Credit: Oneida County Tourism
Your guide to Wisconsin's best fall recreation options
Whether you're boating, paddling, biking, hiking, or fishing, you'll find outstanding fall recreation options all throughout the Dairy State. Here's a region-by-region guide on where to go and what to do.
Northern Wisconsin
Hiking & biking
The Heart of Vilas County Paved Bike Trail System covers nearly 50 miles of beautiful Northwoods scenery and passes through several Vilas County communities, including St. Germain, Sayner, Boulder Junction, and Manitowish Waters. It's also been named a National Recreation Trail by the Department of the Interior, meaning it has local and regional significance.
Want to explore a shorter yet equally scenic trail? Head to Rhinelander in Oneida County to discover the trails at Almon County Park just south of the city. More than 2 miles of trails will take visitors through uplands and wetlands along the shore of Buck Lake; there's also a picnic area at the site.
Boating & fishing
Northern Wisconsin is home to one of the largest concentrations of freshwater lakes on the planet, so there's no shortage of wonderful waterways to explore this fall. Vilas County is home to several notable lake chains, including the Eagle River Chain, the largest freshwater chain of lakes in the world (it connects with the Three Lakes Chain in Oneida County to the south, giving boaters and anglers 29 lakes to discover).
The Minocqua Area is also home to its own collection of lakes: the Minocqua Chain covers nearly 6,000 acres on Kawaguesaga, Minocqua, Jerome, Mid, Little Tomahawk, and Mud Lakes and is a popular destination for anglers and boaters.
Paddling
Rusk County in northwestern Wisconsin is home to four wild rivers—the Jump, the Chippewa, the Thornapple, and the Flambeau—that are popular destinations for canoers and kayakers year-round. The rivers offer a wide range of paddling options, from challenging rapids to calmer, more relaxing routes.
Central Wisconsin
Hiking & biking
Want to see a little wildlife on your next stroll? Head to Marshfield's Wildwood Park, a 150-acre park and municipal zoo that's home to twin Kodiak bears Munsey and Boda, cougars, wolves, mountain goats, bald eagles, buffalo, and more. The park is a favorite spot for hikers, runners, and bikers.
Along the Mississippi River on Wisconsin's western edge, riders will find the Great River State Trail, a 24-mile route that follows a former railroad line through the prairies and backwaters of the Mississippi River region near La Crosse. Riders can enjoy easy, scenic riding (especially in fall) along the route's crushed limestone surface.
Boating & fishing
Central Wisconsin is also home to Wisconsin's largest inland lake, so it's the perfect place to take your fishing boat or spend the day cruising on a pontoon boat. Lake Winnebago spans a whopping 138,000 acres and is part of a system that includes Lake Butte des Morts, Lake Winneconne, and Lake Poygan, as well as the Wolf and Fox Rivers. It's known for its top-notch walleye fishing, but anglers can also find perch, smallmouth and largemouth bass, and even lake sturgeon.
Paddling
Visit Manitowoc and Two Rivers on the eastern side of the state to get out on the water. Several local businesses rent out canoes, kayaks, and stand-up paddleboards visitors can use to explore local rivers, the Manitowoc Marina, and Lake Michigan, and great water routes like the Twin Rivers Water Trail allow visitors to explore natural habitats and historical sites.
Southern Wisconsin
Hiking & biking
The Ice Age Trail follows the path of the last glacier to pass through Wisconsin and covers a thousand miles in the state, winding south from Door County to south-central Wisconsin and then back north and west before ending at St. Croix Falls. Southern Wisconsin is home to several trail communities, including Whitewater, Milton, Janesville, Verona, and Cross Plains.
Milwaukee's Oak Leaf Trail offers more than 135 miles of cycling routes throughout Milwaukee and its suburbs. The trail system is suitable for all ages and abilities, and nearly a quarter of the route follows along the shores of Lake Michigan.
Boating & fishing
Lake Geneva is a popular summer vacation destination in southeastern Wisconsin, but its namesake Geneva Lake is also one of the better fishing lakes in the region. The 5,400-acre lake boasts a healthy population of smallmouth bass, but it's also home to a burgeoning population of brown and lake trout thanks to recent stocking efforts.
Paddling
Taking a canoe or kayak out in the backwaters of the Mississippi River offers a great chance to take in fall color among the bluffs and valleys. Great scenic paddling opportunities can be found in the La Crosse area (including Lake Onalaska), as well as at Wyalusing State Park.