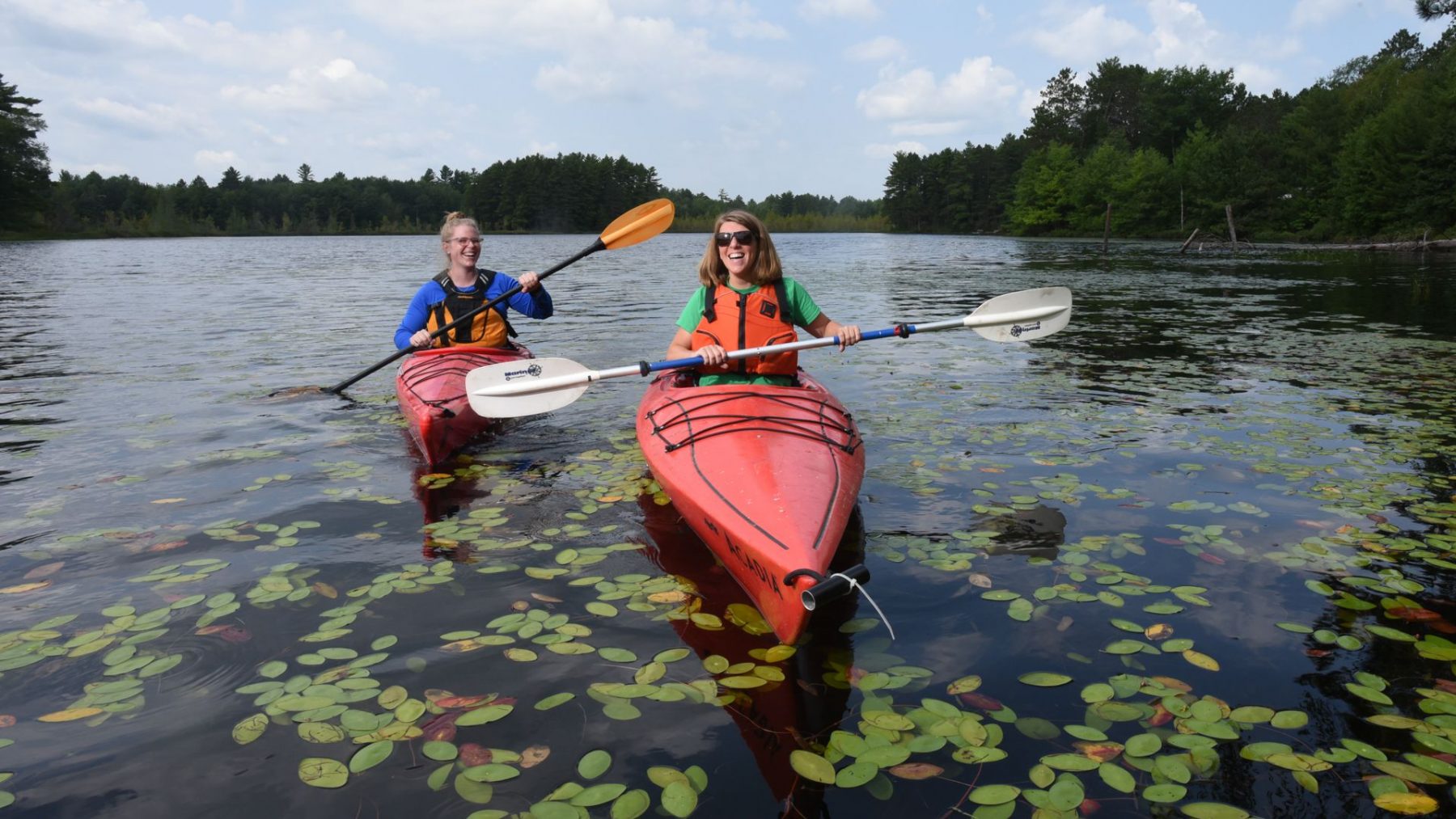 Visit these scenic summer spots
Vilas County boasts breathtaking natural scenery all year long, but summer might just be the best time to visit. The weather is warm, the forests are thrumming with life and long days filled with sunlight make it the perfect time for outdoor adventures. Here are a few scenic spots you shouldn't miss.
North Lakeland Discovery Center
This nature-based education and community center in Manitowish Waters offers educational programs, recreational opportunities and the seemingly boundless natural beauty of the Northwoods. The facility's 12 miles of trails—including a 22-station birding trail—are open to the public from dawn to dusk, allowing visitors to explore the habitats and terrain of the Northwoods.
Getting there: From Manitowish Waters, head north on Hwy W to Discovery Lane, then follow Discovery Lane to the visitor center.
Blackjack Springs Recreation Area
About seven miles north of Eagle River, you'll find the 5,800-acre Blackjack Springs Wilderness Area, which is part of the Chequamegon-Nicolet National Forest. Blackjack Springs takes its name from a series of four large crystal-clear springs that form the headwaters of Blackjack Creek. This wilderness area is popular among hikers, anglers, paddlers and hunters.
Getting there: From Eagle River, take Hwy 70 east seven miles, turn north on Military Road, then turn northwest and follow Forest Road 2178 (Anvil Lake Road) 1.6 miles until you reach an old logging road and a gate on the west side of the road. Walk the final half-mile into the site.
Van Vliet Hemlocks State Natural Area
Near Presque Isle, hikers can find a state natural area in a secluded portion of the Northern Highland-American Legion State Forest that protects one of the largest old-growth hemlock forests in the Northwoods. The site offers several hiking options (varying from less than half a mile to more than 3 miles) with some great views of Van Vliet Lake.
Getting there: From Presque Isle, take Hwy B south to Crab Lake Road, follow Crab Lake Road south for 3.7 miles, then turn west on East Van Vliet Lake Road, where you'll find a parking lot and trailhead.
Pick a lake, any lake
We've got one or two (thousand) lakes in Vilas County—in fact, we're home to one of the largest concentrations of freshwater lakes on earth, boasting more than 1,300 bodies of water. That means there are plenty of scenic spots to marvel at the natural beauty of Vilas County or take in an awe-inspiring sunset. Notable public-access lakes in Vilas County include Lac Vieux Desert (on the Wisconsin-Michigan border), Trout Lake, Boulder Lake, Plum Lake, Star Lake and North Twin Lake.
Getting there: Learn about Vilas County's public-access lakes here.