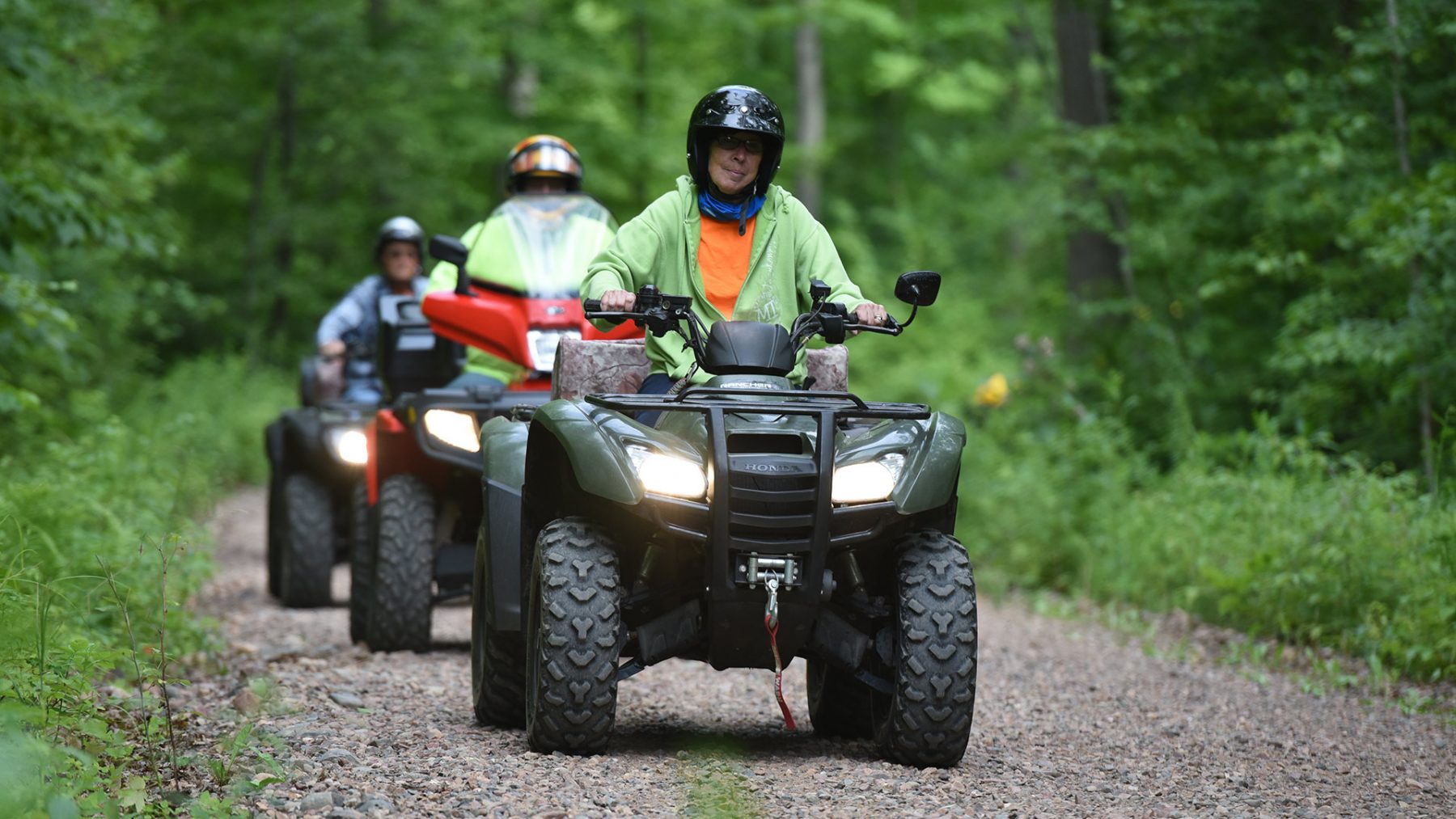 Find adventure on four wheels
Start your engines! One of the most exciting ways to experience the wilds of Wisconsin is on an ATV or UTV, and the state's growing trail network allows riders to see more than ever. Ride the remnants of an ancient mountain range or roll through the forests of northern Wisconsin—here are three destinations that won't disappoint.
Ride the Blue Hills
In western Rusk County, you'll find one of the state's hidden gems: the Blue Hills. Rising impressively from the surrounding landscape, the Blue Hills exist as the remains of an ancient mountain range older than the Rocky Mountains, offering breathtaking views for an ATV adventure. Continue your exploration throughout the county's forest land—there's 80,000 acres of public forest that's mostly open to ATV use. You can ride from the front door of many Rusk County lodging properties into the far reaches of the area's backcountry, and back to a restaurant for a great meal.
Explore 1,300 lakes
Long ago, the glaciers sculpted the terrain of Vilas County, leaving behind 1,300 gorgeous lakes. Today, this forested county beckons riders to explore the waters and scenic landscape that have made this place so special to residents and visitors alike.
The Vilas County ATV/UTV route system connects the communities of St. Germain, Arbor Vitae, Lincoln, Eagle River, Conover, Phelps and Land O' Lakes. ATVers and UTVers are relatively new visitors to Vilas County, but four-wheel enthusiasts will find great riding on a variety of terrain, from paved roads to dirt routes on former fire roads. Vilas County's ATV/UTV route system also connects to routes and trails in neighboring areas.
Take a relaxing ride
Oneida County is a laid-back Northwoods destination—and it's a great place for an ATV getaway. The Enterprise Trail System provides miles of beautiful scenery. The system includes 10 miles of trail (16 miles round trip) in the Oneida County Forest. The trail connects with trail systems in Langlade and Lincoln counties, so longer rides are possible. At the end of the day, you'll find plenty of welcoming establishments serving up delicious food and cold drinks.