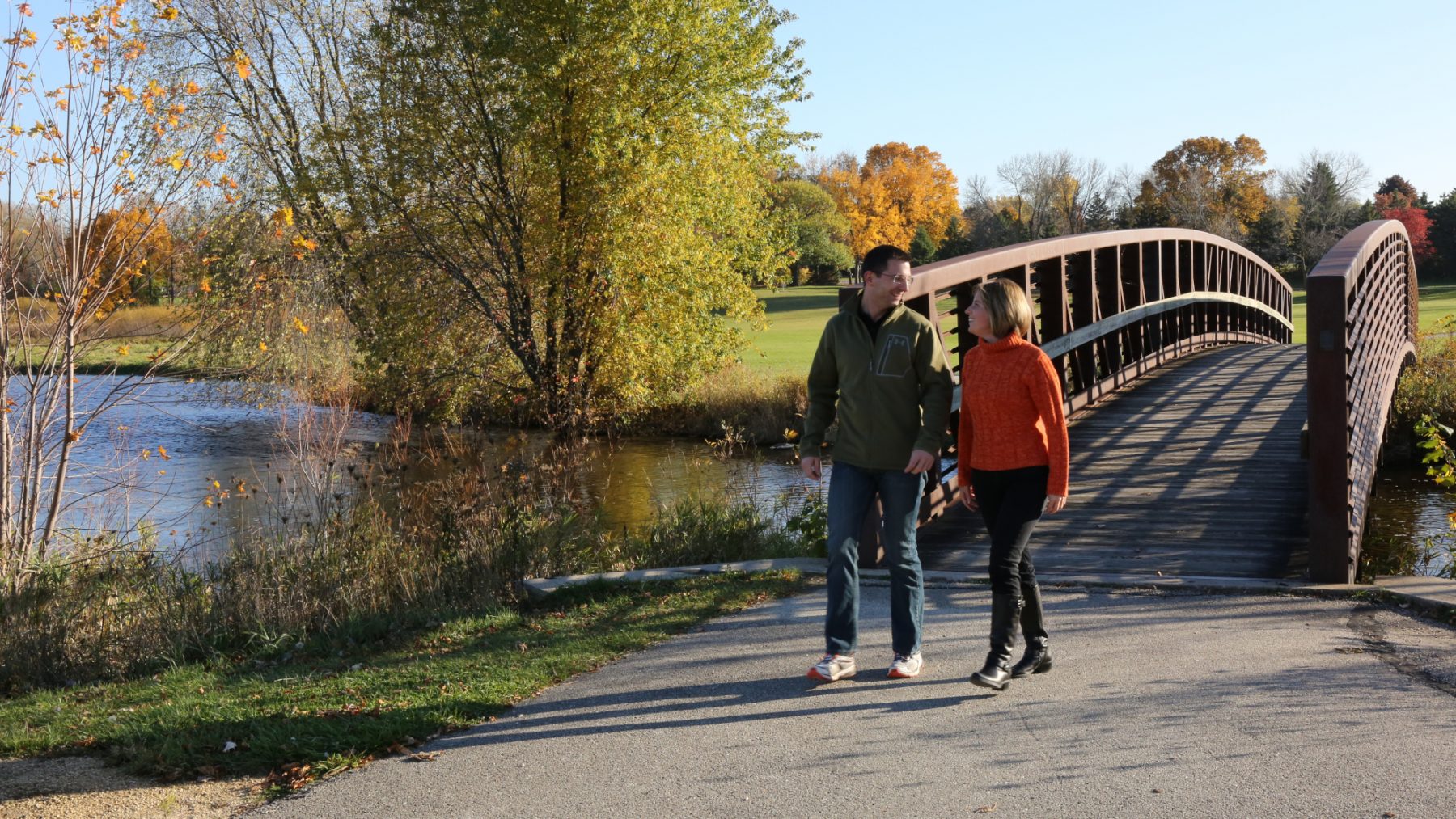 Find the best spots for fall color in West Bend
A relaxing autumn getaway may be closer than you think. West Bend is an ideal fall color destination—it's minutes from Milwaukee and there are so many ways to enjoy the season. Explore a hiking trail, take in dramatic outdoor art or experience one of the state's best scenic drives. There are many ways to enjoy fall in West Bend and trees are about to turn! Make plans to check out some of these West Bend color hotspots.
Along the Milwaukee River you'll find the West Bend Riverwalk, a scenic and relaxing place for a fall stroll. The Riverwalk follows the Milwaukee River for three miles. Along a portion of this paved trail, you'll find the West Bend Sculpture Walk, which is made up of more than two dozen works of modern sculpture. It's one of the most interesting walks in Wisconsin.
A classic fall color driving route passes through the heart of the West Bend area. The Kettle Moraine Scenic Drive traverses 115 miles of the southern and northern units of the Kettle Moraine State Forest. This is a beautiful fall drive; the hills of these forests were formed by retreating glaciers. The rolling countryside is heavily forested with oaks, maples and aspen, so it's the perfect place to take in the fall color. See directions to the route here.
Fall hikers will find West Bend the perfect place to launch a trail adventure. One of the nation's great hiking routes passes through West Bend. The 1,200-mile Ice Age National Scenic Trail traces the route of the last glacier in Wisconsin. The trail was established by an act of Congress and it protects a vast swath of land for public use. It's primarily a hiking path and takes trail users through beautiful hardwood forests.
This 137-acre nature preserve protects wetlands, forests and prairie. There are four miles of hiking trails at the conservancy and neighboring Royal Oaks park has another 1.5 miles of trails to explore. The conservancy is a good place for a fall stroll and the preserve's open prairie expanses are ideal for taking in passing flocks of migratory birds.