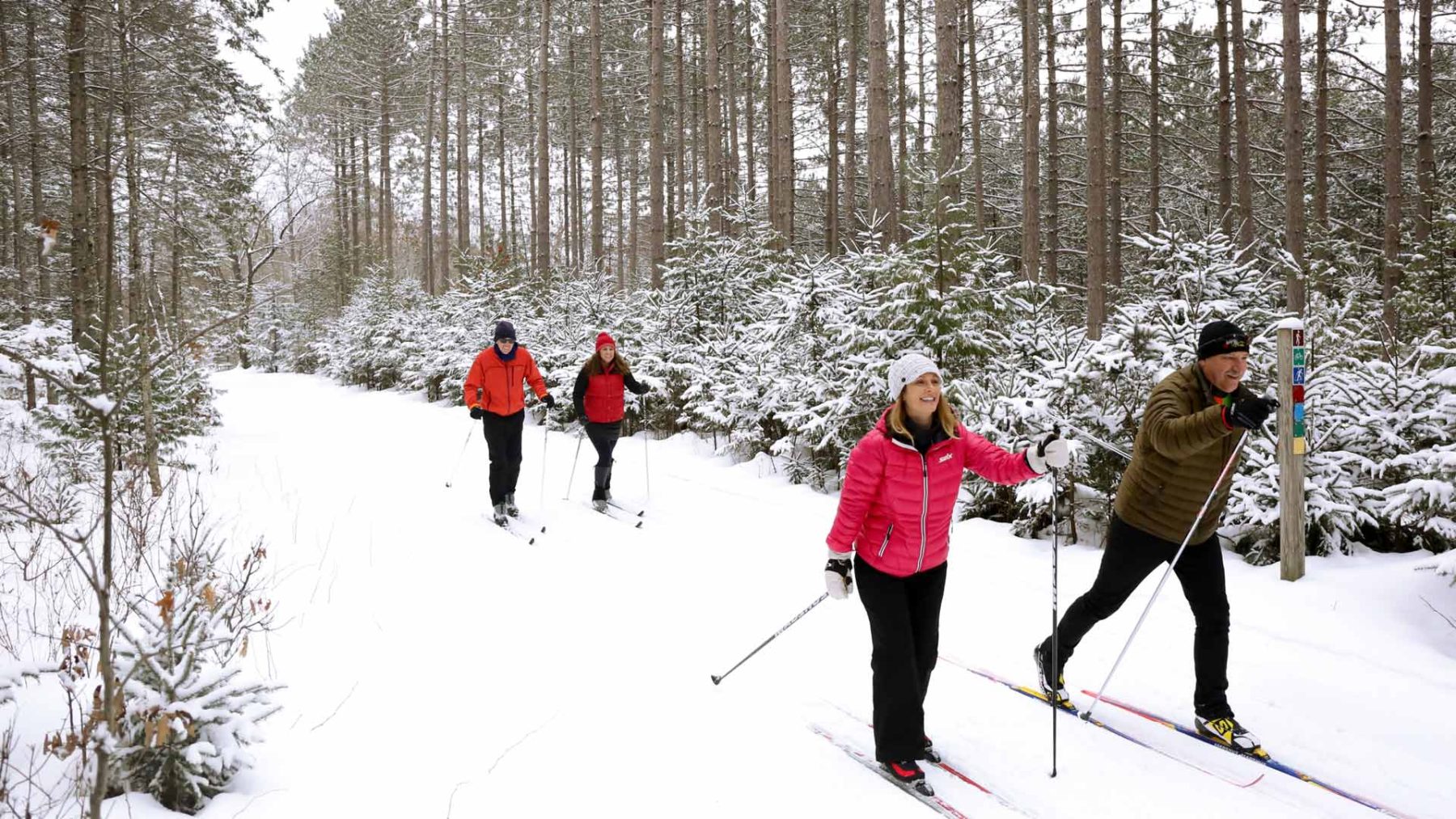 Vilas County Tourism
4 spots for hiking, skiing & snowshoeing this winter
Get out and play in the snow this winter. Wisconsin is home to some truly scenic, serene places to explore—all you need is a warm pair of boots, snowshoes, or skis. Here's a look at a few of our favorites across the state, from the Northwoods to the shores of Lake Michigan.
The sprawling Northern Highland-American Legion State Forest spans more than 230,000 acres in northern Wisconsin and spreads across three Northwoods counties, so there's plenty of places for winter sports enthusiasts to explore. Near Boulder Junction in Vilas County, skiers and snowshoers can explore scenic routes like the Escanaba-Pallette Lake Trails (loops of 2, 4, 5.5. and 8.5 miles) and the Lumberjack Trail.
Find more options for cross-country skiing and snowshoeing Boulder Junction.
A short drive from downtown Minocqua in Oneida County, Minocqua Winter Park is one of the top cross-country ski destinations in the Midwest. It's home to more than 50 miles of trails that are expertly groomed for both skate and classic skiing and includes nearly 10 miles of single-track classic-only trails that offer an old school Northwoods skiing experience. Minocqua Winter Park also provides other fun winter activities like snowshoeing (15 miles of trails), fatbiking (more than 10 miles of trails), skijoring (4 miles), ice skating, and tubing.
Learn more about cross-country skiing and snowshoeing in Oneida County here.
Point Beach State Forest covers 3,000 acres on the shores of Lake Michigan in Manitowoc and is a popular spot for outdoor recreation all year long. In winter, there are three cross-country ski trails to explore: the Ridges Trail (which offers loops of 3, 5.5 and 7.25 miles), the Red Pine Trail (3.1 miles), and the Swales Nature Trail (0.5 miles).
Learn more about recreation options in Manitowoc and Two Rivers here.
Head to Manitowish Waters in western Vilas County to find this 63-acre nature that offers classes, educational events, and 12 miles of trails that are open year-round. Trails pass alongside the Manitowish River, around Statehouse Lake, and through woods and bogs. The trail system is open from dawn to dusk, and in winter, trails are tracked for classic cross-country skiing and are also open to hikers and snowshoers. Snowshoes are available for rent on site.
Learn more about cross-country skiing in Vilas County here.
And don't forget to download the free Map It Vilas County trails app.