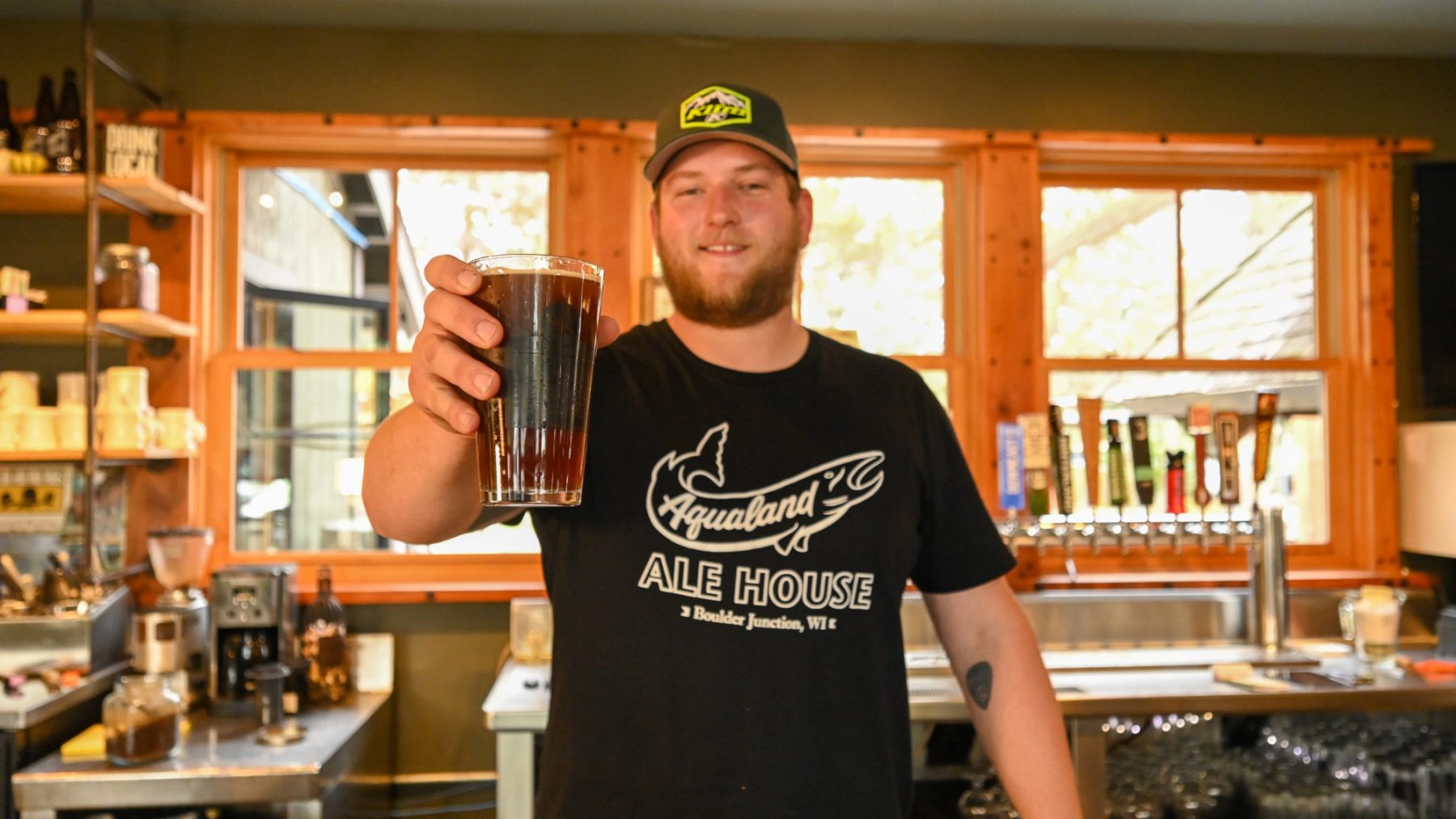 Photo Credit: Boulder Junction Chamber of Commerce
Where to find craft brews in Wisconsin
It wouldn't be a Wisconsin getaway without stopping to sample some delicious brews. Here's where to find tasty ales, lagers, and stouts across the Badger State.
Located in a 100-year-old building in the Manitowoc's River Point District, Petskull makes all its own beers in house, including its popular River Point Copper Ale and Luck O' the Skull Stout. Enjoy a pint and some delicious Cajun- and Creole-inspired cuisine on their 2,100-square-foot pet-friendly outdoor patio or head over for live music on the weekends.
This nanobrewery in the heart of Woodruff (just north of Minocqua) opened in 2015 and is a popular stop for visitors and locals alike, Rocky Reef offers a rotating selection of seasonal ales, porters and stouts. Head to their tasting room, where you can play fun games like ping pong and life-sized Jenga. If you're staying for a pint or two, feel free to bring in some food from one of the Minocqua Area's great restaurants. If you're not sticking around, you're in luck, too—Rocky Reef offers growlers to go.
Head to the heart of the Northwoods in Vilas County to find this brewery and taphouse whose beers are all inspired by the folklore of Eagle River. For instance, 28 Lake Lager takes its name from Eagle River's location on the world's largest chain of inland freshwater lakes (yes, there are 28 of them), and Blueberry Train Wheat Ale pays homage to the train that carried wild blueberries from nearby Conover to Chicago back in the early 20th century.
This unique craft brewery/greenhouse in Rusk County is the ideal place to dream about warm summer days. Heart of The North Brewing Co. features innovative craft beers from locally sourced grains, fruits, and honey. In addition, they have wood-fired pizzas made from local organic products and a full bar. Plants in the on-site greenhouse provide a fresh backdrop to the experience—plan your garden as you sip a pint!
In Central Wisconsin, you'll find a wonderful local brewpub located in a historic former dairy building. Marshfield's Blue Heron Brewpub features a great menu that includes delicious burgers, salads and more. Wash it all down with one of the house beers—there  are 10 craft beers on tap.
Get ready for relaxation on the patio: This charming Northwoods gastropub plans to open for the season this spring. You'll want to head here on warm days; Aqualand has 20 craft beers on tap as well as wine and craft sodas. Enjoy wood-fired pizza, fresh sandwiches and fresh salads. The Ale House is a perfect place to relax after a spring ride—it's close to some of the best biking trails in the region, including the Heart of Vilas County Paved Bike Trail System, which was recently named a National Recreation Trail.
Taste, tour and relax at Lakefront Brewery. The brewery is a Milwaukee institution, known for its lively tours, which allow participants to sample the product before learning the finer points about yeast and hops. The brewery has some delicious offerings, several of which are named after Milwaukee neighborhoods, like as Riverwest Stein and East Side Dark. Try a sampler and visit each neighborhood!
Did somebody say shorty? A seven-ounce beer helped put Rhinelander on the map, and you can still pick up some at the Rhinelander Brewing Company in downtown Rhinelander. The brewery dates back to 1882, and while it's known for the stubby "shorties" it produces, it has some other delicious options on tap, too, including everything from bourbon barrel-aged maple stouts to cream ales and more. The beers take their inspiration from Rhinelander's famous Hodag, so be sure to snap a selfie with the Hodag statue on site as you pick up some of the Northwoods' finest ales and lagers.