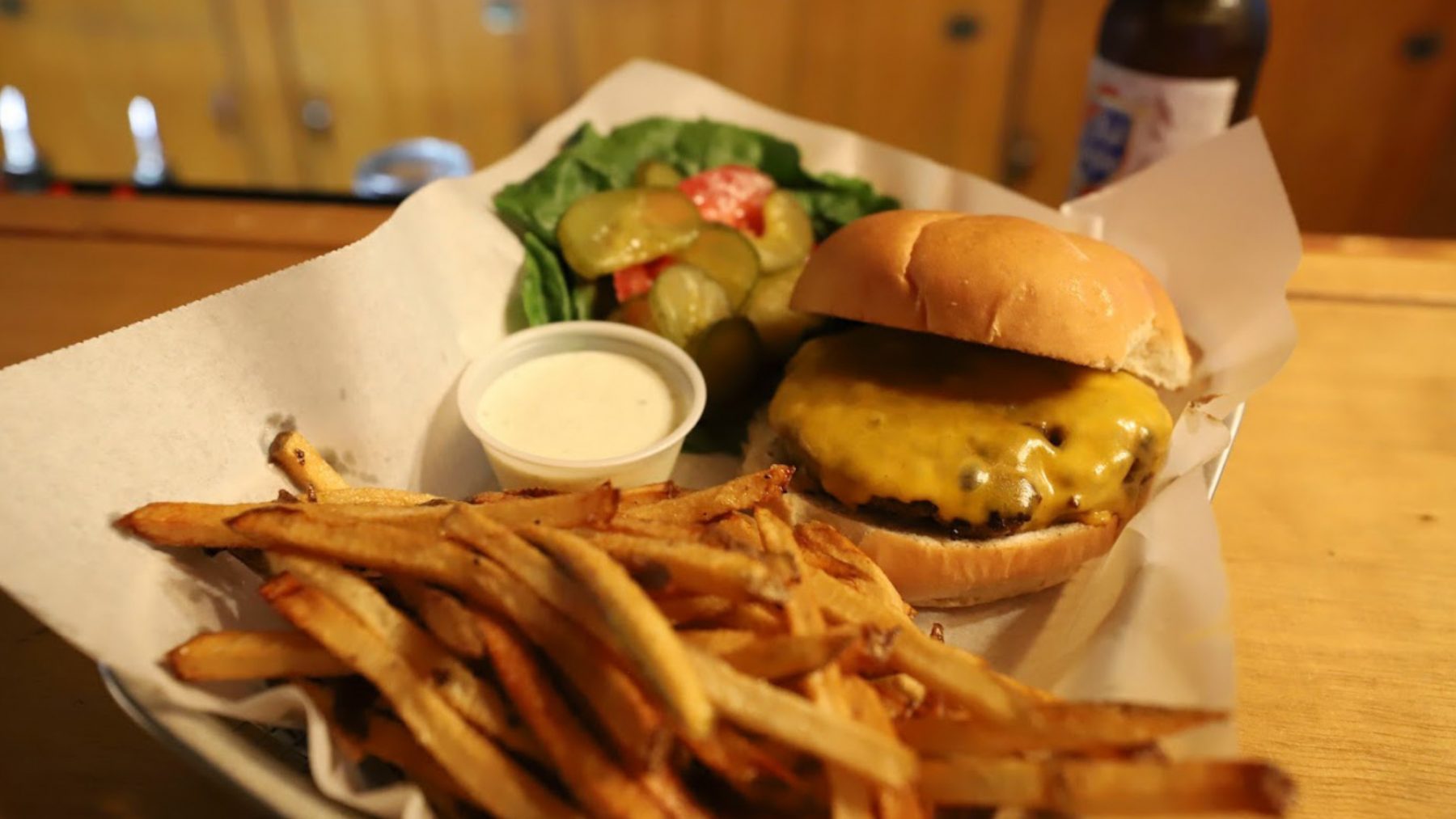 Photo Credit: Boulder Junction Chamber of Commerce
Where to find Wisconsin's best burgers
There's nothing like sitting down for a made-to-order burger after a day of exploration and adventure in Wisconsin. Here's where to go to find a few of the state's best burgers—be sure to bring your appetite.
Boulder Beer Bar, Boulder Junction
At Boulder Beer Bar in Boulder Junction, diners with hearty appetites can try the Beer Bar Burger, which features a 1/3-pound burger topped with a 1/3-pound brat patty garnished with lettuce, tomato and pickle.
Bucketheads Sports Bar & Grill, Rhinelander
If you're hungry while watching the game at Bucketheads Sports Bar & Grill in Rhinelander, check out the Seth Burger—two 1/3-pound patties topped with Bucketheads' signature garlic cheddar sauce and topped off with applewood-smoke bacon.
The Thirsty Whale, Minocqua
The Thirsty Whale is an institution in Minocqua, serving up tasty bar food on the shores of Lake Minocqua. A local favorite is the Wisconsin Burger, which is covered in loads of bacon and cheddar cheese.
Black Forest Pub & Grille, Three Lakes
Head to Three Lakes in northeastern Oneida County, and you'll find the Black Forest Pub & Grille, which has been in operation since the 1930s in a building modeled after the beer gardens of Germany. That German spirit can be found today on the menu with options like Der Kaiser, a half-pound burger with smoked bacon, Bergkase cheese, caramelized onions, and lettuce served on a pretzel bun.
Cedar Lodge, Ladysmith
Cedar Lodge is a classic bar and grill just north of Ladysmith in Rusk County, and it's well-known for its specialty burgers (there's a different one on the menu every month) made with locally raised Angus beef. If you've got an appetite, try the Cheese Curd Burger or the Bacon Cheese Curd Burger, which are, yes, topped with deep-deep fried cheese curds.
The Courthouse Pub, Manitowoc
Enjoy a delicious burger at The Courthouse Pub, which sits just blocks from the shores of Lake Michigan in the city of Manitowoc. The Courthouse has been welcoming diners since 2001 and serves up tasty 7-ounce brisket burgers like the Jail Bird (Cooper Sharpe cheese, braised bacon cabbage, and spicy ketchup on a pretzel bun) and the Blue Burger (bourbon BBQ, spring mix, blueberry cheese, and haystack onions on a preztel bun). Grab a seat outside when it's patio season.
Nutz Deep II, Marshfield
Voted Marshfield's best burger for more than a decade running, Nutz Deep II is a popular bar & grill in the heart of downtown. Try a specialty burger like the Nutz Deep Burger (with caramelized onions and garlic, Swiss and American cheese, applewood smoked bacon, and the restaurant's signature sauce) or the Hub City Burger (with cheddar cheese, BBQ sauce, applewood smoked bacon, haystack onions, and chipotle cream sauce).
Trempealeau Hotel, Trempealeau
If you're looking for a great burger with a side of scenery, head to Wisconsin's western border to enjoy awe-inspiring views of the Mississippi River and the unforgettable Walnut Burger at the Trempealeau Hotel.
Bacon Burger Company, Green Bay
You know what you're getting at Bacon Burger Company in Green Bay—the restaurant grinds choice chuck roast with fresh bacon every day to make its burgers, which are a hit among locals and visitors alike. Try a regular burger or cheeseburger or get adventurous by adding a homemade bacon brat patty to your order.
Jackson Point Sports Grill, Seymour
No burger tour of Wisconsin is complete without a visit to Seymour, which claims to be the birthplace of the hamburger. (Local restaurateur Charlie Nagreen—nicknamed "Hamburger Charlie"—invented the delicacy back in 1885, and the city holds a Burger Fest every summer.)  If you're looking for a burger any other time, head to Jackson Point Sports Grill, where you'll find classics as well as unique items like the Bacon Mac Burger, which is topped with smoked bacon and homemade macaroni and cheese.