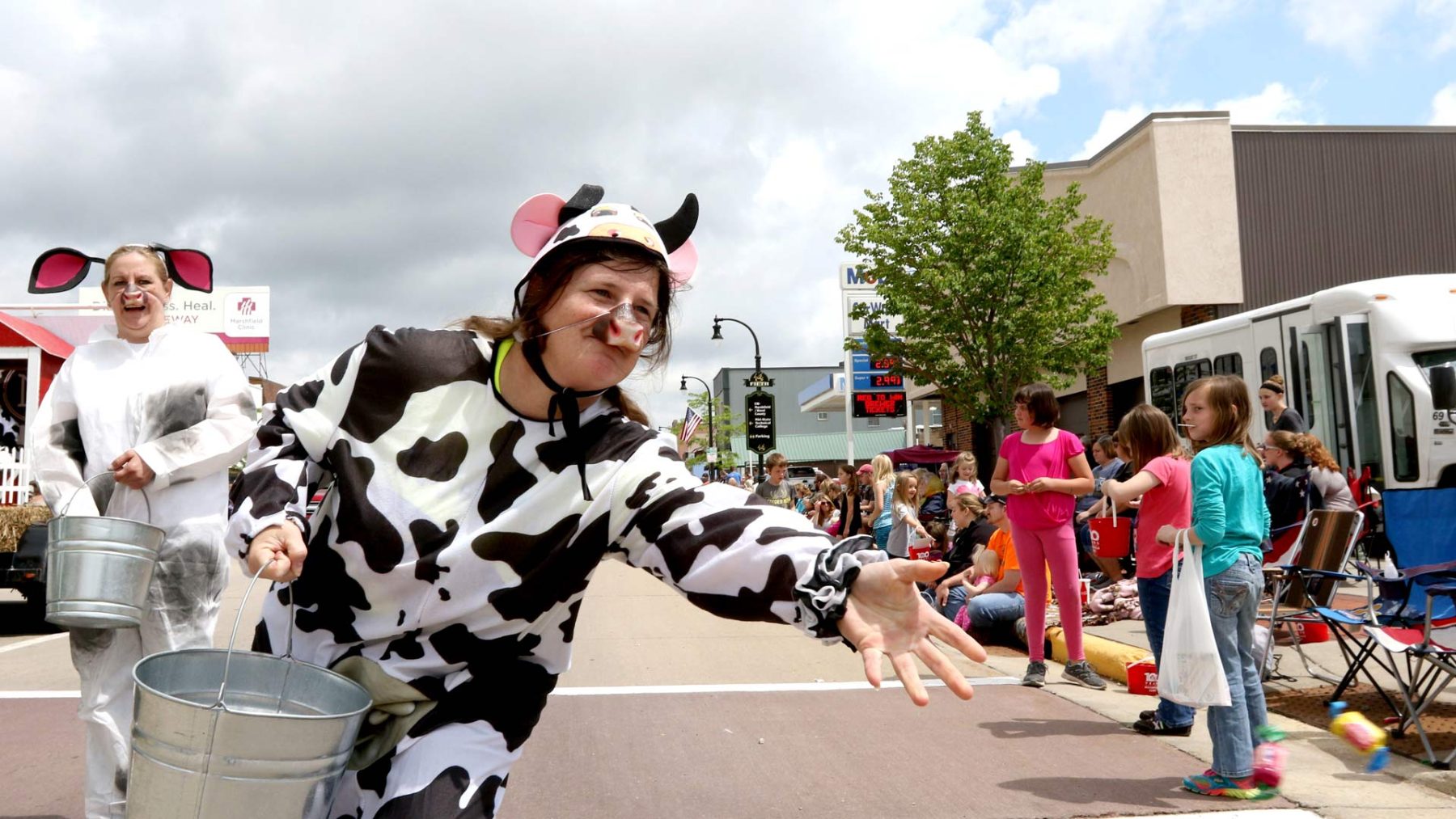 DAIRYFEST – JUNE 3-5, 2022
Dairyfest kicks off the festival season in Marshfield  and celebrates its 41st year in 2022 of honoring the agricultural industry and the dairy farmer. It all begins bright and early Friday morning with the Dairyfest Breakfast at Marshfield Fairgrounds Park, in the Expo Building. This weekend-long celebration abounds with downtown activities, including a parade, food offerings galore, kids' activities, an old-fashioned Picnic in the Park, outdoor movie, softball tournament, and so much more (for a full list of activities, check out marshfieldchamber.com)! With so much to do, you're sure to have an "udderly" good time!
---
CLARK COUNTY WISCONSIN FARM TECHNOLOGY DAYS – JULY 12-14, 2022

Hosted by Roehl Acres of Loyal (N7779 Cty. Hwy. K, Loyal, WI 54446). Only 20 miles from Marshfield, Farm Tech Days will exemplify Clark County's theme of "Where Tradition and Technology Meet." Event features include 600+ exhibitors, tour and field demonstrations, farm tours, and much more. More information available at wifarmtechnologydays.org.
---
HUB CITY DAYS – JULY 29-30, 2022

Summer heats up with Hub City Days, July 29-30, 2022, taking over the streets of Central Avenue and celebrating Marshfield's community and historic downtown, past, present, and future. Enjoy a massive 500+ Car & Bike Show, Family Zone with bounce houses & kiddie games, Brew Fest, Beer Garden, and live music. If you love and appreciate all things auto, you don't want to miss this show! For inquiries, please contact Main Street Marshfield.
---
CENTRAL WISCONSIN STATE FAIR – AUGUST 23-28, 2022

There's no better way sendoff summer than spending a week at the Central Wisconsin State Fair, August 23-28, 2022 at Marshfield Fairgrounds Park. Bring the whole family out to see 4-H and open class exhibits, free grandstand entertainment with gate admission, midway carnival rides and games, commercial exhibits and special programs, fair food, and beer gardens. Rock out in the grand stand to the sound stylings of up-and-coming artists and classic favorites. Visit centralwisconsinstatefair.com for the complete schedule of activities and entertainment.
---
MARSHFIELD MAPLE FALL FEST – SEPTEMBER 17 & 18, 2022

Marshfield taps into the joy of the fall season and all things maple with the 30th Annual Marshfield Maple Fall Fest, September 17 & 18, 2022 at Wildwood Park & Zoo. Each year an estimated 10,000+ attendees enjoy over 150 vendors with original handmade arts and crafts and artwork, traditional potato pancake breakfast, Amish specialties, Maple Village, over a dozen food vendors, and beer garden. There's family entertainment at the Kid's Zone and Wildwood Zoo tours. Check out the visitmarshfield.com event page to see how Maple Fall Fest will be made new in 2022.
---
ROTARY WINTER WONDERLAND – NOV. 25-DEC. 31, 2022

When it's time to break out the holiday spirit, it's time to head over to Rotary Winter Wonderland, November 25-December 31, 2022 (daily, 5pm-9pm) at Wildwood Zoo. The Zoo glows and twinkles with over two million LED lights and offers both walking and driving routes. Young and young at heart will be delighted by animated displays and holiday music. This marvelous winter wonderland helps support local food pantries each year. No entry fee, but cash and food donations encouraged.
For more information, go to visitmarshfield.com/events