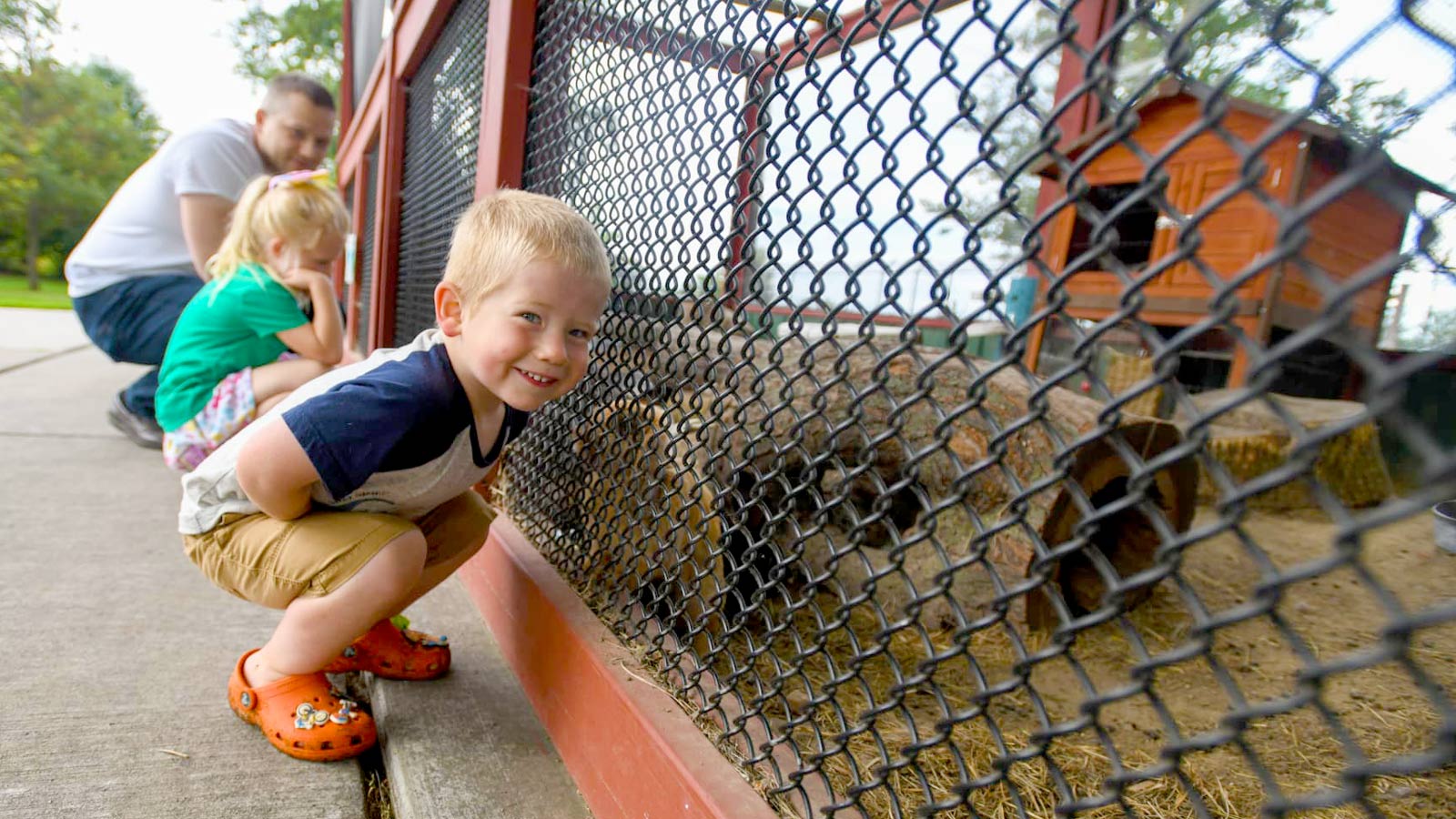 Photo Credit: Visit Marshfield
Zoos & wildlife parks you should visit in Wisconsin
Lions and tigers and bears? Check. You'll find these wild creatures—and many more—at zoos and nature centers across Wisconsin. You'll find family fun wherever you go in the state, from feeding giraffes at the state's biggest zoo to taking a safari through a sprawling Northwoods wildlife park. Here's where to go.
Situated in Minocqua in the heart of Wisconsin's Northwoods, Wildwood Wildlife Park Zoo & Safari is home to more than 1,700 animals and 225 species, including giraffes, penguins, ostriches, bighorn sheep, and leopards. Take a safari tram ride through the park for a 30-minute tour where you can see wildebeests, emus, and other animals.
One of the most popular attractions in southeastern Wisconsin, the Racine Zoo cares for more than 75 species and 300 different animals at its 32-acre park on the shores of Lake Michigan. Throughout the zoo, visitors will find a wide array of animals, from lions and kangaroos to zebras and orangutans.
See cougars, black bears, bald eagles, bison, prairie dogs, and more at this zoo, located just north of downtown Manitowoc. The education building has interactive educational exhibits as well as reptiles, amphibians, and tropical birds.
At Irvine Park in Chippewa Falls, visitors can enjoy more than 300 acres of scenic beauty and get up close and personal with cougars, bears, bison, tigers, and many other animals at the park's free zoo. In the summertime, visit the Red Barn Petting Zoo to interact with friendly farm animals, including pigs, rabbits, and goats.
This facility in Wisconsin's state capital of Madison is one of only a few admission-free, community-supported zoos in the country and is open daily nearly the entire year (with exceptions on Thanksgiving, Christmas Eve/Day, and New Year's Eve/Day). The zoo boasts and impressive population of animals—more than 650 across 115 species—including African lions, grizzly bears, piranhas, and white rhinoceros.
Marshfield's Wildwood Park & Zoo has been welcoming visitors to central Wisconsin for more than 90 years and is considered one of the state's leading municipal zoos. The 150-acre campus can be toured by foot, but vehicles are also welcome on the large animal drive, where visitors can see buffalo, elk and more. Don't miss twin Kodiak bears Munsey and Boda in the main zoo, which also houses mountain lions, bald eagles, Arctic fox, and more.
Wisconsin's most popular zoo, the Milwaukee County Zoo is home to more than 2,100 mammals, birds, fish, amphibians, and reptiles. The zoo also features popular events and attractions like a seal & sea lion show, giraffe feeding, and the Gorilla Trek virtual reality experience.