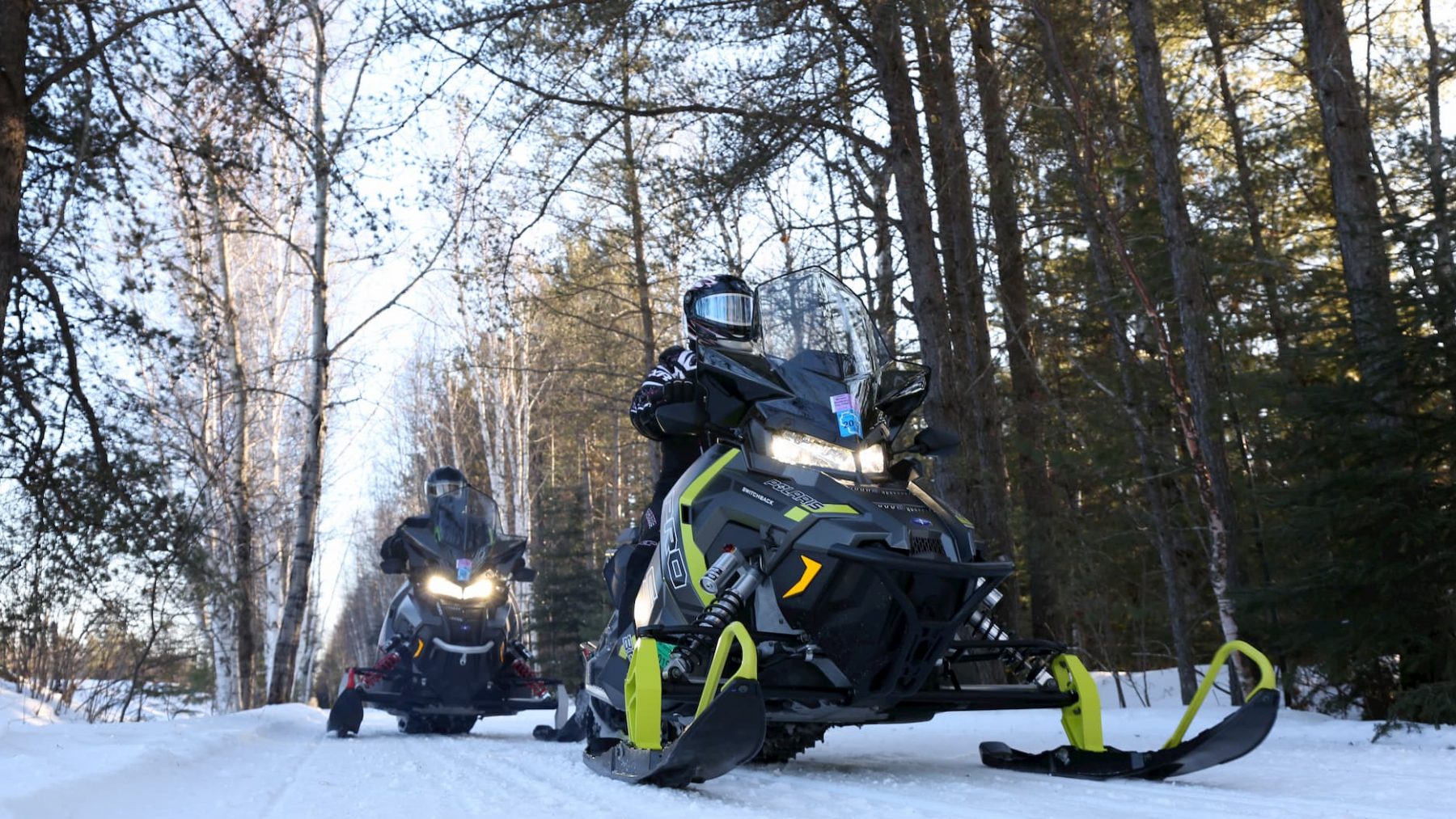 Winter getaways for trail lovers
Take a fresh path to relaxation and fun. Wisconsin has thousands of miles of gorgeous winter trails, and you can find them in some of the state's best travel destinations. There are trails for everyone, whether you're looking for high-speed snowmobile thrills, a long and relaxing cross-country ski outing, a backwoods snowshoe trek, a winter fat biking adventure, or a trip down the winding trails of a ski park. Here are a few notable destinations where you can find more fun on the trails.
Oneida County is a place where you can relax and vacation your own way. If your idea of a snowmobile trip involves more time playing cards and having beverages by the fire, no one is going to check your sled's odometer. However, if you're looking for some open trails to explore, you'll find them—the county is home to more than 1,000 miles of expertly groomed trails just waiting for your sled. Hit them right away or after the card game. Learn about Oneida County's snowmobiling trails here and find a place to stay with these sortable listings.
In northern Oneida County, snowmobilers can explore the popular vacation destination of Minocqua, which offers more than 1,700 miles of expertly groomed trails that take riders throughout stunning Northwoods scenery. Minocqua also receives more than 5 feet of snow every year on average, so it's a great place to explore on snowmobile—find sortable lodging listings (including snowmobile-friendly properties) here.
Downhill ski trails: West Bend                                                                                                                                                 
West Bend is the gateway to two fun and easily accessible ski hills. A quick six-minute drive north of town will take you to Sunburst Winter Sports Park, a 77-acre ski area. Skiers and snowboarders will find 11 unique runs with varying levels of difficulty. The hill has a 214-foot vertical drop and there are lights for night skiing, as well as race-tuned rental skis. About 10 miles southwest of West Bend is another beautiful ski area: Little Switzerland has 18 downhill runs that have entertained generations of skiers.
Boulder Junction is a postcard-perfect winter destination. The downtown of this delightful Northwoods destination in Vilas County is lined with charming little shops decked out with holiday lights and towering trees heaped with snow. Winter sports trails lead nature lovers from the edge of town into the wild Northern Highland-American Legion State Forest. It's a popular place for snowmobiling and cross-country skiing, but it's also a good place to enjoy one of the simplest ways to experience winter: on snowshoes. Learn more about snowshoeing in Boulder Junction here and see details on Boulder Junction lodging here.
When you're done exploring Boulder Junction's trails, you'll find plenty more snow-covered routes throughout Vilas County. Use the free Map It Vilas County trails app to find snowshoeing trails—and trails all of all sorts—throughout the county, searchable by length, activity and more.  One route to try: the Deerskin Snowshoe Trails near Phelps, which offer various routes of 1.5 to 4 miles in length.
Fat bike trails: Rhinelander
Rhinelander is the home of the Hodag, a legendary beast that reportedly has a good time playing tricks around Rhinelander. If the Hodag was a biker, we're pretty sure he'd be a fat biker—the sport is an absolute blast (and there's even a type of fat bike tire that carries his name!). And there are a lot of great places to go winter fat biking around Rhinelander. One good bet is the Enterprise Trail, which is specifically groomed for fat biking and also a popular place for snowshoeing and cross-country skiing.
Cross-country ski trails: Hayward
The most well-known cross-country ski trail in Wisconsin might be the Birkie Trail, a route that stretches more than 60 miles from Cable to Hayward. The trail is the site of the American Birkebeiner, the largest cross-country ski race in North America, but you don't have to strap on a race bib to enjoy this world-class ski destination. The trail is carefully maintained, offering skiers of all ages (and speeds) a true Nordic ski experience. Lodging is available nearby in Hayward and Cable.