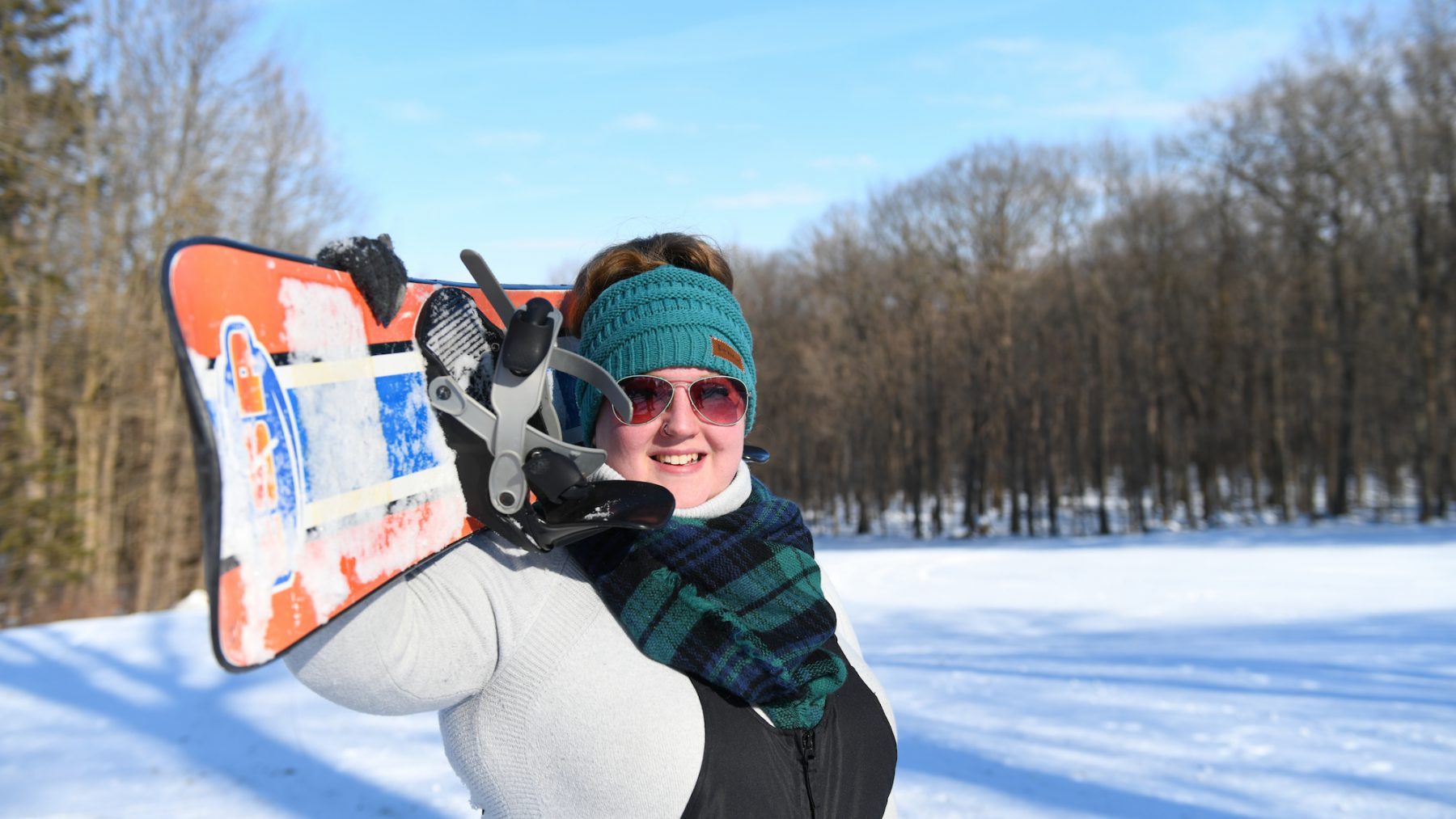 5 Ways to Beat the Winter Blues
1. Traverse Snowy Trails & See Kodiak Bears

Kick-off your day with some fresh air on Marshfield's trails—snowshoeing, fat tire biking, and cross-country skiing. Any day of the week, hit up the local trails for snowshoeing and fat tire biking (we recommend the Ecology Trail at Wildwood Zoo, where you can also visit Kodiak Bears Munsey & Boda). Want more trail options? Click here for the City Trails Map.
---
2. Cozy Up with a Cup of Coffee
Sip a perfectly crafted latte and have a delectable pastry at Uptown Coffee Company or The Daily Grind. You'll find warm, friendly service as you come in from the cold to taste seasonal flavors. Uptown has a modern interior and also sells a variety of quirky Wisconsin merch for sale that make great gifts for far-flung relatives. At The Daily Grind, you'll feel like right at home; with its rustic décor and good-as-grandma's, hearty soup, and delicious lunch menu, you'll want to come in and stay awhile.
---
3. Shop Downtown

Find a unique array of gifts for your friends and family in the downtown. Décor devotees will enjoy Endless Designs, book nerds will love the classic, cozy charm of Thimbleberry Books, and if you need a new hobby, there's always good times to be found browsing Good Day Sunshine Record Shop for vinyl. Families can also spend quality time learning and crafting with their kids at Discovery Education Station, offering a variety of fun and scientific classes. Don't forget to browse their Locavore Market which sells local produce (aquaponic lettuce, microgreens, sipping vinegar, coffee) and hand-crafted gifts (goat milk soaps, beeswax wraps, seasonal decorations, jewelry, art).
---
3. Hit Up Powers Bluff – Fun for the Whole Family!
On a weekend afternoon, head to nearby Powers Bluff County Park, a winter playground for all ages. Here you can enjoy downhill skiing, snowboarding, cross country skiing, snowshoeing, snowmobiling, hiking, fat tire biking, and snow tubing. After your snowy adventures, thaw out in the Stone Shelter warming house building.
Did You Know?
Powers Bluff boasts the highest point of elevation in Wood County
Powers Bluff has over 3.5 miles of groomed multi-use trail open for skiing, snowshoeing and fat tire biking. In addition, there are 3.5 miles of dedicated snowshoe trails. Check out the Winter Trail Map for more information. A trail pass is required to use these trails and can be purchased at the CTH N trailhead any day of the week, and on the weekends in the shelter from the concessionaire.
70 acres of the park is a designated State Natural Area that features a 1.5 mile nature trail. The south 80 acres of the park is listed on the National Register of Historic places as a Native American Cultural Sensitivity Area with preserved Native American dance rings, and burial grounds.
Full information on Powers Bluff including hours and pass rates can be found here.
---
4. Refuel with Downtown Eats – Spicy & Savory

Spice it up at lunch at MoJo's Pasta House & Cajun Cookshack for comfort food that's fast casual and filling – like their Pasta Jambalya or Shrimp Po'boy. If you crave burgers, you can't go wrong with a visit to Nutz Deep II, winner of Best Burger (Best of Marshfield poll) for several years running. Or if you are feeling like a fiesta, why not try the newest Mexican food option, Casa Amigos, where you'll find a new variety of takes on traditional south of the border staples plus well as exciting new flavors.
---
5. Groove to Live Music at Hotel Marshfield

Every Wednesday night from 5pm – 9pm you'll find local artists playing live music at Libby McNeill's restaurant inside Hotel Marshfield. Grab your crew and enjoy cocktails, mouth-watering apps, dinner specials, and more (make sure you order the cheese curds)! Want to see the lineup? Click here.
---
Want to experience more of Marshfield's best makers? Enter the Visit Marshfield Made New Sweepstakes (now through Mar. 29, 2022)! 
You could win: