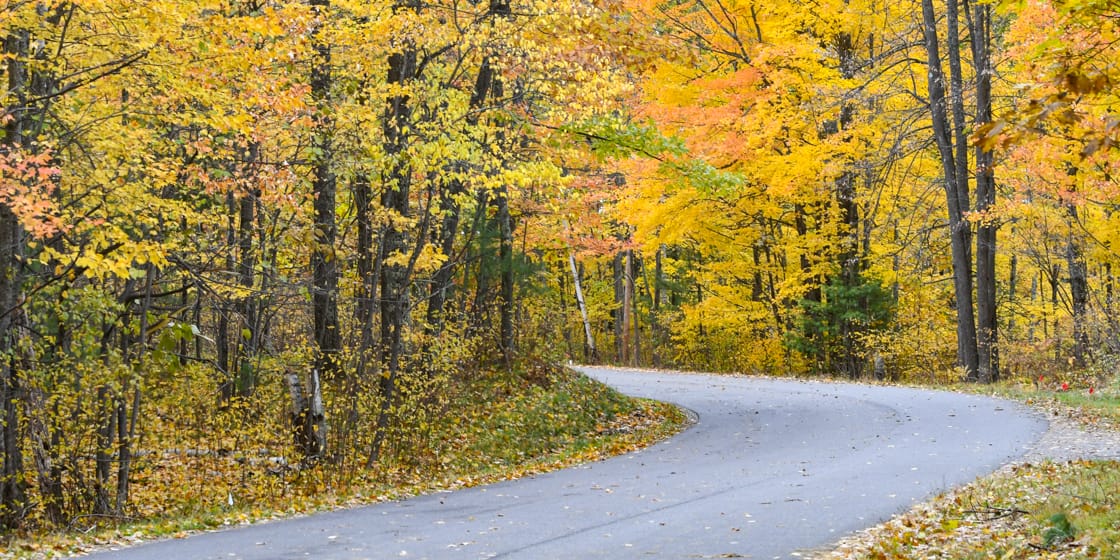 On the road again: Don't miss these scenic fall drives
Want to take a trip back in time? Just look for a simple brown and yellow sign. These signs mark the location of Wisconsin's officially designated Rustic Roads, historic routes that showcase some of the state's most beautiful rural scenery. As Wisconsin's trees come alive with fall color, it's a great time to explore one of these roads less traveled.
Here are four great routes for fall color:
Rustic Road 60: County K, between County N and County M
Length: 11.7 miles
Surface: Paved
This route in beautiful Vilas County, winds through the 232,000-acre Northern Highland-American Legion State Forest. Canopies of coniferous and hardwood trees shade the route, which passes near old logging campsites, hiking trails and an old sawmill located in Star Lake. The area features abundant wildlife and the route offers vistas of clear lakes and dense forestland.
Rustic Road 52:  South of Highway 33, east of County Highway M
Length: 6.7 miles
Surface: Paved/gravel
This route, located east of West Bend, traverses one of the highest points in Washington County and offers a scenic panorama of the surrounding countryside. There are several historical buildings and farmsteads on this wooded, rural rote, including a log home and an old fieldstone house that dates to the late 1800s. The route also passes portions of the Cedarburg Bog State Natural Area—one of the largest and most biologically diverse wetland areas in Wisconsin.
Rustic Road 70: Between Highway 70 and Blue Lake Road
Length: 4.5 miles
Surface: Gravel/sand/paved
This lightly traveled wilderness road in Oneida County passes log cabins used by some of the original homesteaders in the Minocqua area. The route also passes through hardwood and pine forest, and travelers will encounter abundant native wildlife.
Rustic Road 114: Rusk County, between County Highway O and County Highway F
Length: 13.1 miles
Surface: Gravel
This beautiful route is located in the rugged and scenic Blue Hills of Rusk County. The route includes access to trails for biking, hiking, skiing and hunting, along with two county campgrounds and multiple lakes, including Perch, Audie, Bucks, and the Murphy Flowage. Enjoy the drive—Rustic Road 114  provides a thick canopy of fall colors.