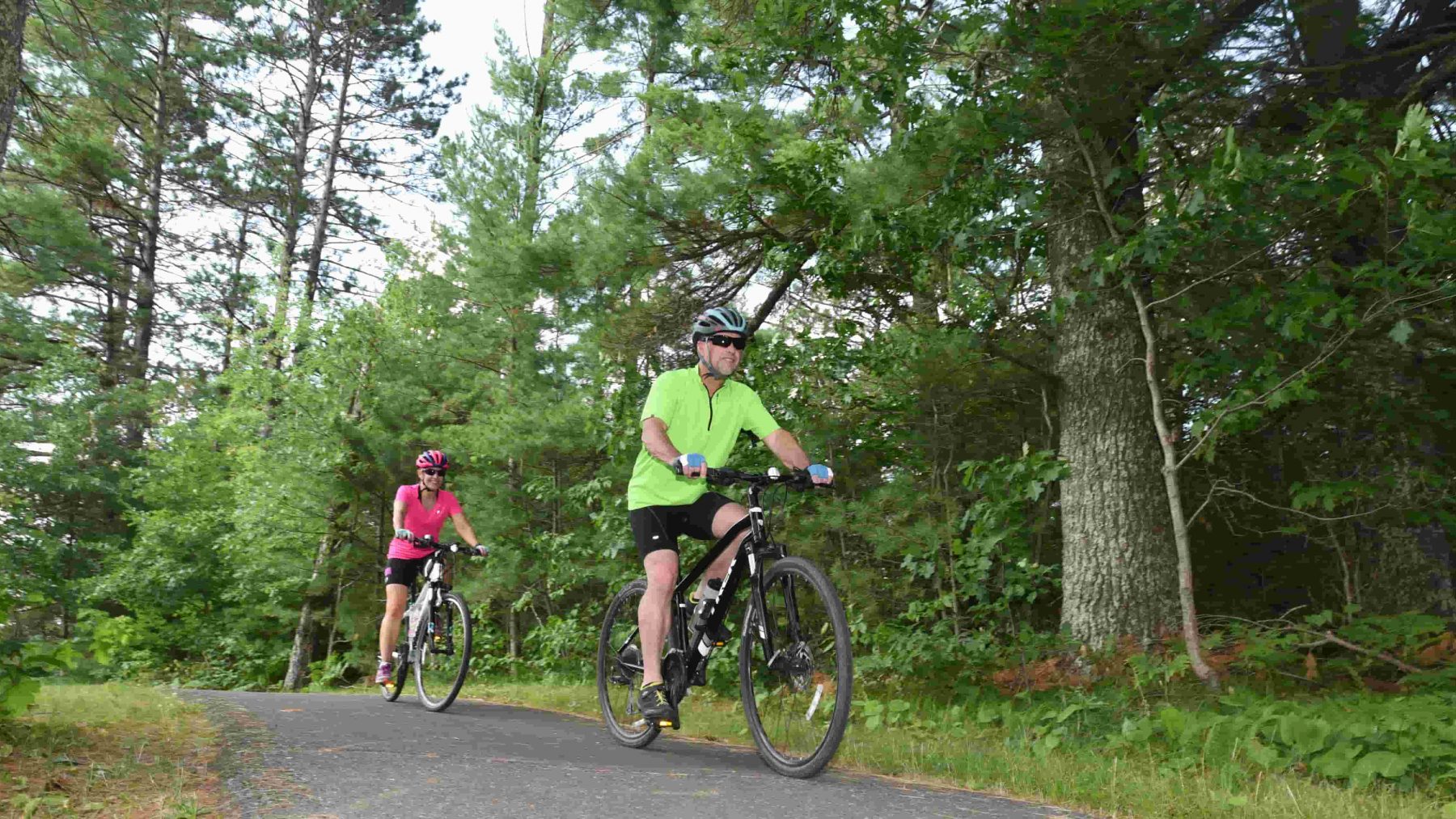 Four Unforgettable Bike Rides
The Dairy State is known around the world for its outstanding cycling. With more than 112,000 miles of roads, streets and highways, and countless trails and paths, there is no end to the exploration you can do in Wisconsin. Here are four classic Wisconsin rides perfect for riders of all abilities. All four routes offer a sample of what makes here riding so special – beautiful scenery, safe and tranquil riding and ample trailside amenities. Pump up your tires, grab your helmet and get ready for a ride you won't forget.
Here's where to find some of Wisconsin's best biking.
Route name: The Green Circle Trail
Distance: 26 miles
This scenic trail in central Wisconsin, which is open to hiking and biking, loops around the city of Stevens Point. It passes through prairies and wetlands, parks and forests. It also connects to more than 20 miles of additional trail riding and it passes near great restaurants and comfortable hotels. You can find the trail's headquarters at the Schmeeckle Reserve Visitor Center.
Route name: Three Eagle Trail
Distance: 11.2 miles
Discover the beautiful Three Eagle Trail, which connects the Town of Three Lakes in Oneida County with the City of Eagle River in Vilas County. The trail is in two segments which are connected by a short stretch of road. Riders will enjoy flat stretch along a historic railroad bed and will pass cranberry bogs, the Three Lakes Winery, forests and wetlands. The trail features ample parking, a water fountain and restrooms.
Route name: Land O' Lakes Trail
Distance: 8.5 miles
This gentle, paved trail just south of the border of Upper Michigan is a great way to enjoy beautiful Land O' Lakes on two wheels. The trail runs west of town on County Highway B. The trail passes tranquil lakes, and stands of ancient hemlock and white pine trees. Just off the route Is Black Oak Lake, considered one of the clearest in Wisconsin. Tests by the Wisconsin Department of Natural Resources measured the average water clarity of this lake at 35 feet.
Route name: Pheasant Branch Conservancy trail
Distance: 1.2 miles; connects to additional miles of cycling paths
Middleton wins awards for its high-quality trails and you'll find out why as you pedal the Pheasant Branch Corridor Trail. This trail will take you through a tranquil wooded oasis. Pedal footbridges that pass over bubbling streams and through wooded hills dotted with wildflowers. The scenery is so pleasant you might forget you're a short pedal away from shopping, dining and a variety of attractions, including the National Mustard Museum. This is a trail that any rider can enjoy.