Three Hubs For Spring Auto-touring
This spring, hit the road and see Wisconsin waking up
Nothing clears winter's cobwebs better than a drive through the country.  The sights and sounds are simply magical. See the buds fattening on the trees and the pastures turning green. Spy flocks of geese flying in V's across a blue sky and hear them calling to one another. Spot newborn calves in the meadows and stop to listen to a swollen brook. It's a feast for winter-dulled eyes and ears.
Wisconsin is famous for its rural beauty. To really appreciate the visual splendor, you need to get off the Interstate. But, in any journey, you'll need to have a starting point. Here are three Wisconsin destinations that are surrounded by natural beauty and numerous opportunities for scenic drives.
Big Views on the Mississippi River
If you're looking to explore Wisconsin's Mississippi River region, Onalaska is the place to start. Located at the midway point of the Wisconsin Great River Road, Onalaska is a great place to stay when exploring this designated National Scenic Byway.
A favorite drive from Onalaska is a short loop that takes you through the Mindoro Pass. From Onalaska, drive to the small town of Holmen. From there, take Highway D and head to Mindoro. Then, take a right on Highway 108 and pass through the second largest hand-hewn rock cut in the Western Hemisphere. Highway 108 will take you back to Highway 16 and back to Onalaska again.
The scenic drives from Onalaska are nearly endless. Follow the Wisconsin Great River Road north or south, or cross the river into Minnesota and drive the Minnesota Great River Road. Numerous scenic overlooks give you ample opportunity to admire the river and the bluffs. Be prepared to be awed.
Deep in the Forest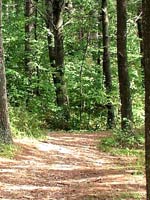 Vilas County is arguably the best place to go if you want to see the forests burst back into life after a long winter's sleep. The forests of Vilas County boast vast stands of towering white pines, and these dense woods are dotted with more than 1,300 lakes. It all adds up to unbelievable scenery.
Almost every road in Vilas County is a back road. Even major roads like Highway 51 or Highway 70 provide breathtaking views. But if you really want to see some scenic lake country, take a turn off the state highways and head into the forest.
Sticking to county roads (denoted by letter names) such as D, H or M is an easy way to see the beauty of the Northwoods, taking you off the state highways while avoiding any rough roads. A more adventurous traveler should consider exploring lightly traveled town roads and even unpaved roads through the forest. Just be sure to bring a map and a good pair of binoculars—birds and wildlife are plentiful in Vilas County.
The Big Circle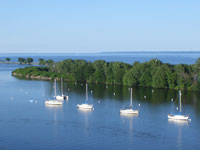 Oshkosh is a great spring getaway destination, offering hundreds of events, from running races to garden shows. You'll also find numerous retailers, including more than 40 brand-name stores at the Outlet Shoppes at Oshkosh. Oshkosh is also home to several museums, including the Oshkosh Public Museum, the Paine Art Center and Gardens and the EAA AirVenture Museum.
If you're in Oshkosh for an event this spring, make some time before or after the event for a drive around Lake Winnebago. Lake Winnebago is Wisconsin's largest inland lake. At more than 130,000 acres, it stretches from Fond du Lac at the south end to the Fox Cities at the north end. Oshkosh sits on the western shore, midway between the two ends of the lake.