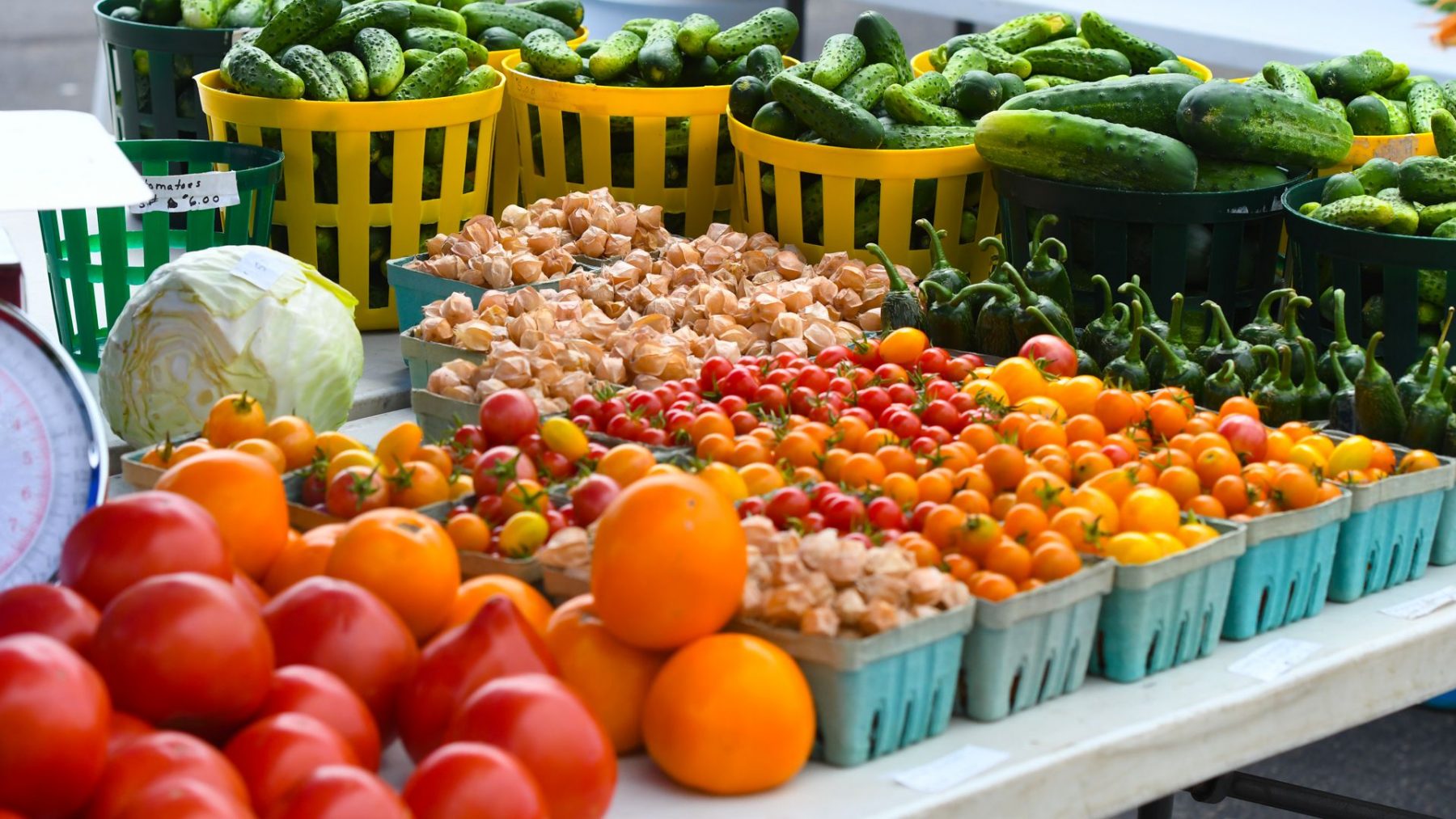 Where to find some of the state's best farmers' markets
For more than a century, farmers' markets have popped up under awnings and umbrellas in communities throughout Wisconsin, offering foodies a chance to taste the state's freshest fruits and vegetables without having to pull a single weed. Partake in this tradition throughout the growing season in spring, summer and fall—here are a few of our favorite Wisconsin markets.
Marshfield
There's a lot to explore in this charming central Wisconsin community. There's a zoo that has two rare twin Kodiak bears, a collection of creatures from the "iron age," and the world's largest round barn. These attractions are enough to make you hungry—head to the downtown Marshfield farmers' market in the parking lot of Pick N' Save on Central Avenue on Tuesday mornings for local produce, flowers, baked goods, artisan crafts, and more.
Minocqua
Head to the Northwoods of Wisconsin to find the Minocqua Farmers Market, where dozens of area farmers, producers, crafters, artisans and non-profit organizations come together every Friday from mid-May to mid-October to sell fresh fruits and veggies, baked goods, flowers, and more. Learn more here.
Manitowoc & Two Rivers
Manitowoc and Two Rivers—two friendly communities along Lake Michigan in eastern Wisconsin—are not only home to great recreational options and historical attractions, but each community also has its own robust farmers' market in spring and summer. The Downtown Manitowoc Farmers Market is held from 8am to 1pm every Saturday on Quay Street, and Two Rivers is home to a combination farmers' market/crafters market in Central Park on Thursdays and Saturdays from May through October.
Eagle River
Eagle River, located in the heart of Vilas County in northern Wisconsin, actually has two farmers' markets during the season—one on Wednesdays starting in May and the other on Sundays starting in June—where shoppers can find fresh food, baked goods, gifts, and other Northwoods products.
Find more information about Vilas County's farmers' markets here. See more Vilas County events here.
Rhinelander
Rhinelander in Wisconsin's Northwoods is home to the legendary Hodag and so much more. Rhinelander has great hiking trails, fishing and boating lakes and lively attractions. On Saturdays in Pioneer Park, you'll find the Hodag Farmers' Market. It runs from late May/early June through mid-October and features a variety of delicious items produced by local vendors.
Rusk County
This picturesque county in northwestern Wisconsin is for people who love the outdoors. Rusk County has four picturesque rivers (the Flambeau, Jump, Chippewa and Thornapple), and it's home to the scenic Blue Hills, the remnants of an ancient mountain range that's heavily forested and can be explored by hiking, biking and ATV trails. Not far from the Blue Hills you'll find the village of Bruce, which hosts a great community market on Friday afternoons from June through October. Purchase local produce, baked goods, meats and much more. On Wednesday afternoons and Saturday mornings, vendors converge in Ladysmith for the Rusk County Farmers' Market.
West Bend
A short drive from Milwaukee, West Bend is an easy and attractive getaway destination. It's the Geocaching Capital of the Midwest™, boasting over 1,600 caches within a 10-mile radius, and it's home to some great art and history museums. Every Saturday, from late May until late October, a farmer's market draws food lovers to Old Settlers Park in downtown West Bend. Shoppers browse stands loaded with fresh produce from local farms and orchards.