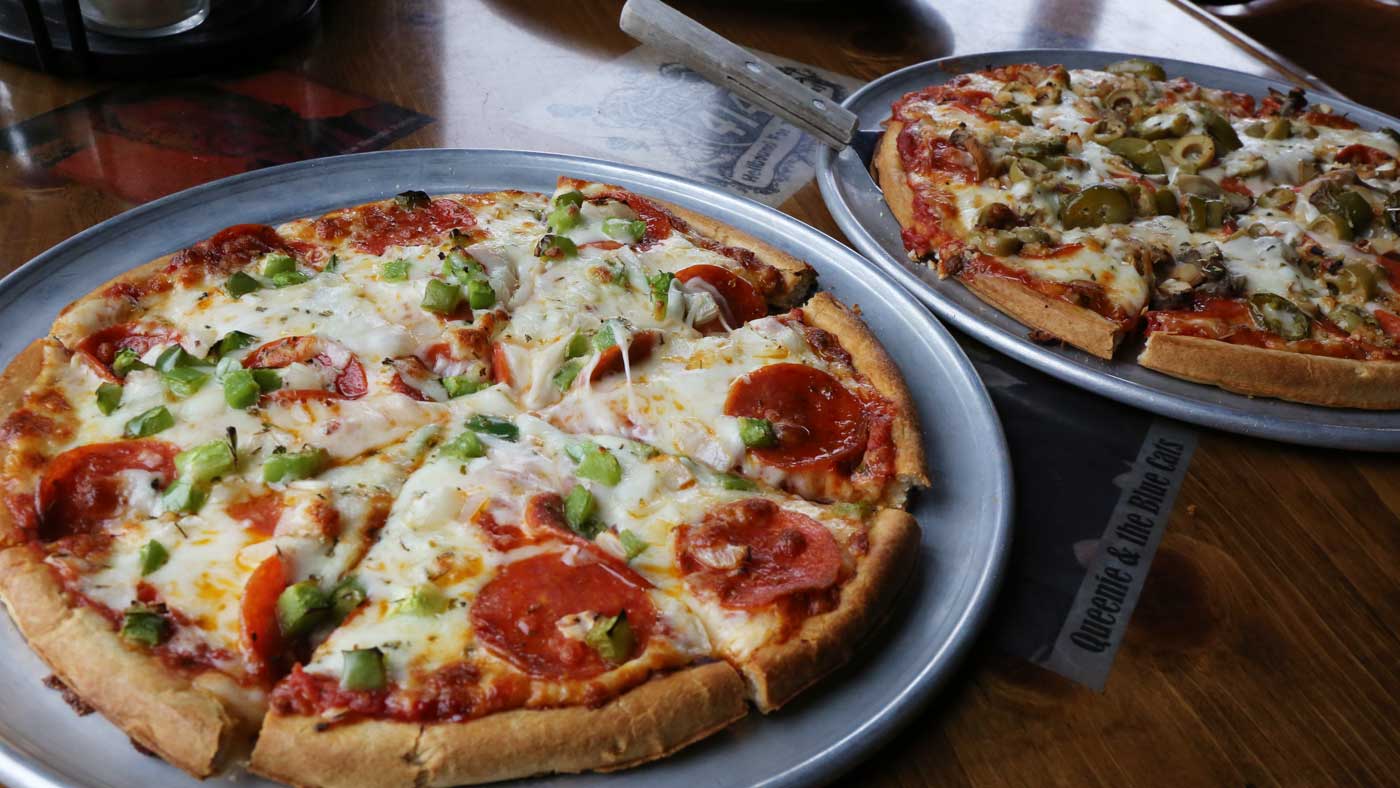 Where to find the best pizza in the Northwoods
What better way to celebrate National Pizza Month than by enjoying a slice (or a whole pie, if you're hungry) at some of the Northwoods' best pizzerias? Here's a look at some Oneida County restaurants that are serving up some of northern Wisconsin's top slices.
Find more pizza places—and other great dining options—throughout Oneida County by searching the filterable listings on our dining page.
Located on the shores of Medicine Lake, this traditional Northwoods tavern is well-known for its homemade pizzas—made on the lodge's signature pizza crust—and delights customers with offerings like the BBQ Brisket Pizza and the Meatlovers Pizza. (If you're not in the mood for pizza, Pike's also serves up Mexican street tacos and more on Cantina Tuesdays and offers a classic fish fry on Fridays.)
This popular pizza spot in downtown Tomahawk serves up delicious homemade pizzas as well as pasta, calzones, sandwiches, and a Friday night fish fry. Build your own or choose one of Bambino's favorites like the Bambino's Bonanza, the Luau Pulled Pork, the Meatball Marinara, or the Gyro. Choose from original hand-tossed or thin crust (Bambino's also offers pan pizzas and gluten-free crusts) in sizes ranging from medium (12 inches) to jumbo (20 inches).
This family-owned restaurant has been making fresh pizzas in Rhinelander for locals and visitors alike for more than 50 years and continues to be a favorite of diners throughout Oneida County. The Haven's specialty pizzas include the Fritz Deluxe (named for Fritz Diekvoss, who took over the restaurant from its original owners in 1969, this pie features sausage, mushrooms, onions, pepperoni, and green olives) and the Italian Garlic Chicken (garlic sauce, chicken, broccoli, onions, and fresh tomato on an oat bran crust).
Enjoy a delicious pizza and some Northwoods nostalgia at this cozy log cabin (built in 1947) on the banks of Shishebogama Creek west of Minocqua. This welcoming restaurant is open year-round and serves up specialties like Taco Pizza, Rueben Pizza, and BBQ Chicken Pizza. You can also build your own 10- to 14-inch pie. If you're extra hungry, don't forget the Pizza Fries or Bear Bread (mozzarella-stuffed breadsticks served with homemade pizza sauce).