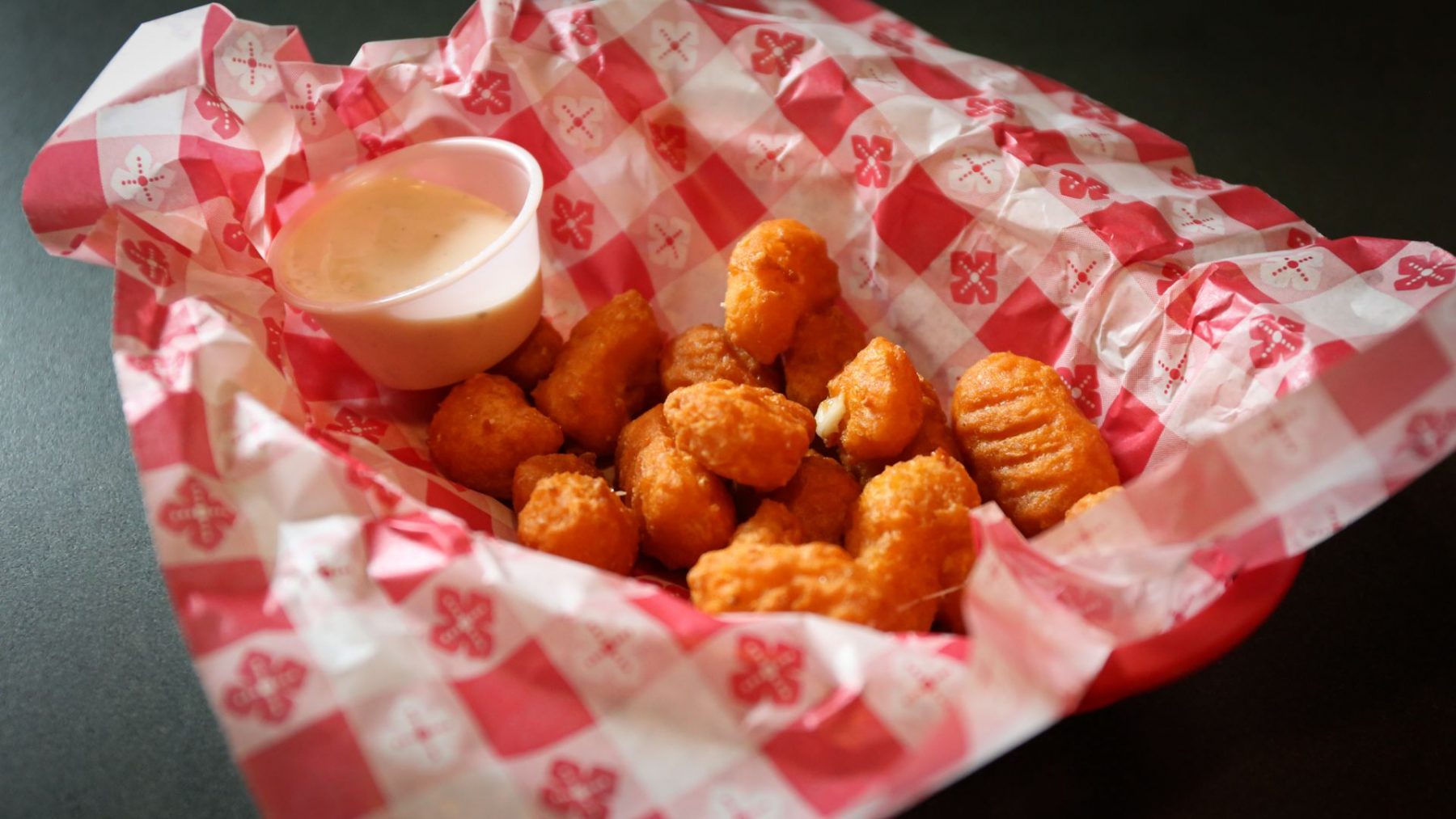 The perfect weekend road trip: Chicago to Minocqua
About the author: Sarah Mack is the author behind the travel blog O The Places We'll Go. Learn more about Sarah here.
This Halloween I got back in touch with my Wisconsin roots by road tripping to Minocqua with one of my closest friends, Ellie. Ellie and I both grew up in a small town in Wisconsin, but have since moved around the states and have ultimately both landed in Chicago. I consider myself a Wisconsinite to my core—I always have cheese in my fridge (Merkts is my favorite), consider brats to be the ultimate summer food, and I would choose a lake over the ocean any day. If you haven't been to Wisconsin before, there are a few things you need to know.
Beer and cheese are delicacies
Wisconsinites plan their weeks around the Packers schedule
Cheese curds are a major food group & a good cheese curd is squeaky
People are genuinely nice
We kicked off our adventure like any Chicagoan—stuck in traffic. Luckily, I have the perfect driving playlist, complete with Eminem throwbacks toned down by the occasional Jack Johnson tune. When planning this trip, I learned that Minocqua is much closer to Chicago than I expected (only about a 5-hour drive). We opted to break up the trip by spending a night in Madison visiting our friend Krista.
Upon reaching Madison, in typical Wisconsin fashion, we quickly found our way to a well-appointed bar for a bite to eat. In Wisconsin, the only real place for "a bite to eat" is in a metaphor, as an integral part of Wisconsin culture is the massive serving sizes. Ellie is Italian, and I just love olives, so we opted to order a plate of olives to accompany our drinks. A few minutes later we became acquainted with the world's largest plate of olives, which naturally resulted in a few weird looks from the cheese and brat connoisseurs surrounding us.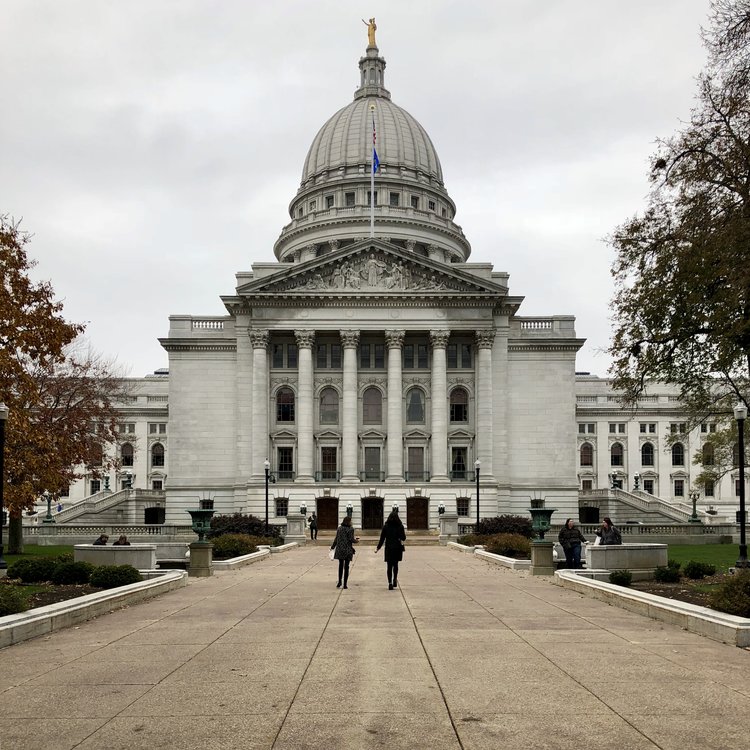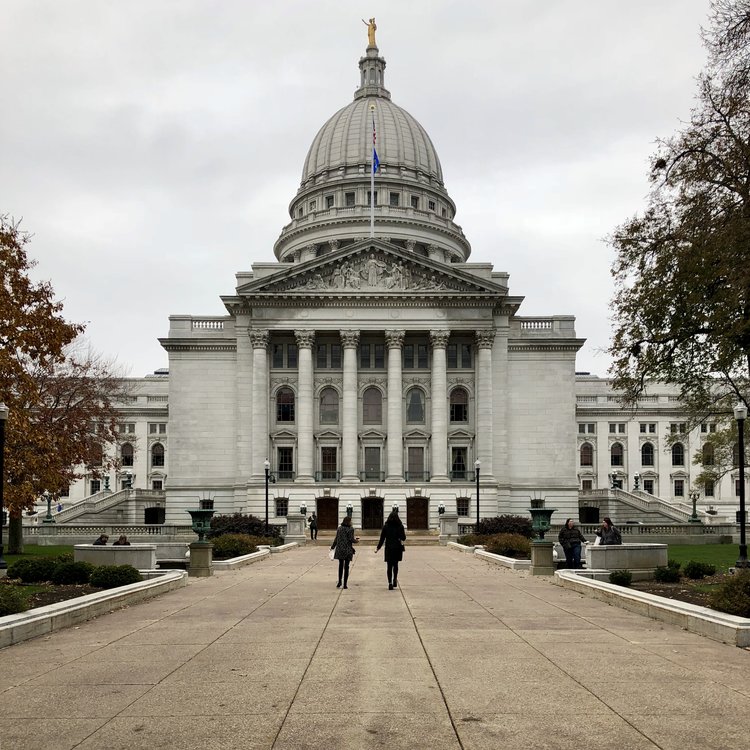 Following a quick stop at the Madison farmers' market for breakfast, we were back on the road. The drive to Minocqua was a straight shot from Madison, and there was no shortage of incredible views. Wisconsin has a knack for always being beautiful, but fall is when the state really shines. We drove past a sea of changing leaves, cranberry bogs, and lakes. It's easy to tell when you're getting close to Minocqua, because everything somehow becomes even more charming. The road signs change from the standard issue metal plaques to rustic wooden signs, and everywhere you look there is a sign for a lake.
Our first stop was a Minocqua staple—The Boathouse—for lunch. My habit for giving into temptation lead me to order a Wisconsin classic—fried cheese curds and a Spotted Cow.  The Boathouse is the perfect lunch spot. It's right on Lake Minocqua, within walking distance to all of downtown, and has plenty of space to fit a group of friends. We arrived in the middle of a Wisconsin game to watch a heartbreaking defeat to Northwestern.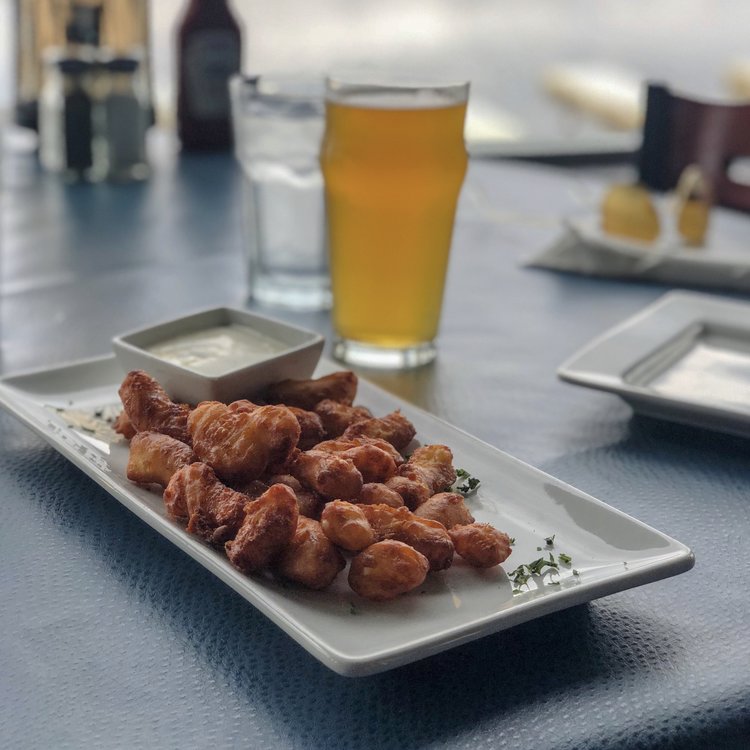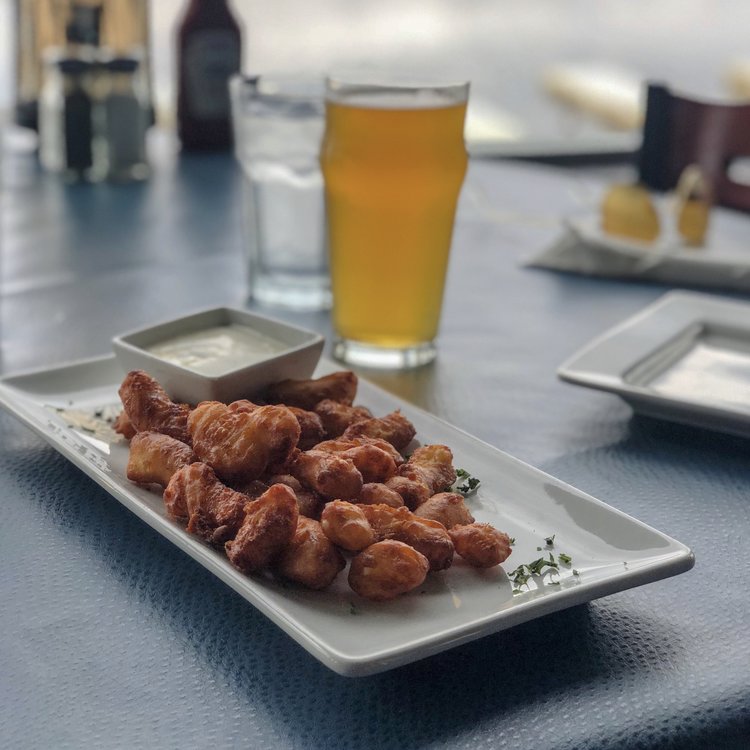 Minocqua's downtown may be small, but there is plenty to do. Ellie and I both love antiquing, so Gaslight Antiques was naturally our first stop.  The space is HUGE and sells everything from vintage jewelry to stuffed black bears. We sifted through endless treasures, but ultimately Ellie found a pearl clutch and I found a vintage hat. The shocking part? Combined, our vintage finds were only $22. In our post-bargain hunting high, we wandered into Northern Waters Distillery. Wisconsin can be a small world, and lo & behold one of the distillers went to our high school. We had an incredible time discussing our hometown, sampling local spirits, and getting Minocqua recommendations from locals—all while sipping on Old Fashioneds.
We spent the rest of our afternoon exploring the downtown, chatting with friendly locals, walking along the shores of Lake Minocqua, and eating our fill of fudge from Dan's Minocqua Fudge. Before we knew it, the sun was setting, and we had to check into our hotel—The Waters of Minocqua. The Waters is a log cabin-inspired resort filled with cozy fireplaces, classic log cabin decor (including the occasional deer head), and a water park.  Our room was spacious and even had its own fireplace.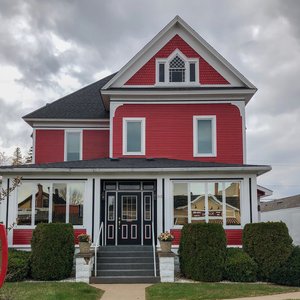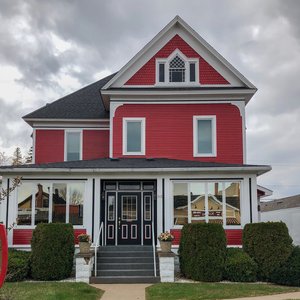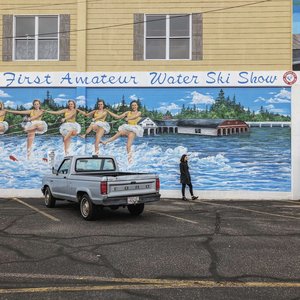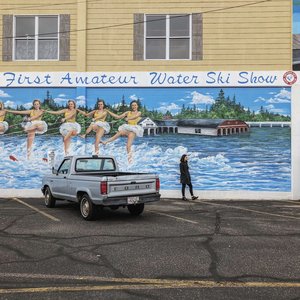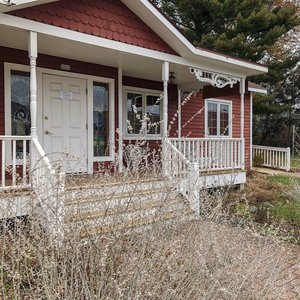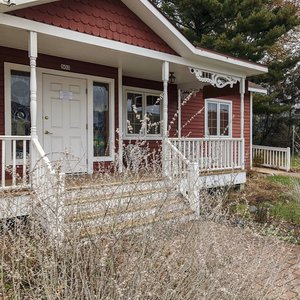 After we regrouped at the Waters, we were ready to try a Wisconsin classic—a supper club. We were set on dinning at Norwood Pines, and lucky for us Google said they were open. But one thing I always forget is that in Wisconsin you're better off asking a local than asking Google.  After a 10-minute drive, we arrived at Norwood Pines only to find out they were closed for the month. Fortunately, we had heard that another Supper Club, Jacobi's, was open, so we called for a reservation (and confirmed they were open) before heading over,
Our meal at Jacobi's was terrific.  In my family, we take two things very seriously: whiskey and steak. My great grandfather (Grandpa John) was a cattle farmer ,and putting ketchup on your steak was considered a capital crime. Grandpa John would love Jacobi's. This super club makes their Old Fashioneds strong, and their steak melts in your mouth (no ketchup needed).  If you have any room left, you must try an ice cream drink—another Northwoods classic.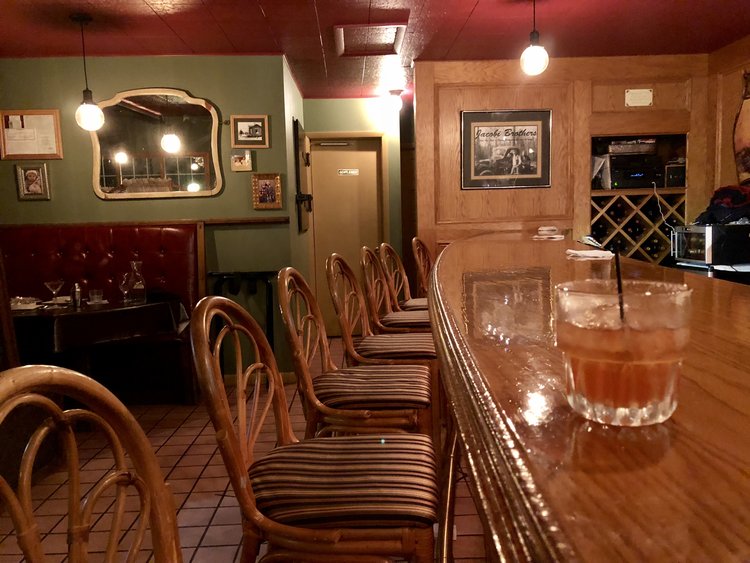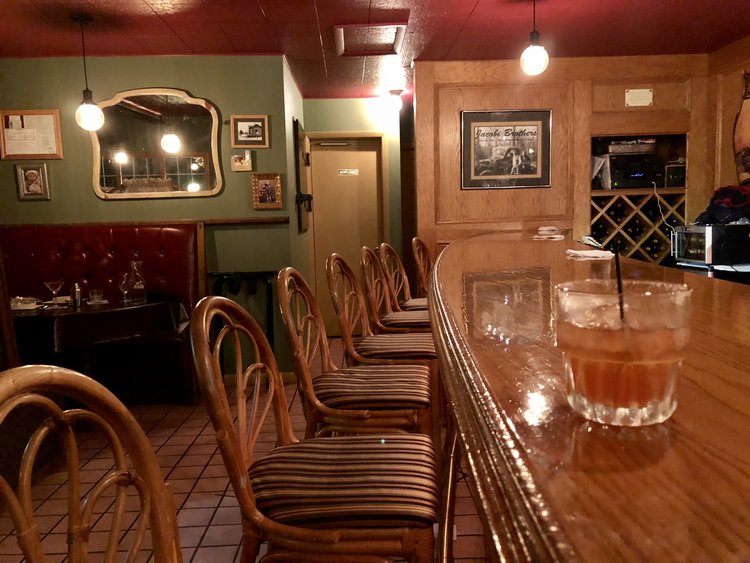 After our feast at Jacobi's, we were ready for a night out on the town. Going out in Minocqua is like going out in my hometown minus the mini high school reunions at every bar. We were set on hearing live music, so Minocqua Brewing Company was a natural choice.  We loved everything about the bar: the band was AMAZING, the drinks were cheap, and the Halloween outfits were on point (we missed the costume memo).
After a night out, the best way to recover is with a big breakfast. Lake Placid Inn came highly recommended to us by a couple that we met in town. After packing, our first order of business on Sunday was to try the best breakfast around. We arrived at Lake Placid Inn and instantly loved it. After a bit of a wait, we were seated and shared a table with the sweetest older couple. They helped guide us through the menu, explained that all of the food (including the bread for the toast) was homemade, and gave us some great recommendations for stops on our drive back to Chicago. We left full, caffeinated, and ready to drive.
The drive back to Chicago was uneventful except for my favorite stop: Mullins Cheese factory. If you haven't been to Mullins, you have to go. You can buy fresh cheese curds (they all squeak) straight from the source. In the retail store, they will even fry them on the spot. Naturally, I bought a bag off cheese curds to bring a little bit of Wisconsin back to Chicago with me.
Spending Halloween weekend in Minocqua was nothing short of amazing. Ellie and I couldn't believe how everything seemed straight out of a postcard. No matter where you wander, you're never more than a couple of blocks away from the shores of Lake Minocqua, and the local residents are so friendly that you'll be shocked such a place can exist. Living in Chicago can be overwhelming, and it was terrific to get a break to reality from the eccentricities of city life.