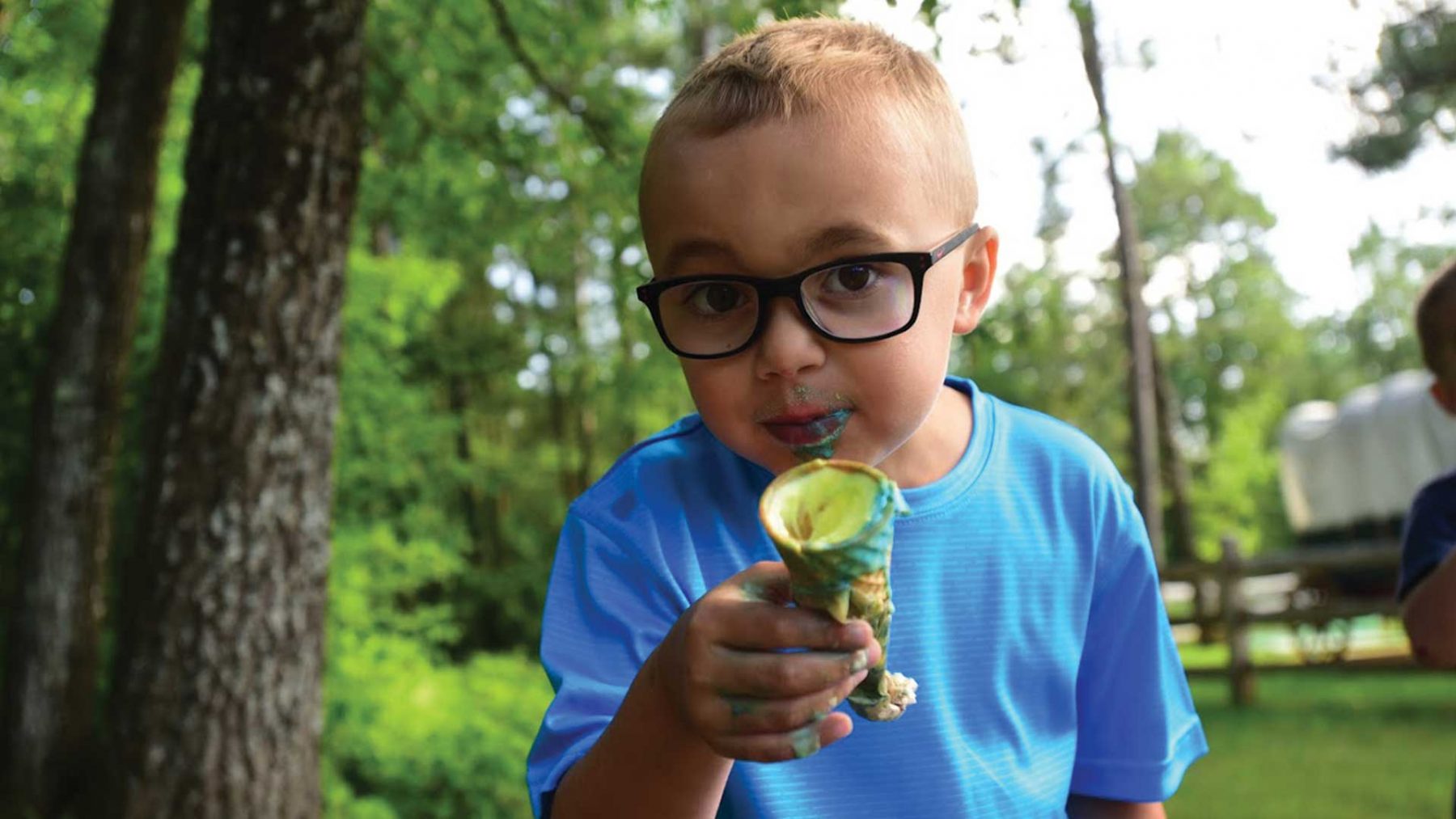 Photo Credit: Vilas County Tourism
Where to find Wisconsin's best ice cream
No need to scream for ice cream when you're traveling throughout Wisconsin—you'll find delicious frozen treats pretty much anywhere you go. (We are the *Dairy State*, after all.) Here's a region-by-region look at some of the state's best spots for ice cream.
Northern Wisconsin
In Oneida County, ice cream enthusiasts will find the iconic Windmill Ice Cream Shop on Lake Nokomis in Tomahawk (yes, the building actually looks like a windmill) offers nearly 30 flavors of ice cream and can be reached by car, bike, or boat. Fun Factory Sweet Shoppe in Rhinelander has cones, fresh gelato, and other tasty confections (including Hodag-themed treats). Briq's has locations in Rhinelander, Minocqua, Wausau, Mosinee, and several other locations throughout the state.
In Vilas County, Boulder Junction is home to two delicious spots for sweet treats: the Ice Shanty Drive-In serves up delicious ice cream (and a side of mini-golf), and Mad Dog Jake's is a local favorite for Chocolate Shoppe Ice Cream, Chicago-style hot dogs and more. Other popular Vilas County ice cream spots include Pirates Hideaway in Eagle River and The Corner Store in Sayner.
Head to Ladysmith in Rusk County—the land of four rivers—to find Corks and Stuff Ice Cream Shop, where ice cream aficionados will find hand-dipped ice cream, malts, and sundaes, as well as smoothies, coffee, handmade gourmet chocolates, and Chicago-style hot dogs (there's even an 18-hole mini golf course on site).
Central Wisconsin
If you're exploring the Lake Michigan shoreline on Wisconsin's eastern edge, visit Beerntsen's Confectionary in Manitowoc for a classic sweet shop experience. Enjoy the ambience of this old-fashioned ice cream parlor and enjoy ice cream, homemade candies, and chocolates, as well as lunch or dinner.
Hub City Ice Cream Company in Marshfield is close to fun family-friendly attractions like Wildwood Park & Zoo and Vandehey Waters Outdoor Aquatic Center and offers a wide selection of cones, dishes, sundaes, floats, shakes, malts, and slushies and serves up Madison's own Chocolate Shoppe Ice Cream.
Southern Wisconsin
Leon's Frozen Custard (OK, it's technically not ice cream but it's still cold and delicious, so it counts) is a Milwaukee institution, as well known for its iconic neon sign as it is for its frozen custard and soda fountain favorites. Leon's is open year-round, so you can get your frozen custard fix in any season.
Another longtime staple in southern Wisconsin is the Babcock Dairy Store on the campus of the University of Wisconsin in Madison. The store produces dairy products for the university and the surrounding community and supports the university's Food Science Department. Babcock's famed ice cream is made from the same recipe that's been used since 1951, and customers can choose from nearly two dozen flavors for an in-store treat or to take home.