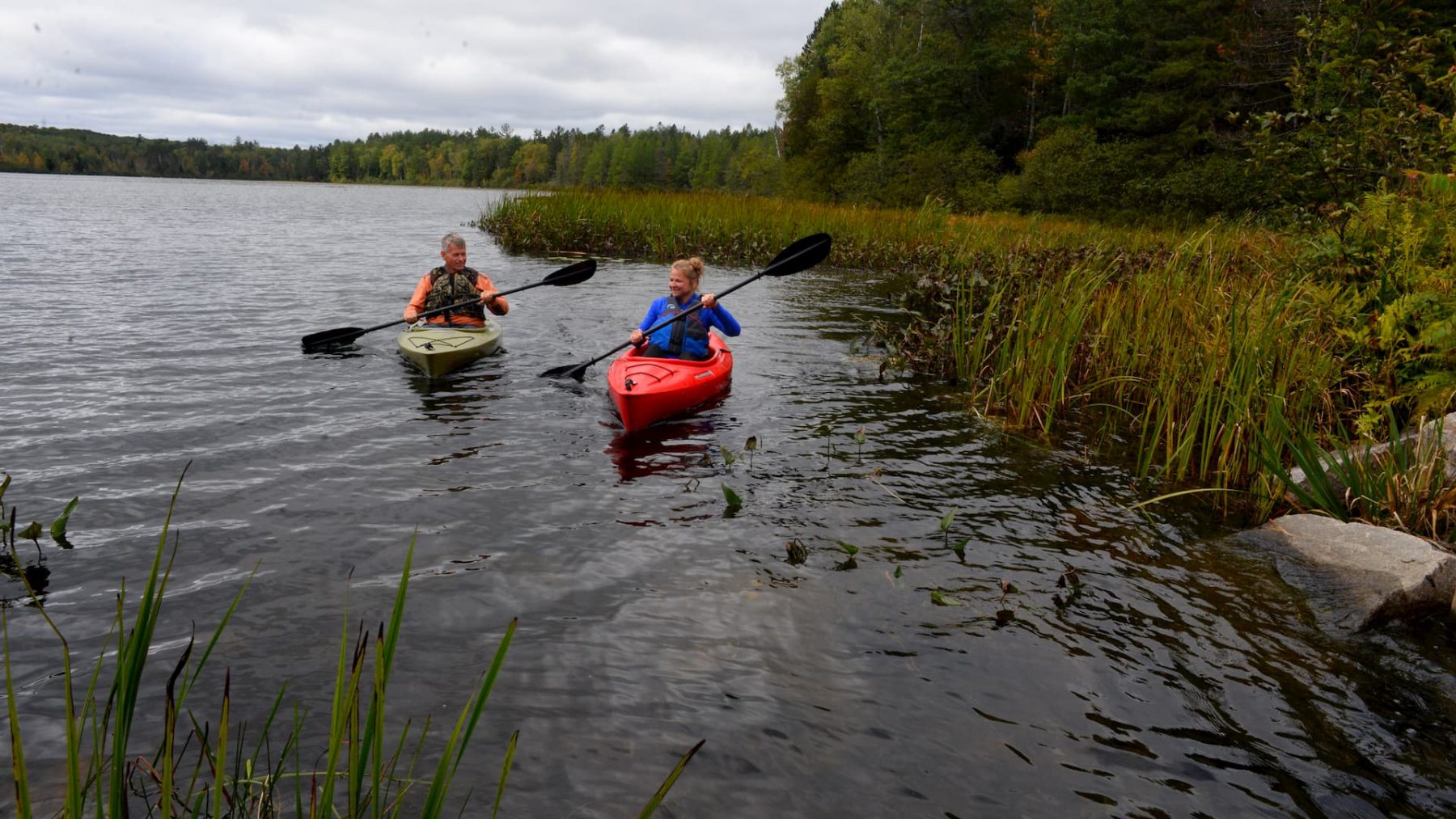 Paddle through stunning fall color in these scenic hotspots
It's not too late to see Wisconsin's stunning fall colors—all you need is a canoe or kayak and a spirit of adventure. Whether you want to paddle across a mirror-like lake or look for wildlife alongside a meandering Northwoods river, you'll find plenty of Wisconsin waterways to explore. Here's a closer look at a few you shouldn't miss.
First things first: Check out our latest fall color report for the most up-to-date info on what kind of conditions you'll find across the state. Then, load up your canoe or kayak and start your adventure!
Northwestern Wisconsin
The northwestern part of the state is home to some great places to get out on the water, starting with the biggest: Lake Superior. Visit Bayfield on the shores of the greatest Great Lake to explore the stunning shores of Lake Superior as well as the iconic Apostle Islands. Head to Rusk County—the home of the Blue Hills—to explore four wonderful rivers: the Chippewa, the Flambeau, the Jump and the Thornapple. Visit Eau Claire to paddle the confluence of the Eau Claire and Chippewa rivers and enjoy the scenery along the Chippewa River Water Trail.
Northeastern Wisconsin
The Wisconsin River, which starts near Land O' Lakes in Vilas County, cuts through some of the prettiest sections of the Northwoods, including Eagle River, Rhinelander and Tomahawk, and offers outstanding opportunities for paddling excursions. But it's not just rivers—the Northwoods are home to one of the largest collections of freshwater lakes on the planet, hundreds of which have easy access via public boat launches. Another outstanding paddling adventure can be found in Door County, where you'll discover caves, shipwrecks and more.
Southwestern Wisconsin
Some of the prettiest scenery in Wisconsin can be found in southwestern Wisconsin along the bluffs and valleys of the Mississippi River region. While canoers and kayakers can get out on the river itself, the backwaters of the river offer a less crowded (but still incredibly scenic) alternative. Here are a few paddling options in the La Crosse area. Wonderfully scenic paddling opportunities can also be found at Wyalusing State Park along the river. Head inland to the state's most popular park to spend a morning or afternoon paddling around Devil's Lake.
Southeastern Wisconsin
Want to get out on the water in the heart of the city? Several companies offer rentals or guided tours on the Milwaukee River in Milwaukee, and there are lots of places to launch your canoe or kayak on the four major lakes in Madison. If you're looking for something a little more secluded, head to the Horicon Marsh Wildlife Area between Beaver Dam and Fond du Lac.