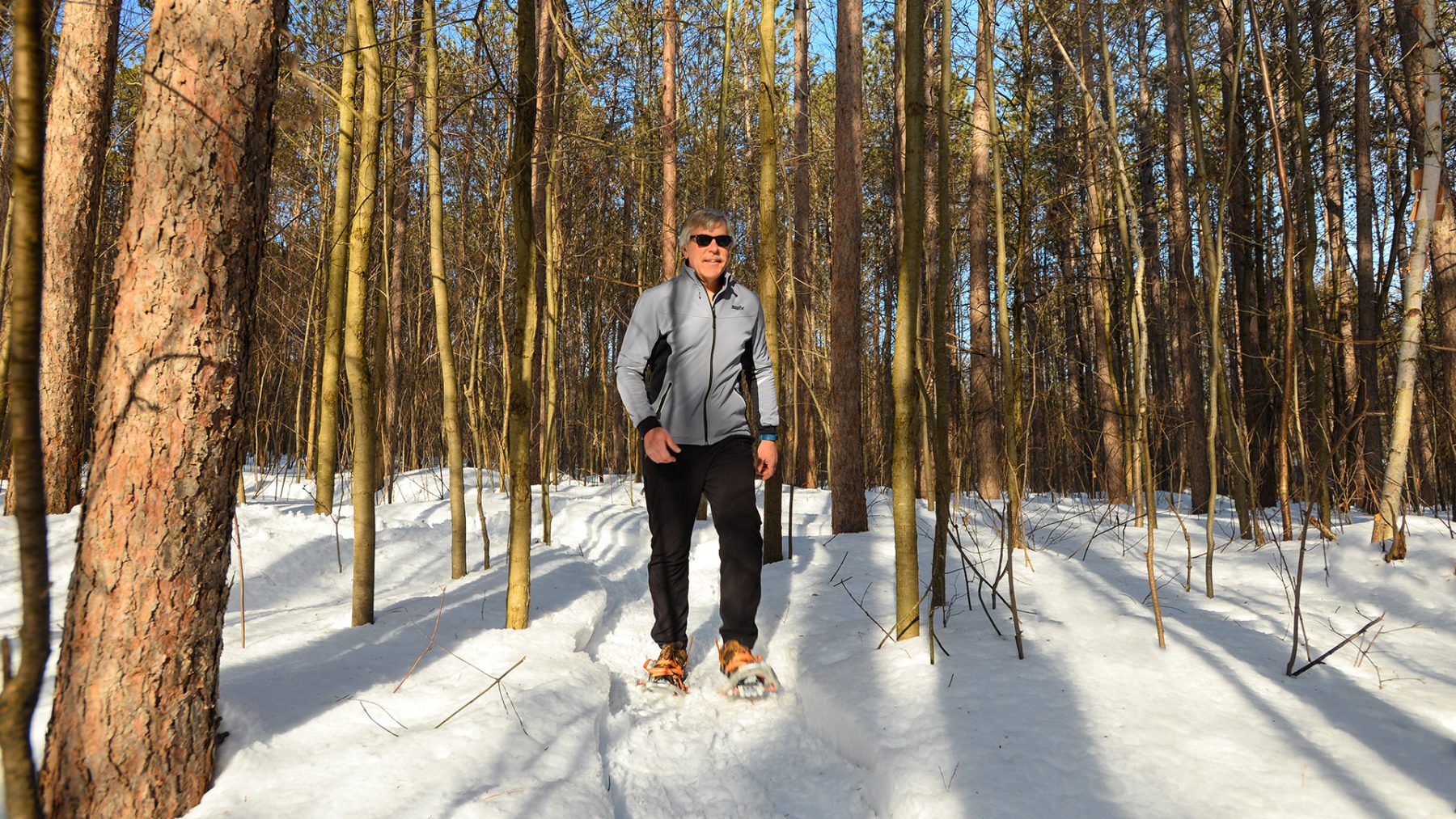 Snowshoeing the Ice Age Trail
Wisconsin's Ice Age Trail is a national treasure, a 1,200-mile footpath that follows the path of the last glacier to cover Wisconsin. The trail is rugged and beautiful, and it's open all year. In the winter, it's a spectacular place for a snowshoeing adventure—trekkers are treated to some of the state's best winter scenery and tranquility. The Ice Age Trail Alliance even maintains a snow depth map to help you plan for your hike! Here are three places to explore the Ice Age Trail this winter.
Northern forests
Some beautiful snowshoeing can be found in the rolling terrain of northern Wisconsin. A parking area for the Ice Age Trail can be found on First Lake Road, on the borders of Lincoln and Langlade counties. Take the trail east into Langlade County and discover a bit of the 130,000-acre Langlade County Forest. Or head west into Lincoln County, where you'll find more than 100,000 acres of county forest open to the public. The trail will take you through some wild and remote areas, but lodging is available a short drive from the trail. See hotels, motels, resorts and other lodging options in Tomahawk and neighboring Oneida County.
Easy access from big cities
Some stretches of the Ice Age trail may be easier to reach than you think. In West Bend (a short drive northwest of Milwaukee and about 75 miles from Madison), the off-road portions of the trail pass through Ridge Run Park, the Glacial Blue Hills Recreation Area and the Northern Unit of the Kettle Moraine State Forest. All these parks offer scenic hiking through glacial terrain and have parking lots near the trail. Longer-distance trail trekking is possible in the Kettle Moraine State Forest, a short drive north of West Bend. Park on County Hwy H and follow the trail north. Find plentiful lodging and dining in nearby West Bend.
The Blue Hills
The trail section in Rusk County covers about 12 miles in Rusk County, taking snowshoers into the beautiful Blue Hills, the remnants of an ancient mountain range. The trail traverses rolling stretches of hardwood forest, winding paths and historic logging roads. Find the trailhead for the Ice Age Trail in the Rusk County Forest, located near the Murphy Flowage Recreational Area in the northwestern portion of Rusk County. You can pick up the southern edge of the Rusk County trail segment off County Highway O west of Weyerhaeuser. There's no parking lot, but space to park on the side of the road.
Winter trail tips
The Ice Age Trail Alliance has some good advice to keep your trail adventure safe and enjoyable. Here are some of their tips.
Plan ahead and start early
Keep an eye on the weather
Bring a friend
Dress in layers
Invest in good winter gear
Pack safety gear
Stay hydrated