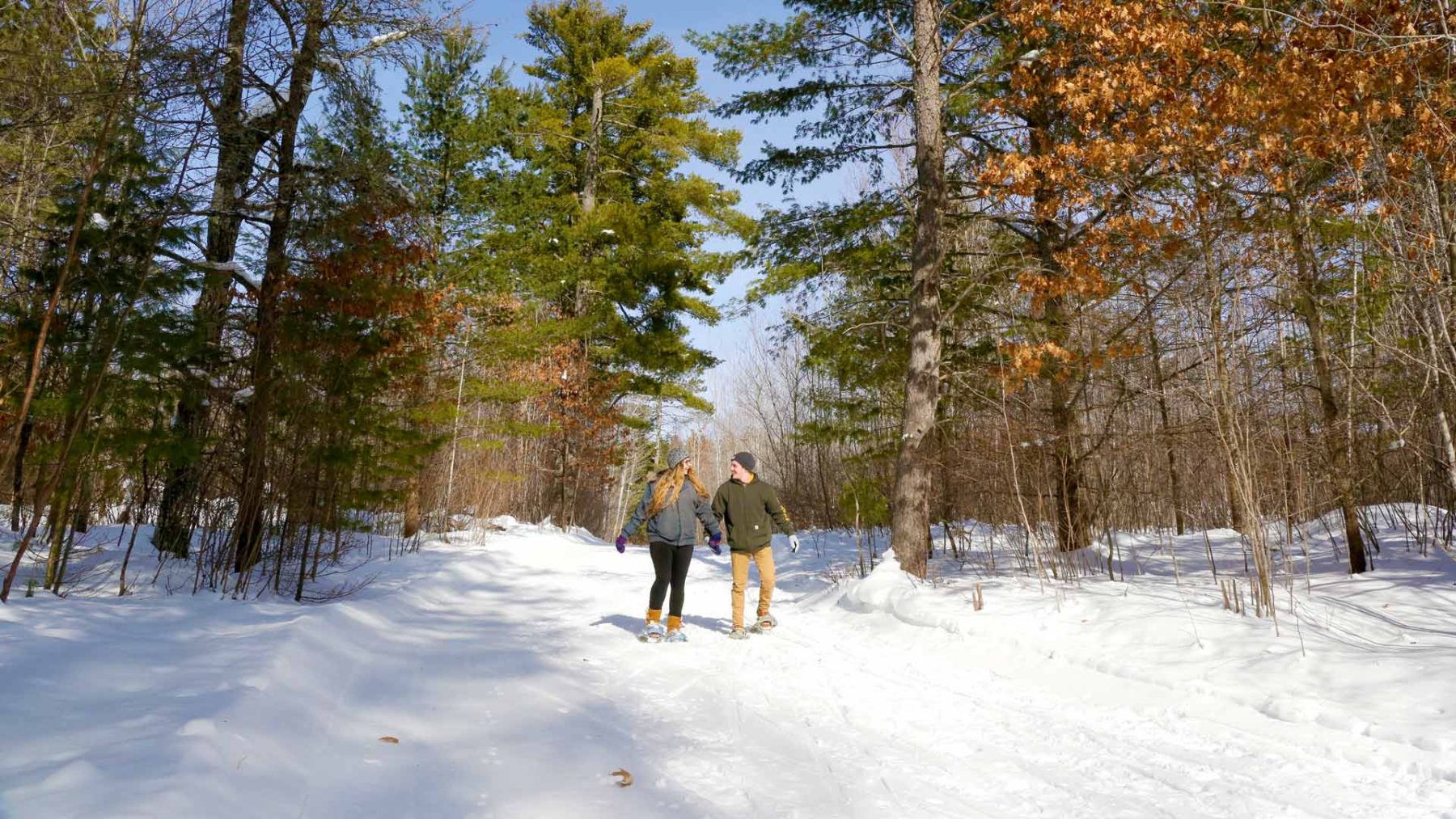 Easy-to-explore winter trails
You don't have to be prepping for the next winter Olympics to enjoy Vilas County's winter trails. Here's a look at a few trails where you can take a relaxing ski or snowshoe through northern Wisconsin's beautiful winter scenery.
This state natural area south of Presque Isle spans more than 400 acres and is a great place for cross-country skiing and snowshoeing. (Note that cross-country ski trails are ungroomed.) Skiers and snowshoers can choose from trails that vary in distance from less than half a mile to a combined route that covers more than 3 miles. The trails at the Van Vliet Hemlocks State Natural Area offer beautiful Northwoods scenery, passing by Averill Lake, Van Vliet Lake, and Hemlock Lake, and the protected area is also home to one of the largest old-growth hemlock forests in Wisconsin.
This large trail system west of Sayner has more than 25 miles of groomed cross-country ski trails, snowshoe trails, and an 8,000-square-foot ice skating rink, as well as a warming building with bathroom facilities. (In summer, Razorback Ridges is open for mountain biking and hiking.) The cross-country ski and snowshoe trails cater to users of all skill levels, from beginner to advanced. The trails were created as a community project between the Sayner-Star Lake Lions Club in cooperation with the Wisconsin DNR, and the trails are maintained by members of the Lions Club. There is no trail fee, but donations are appreciated.
Located in the Northern Highland-American Legion State Forest, this trail system just south of Boulder Junction is a great place to visit if you're a cross-country skier looking for a little more of a challenge. The Escanaba-Pallette Lake Trails offer loops of 2 to nearly 8½ miles around (you guessed it) Escanaba and Pallette Lakes. There is a shelter and a fire ring on the north side of the trail system between the two lakes, and the trail connects to the Lumberjack Trail to the north. Note that since this is a state-owned property, a Wisconsin State Trail Pass ($5 daily, $25 annual) is required for skiers 16 and older; self-registration is available at the trailhead off Nebish Lake Road.
Don't forget to download the free Map It Vilas Trails app, where you can find recreational trails throughout Vilas County by location, length, activities and more.