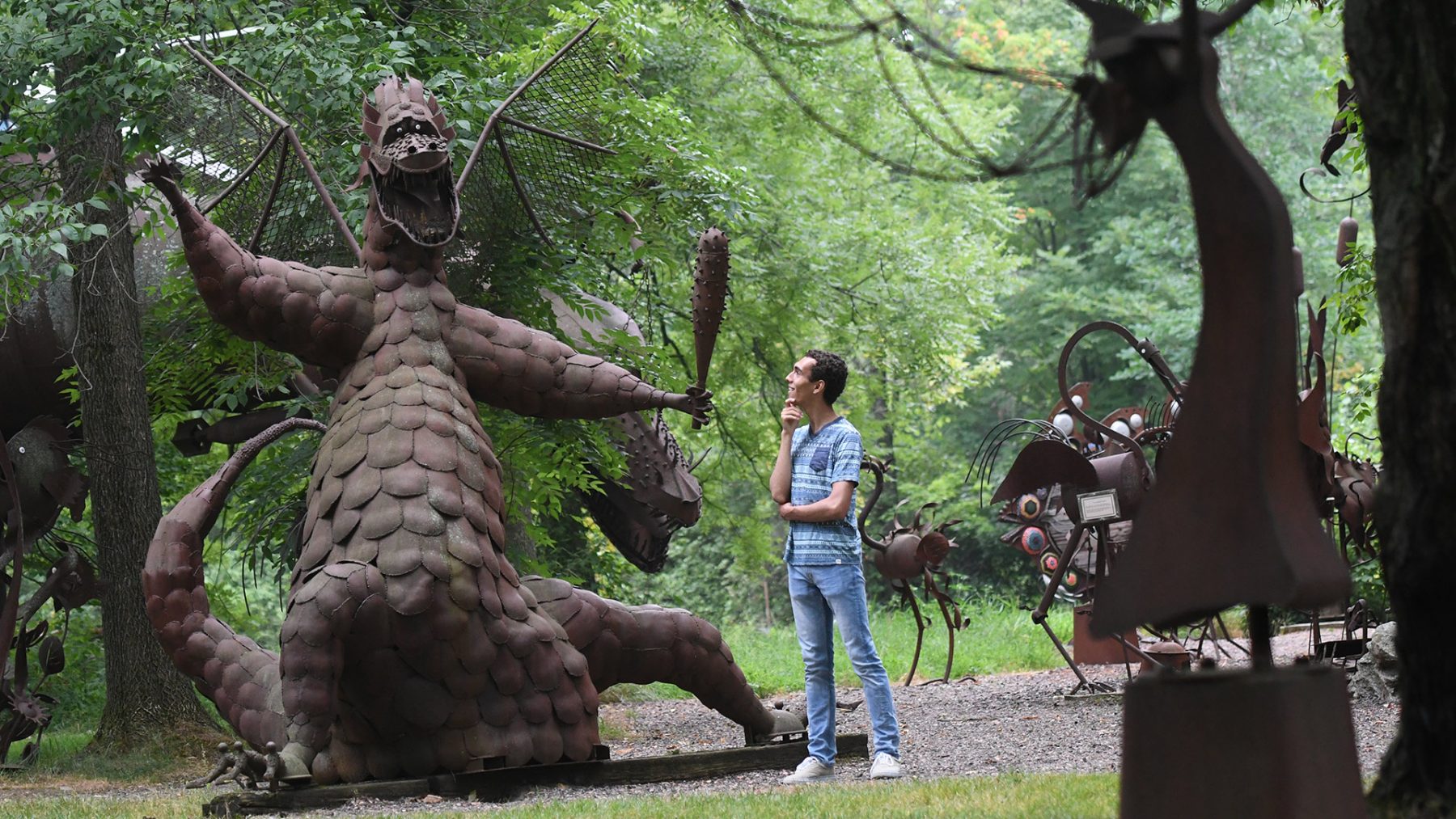 Enjoy a family adventure now
If your crew could use a little escape, you're in luck. Wisconsin has so many things to do for families that are safe, open, easy on the budget and an absolute blast. Make some towering (and furry) friends, take a selfie with a famous monster, or ride a steam train at a historical park. Pack your bags—there's a lot to experience, and we know just where to do it.
What to see: Twin Kodiak bears
Where to see them: Wildwood Zoo
In Marshfield, you'll find a zoo that's perfect for families. Built in 1937, Wildwood Zoo is one of the state's premier parks and leading municipal zoos. You can explore some of the 340-acre property by car, but it's worth getting out on foot to see the star attractions: twin Kodiak bears Munsey and Boda. The zoo also features an impressive new cougar exhibit. Marshfield is a great town for a getaway—near the zoo you'll find affordable lodging, a splash pad in the heart of downtown and plenty of ice cream!
What to see: Metal monsters
Where to see them: Jurustic Park
Just north of Marshfield is a wonderland unlike no other. Jurustic Park is an outdoor sculpture park filled with magical creatures crafted from rusted metal. The park must be seen to be believed and draws visitors from around the world. Be prepared to be amazed, and if curator and artisan Clyde Wynia is around, be prepared to laugh—he has stories and one-liners that make kids of all ages smile.
What to see: Hodag statues
Where to see them: Downtown Rhinelander
The legend of the Hodag lives in northern Wisconsin. What is the Hodag? Well, according to local lore, this Northwoods creature has green eyes, big claws, a long tail and the back of a dinosaur. You can look for the Hodag in the wild forests of Oneida County, but a sure bet for a Hodag sighting is in downtown Rhinelander. Hodag statues are placed throughout the community, and kids of all ages search them out—use the Hodag Finder to locate them all!  Hotels and restaurants on the route can complete your Hodag-centric getaway.
What to see: Wisconsin lumberjack history
Where to see it: Pioneer Park Historical Complex
Travel through time to the 1870s at Rhinelander's Pioneer Park, which showcases what life was like for early lumberjacks who worked in northern Wisconsin. Pioneer Park is actually a collection of museums where you can climb aboard a steam train, visit an old schoolhouse and learn about the Civilian Conservation Corps. Future firefighters should check out the firefighting displays. The park is free (donations accepted). Learn more about the park here.