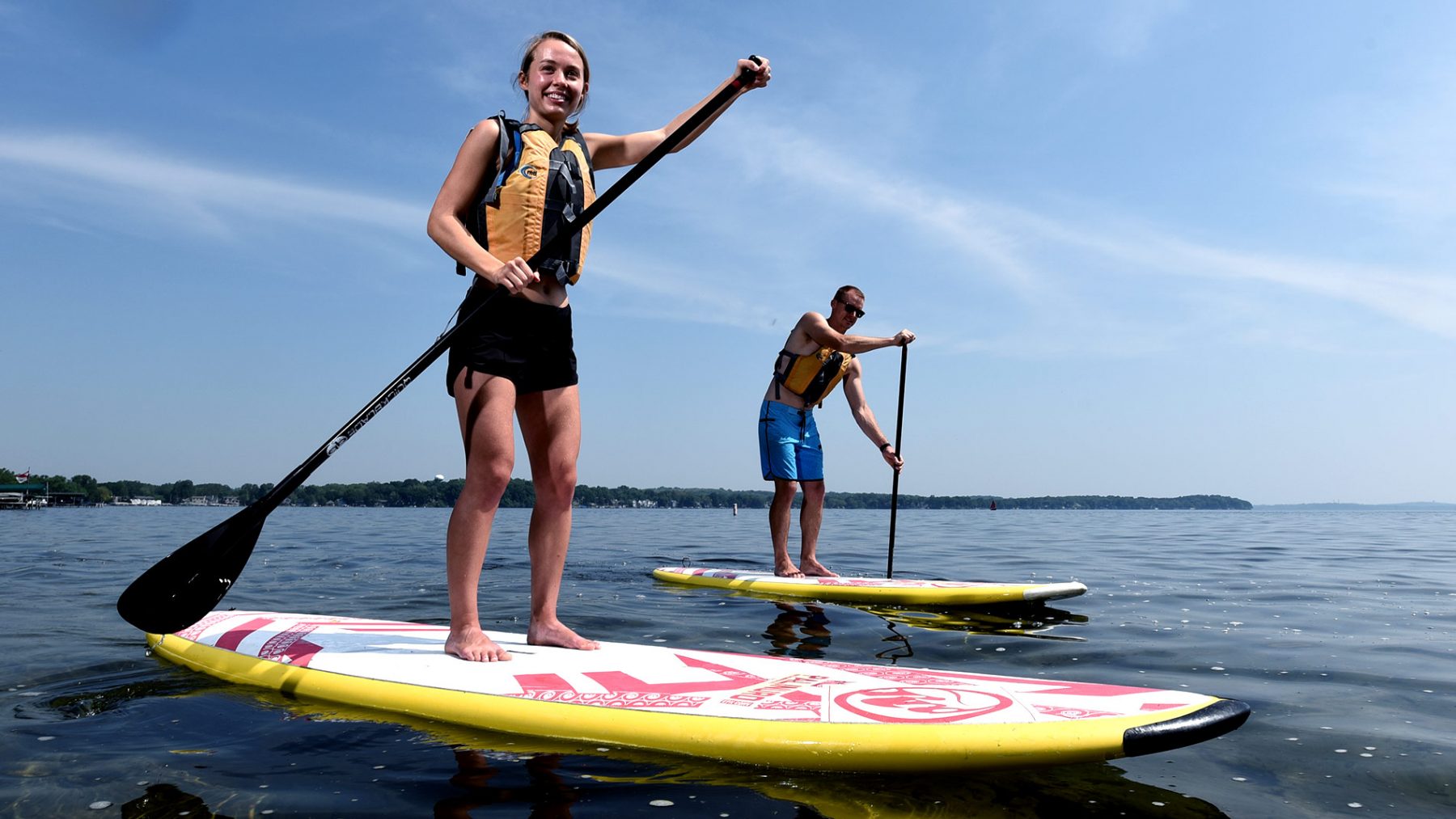 Your Guide to Wisconsin's Best Paddleboarding

Float your boat
In recent years, stand-up paddleboarding has taken the Dairy State by storm. The activity is perfect for Wisconsin—the state has more than 11,000 lakes, so there are endless places to launch a board.
People of all ages and abilities can try paddleboarding. All you need is a bit of balance and the desire to take in the beauty of nature. Here are some ideal places to explore on your board.
This beautiful lake features a couple of small islands you can paddle around. It's near downtown Boulder Junction, where you can find plenty of places to refuel after your paddling trip. Also, if you don't have a paddleboard of your own, you can find daily, three-day or weeklong rentals at Coontail, which has locations in Boulder Junction and nearby Manitowish Waters.
Known as the clearest lake in Wisconsin, there's perhaps no water that feels more refreshing than Black Oak Lake. Glance down and you'll see fish swimming 20 or 30 feet below.
There's no place like home, but Toto would agree that there's also no place like Dorothy Lake. This little gem of a lake is just 96 acres, so its calm water is perfect for paddling. The lake's water is extremely clear and you'll find the lake just east of Lake Tomahawk.
Little St. Germain Lake, Vilas County
Vilas County is home to one of the largest collection of freshwater lakes in the world. Paddlers can explore remote waterways, expansive lake chains and beautiful backcountry rivers. Check out Little Saint Germain Lake if you feel like exploring a larger lake—there are lots of small bays to paddle on this lake and board rentals are available nearby in St. Germain.
Rusk County is home to four beautiful rivers and 250 lakes and flowages, so there are plenty of places to launch your board. Lakes around here are teeming with fish, so they are also great for paddleboarders who like to cast a line. Amacoy Lake is one such spot—it's filled with bass, walleye and panfish.
This lake in the Stevens Point Area is just west of Amherst Junction. There's a 143-acre park with a swimming beach that offers access to the lake, and it's an ideal spot to relax after being out on the water.