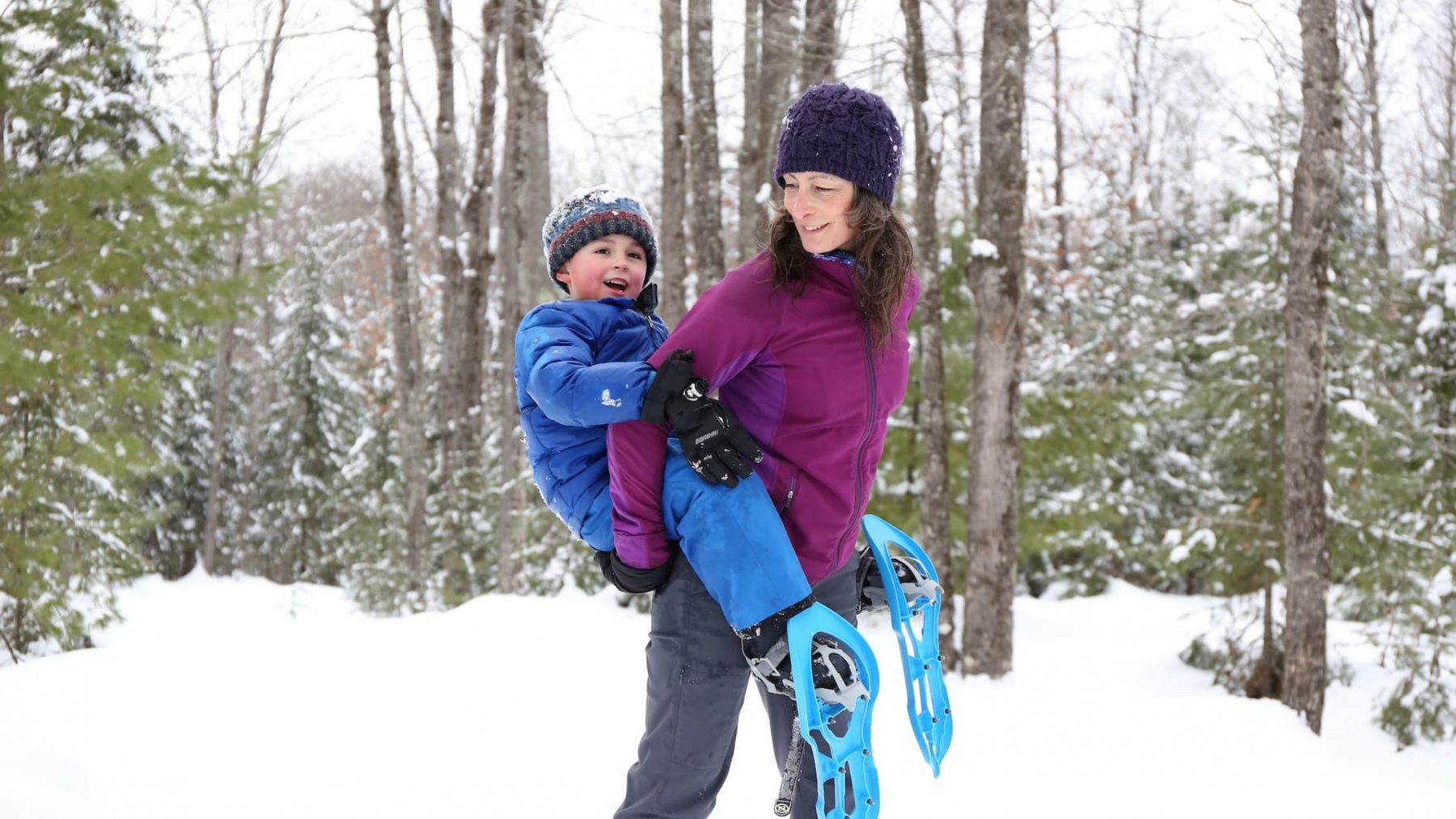 Your Wisconsin winter recreation guide, by region
There are lots of great places to play in the snow in Wisconsin. Here's a closer look at some of the state's top hotspots for winter fun like snowmobiling and skiing, from the Northwoods to the state's capital city.

Northern Wisconsin

Snowmobiling

Wisconsin's Northwoods are home to hundreds of miles of top-notch snowmobile trails, perfect for a day (or a weekend) of exploration. Vilas County, which shares a border with Michigan's Upper Peninsula, has more than 600 miles of trails that traverse beautiful Northwoods forests and frozen lakes. Eagle River and other Vilas County communities host several notable snowmobiling events throughout the winter, and Boulder Junction is home to more than 100 miles of trails. Oneida County—Vilas' neighbor to the south—is another popular snowmobiling spot in the Northwoods, boasting 1,000 miles of trails.

Cross-country skiing & snowshoeing

Looking for a cross-country skiing mecca in the Northwoods? Head to Minocqua Winter Park in Minocqua, where you'll find more than 50 miles of cross-country ski trails that wind through 6,500 acres of Northwoods winter beauty. The park also has 10 miles of snowshoe trails, multi-use fatbike trails and an ice skating pond. The Blue Hills Trail System in Rusk County passes through the remnants of a mountain range that's older than the Rockies and is open to classic and skate skiing.

Downhill skiing

If you're seeking a little more elevation, head to Camp 10 Ski Area just outside Rhinelander in Oneida County, where you'll find 15 runs for skiers and snowboarders.

---

Central Wisconsin

Snowmobiling

Marathon County (home to Wausau) is Wisconsin's largest county and boasts nearly 900 miles of scenic trails that travel throughout central Wisconsin. The county is also home to 29 snowmobile clubs that keep the trails in tip-top shape throughout the snow season. Learn more about snowmobiling in Marathon County here.

Cross-country skiing & snowshoeing

Schmeeckle Reserve is a 280-acre nature conservancy on the campus of UW-Stevens Point. The reserve is open daily from sunrise to sunset and has more than 5 miles of trails that are open all year long. None of the reserve's trails are groomed specifically for winter recreation, but after a fresh snowfall, trails are often quickly blazed by snowshoers and hikers. In Manitowoc and Two Rivers on the east side of the state is home to some great trails for cross-country skiing and snowshoeing, like the Devil's River State Trail and the Ice Age Trail (the Manitowoc County segment passes through Point Beach State Forest and the Woodland Dunes

Downhill skiing and tubing

Sunburst Ski Area outside of West Bend is home to the world's biggest tubing hill, with nearly 50 lanes of downhill fun and a 90-foot drop in elevation. Hop on a tube and reach speeds of up to 30mph as you zoom down the hill. Sunburst is also open to skiers and snowboarders, with 11 downhill runs and two terrain parks. The 160-acre Powers Bluff County Park, located about 15 miles south of Marshfield, is home to three downhill skiing and snowboarding runs, as well as a fun tube run.

---

Southern Wisconsin

Snowmobiling

While northern Wisconsin is the premier destination in the state for snowmobiling (thanks to the area's location in the Lake Superior snowbelt and generally colder temperatures), snowmobilers can explore more than 500 miles of trails in Dane County and 350 miles of trails in Walworth County.

Cross-country skiing & snowshoeing

In Wisconsin's capital city, the UW-Madison Arboretum is home to more than 10 miles of designated ski and snowshoe trails. These trails are ungroomed and can be used by hikers (and even arboretum vehicles), so exercise caution when you're out exploring. Southern Wisconsin state parks like Blue Mound State Park in Blue Mounds and Governor Dodge State Park in Dodgeville are also popular destinations for cross-country skiing.

Downhill skiing

Tyrol Basin in Mt. Horeb offers 22 downhill ski runs, ranging from beginning to expert, as well as five terrain parks and six ungroomed tree skiing runs. The popular ski area (which is open all year) also has a café and bar in its chalet, and equipment rentals are available on site.