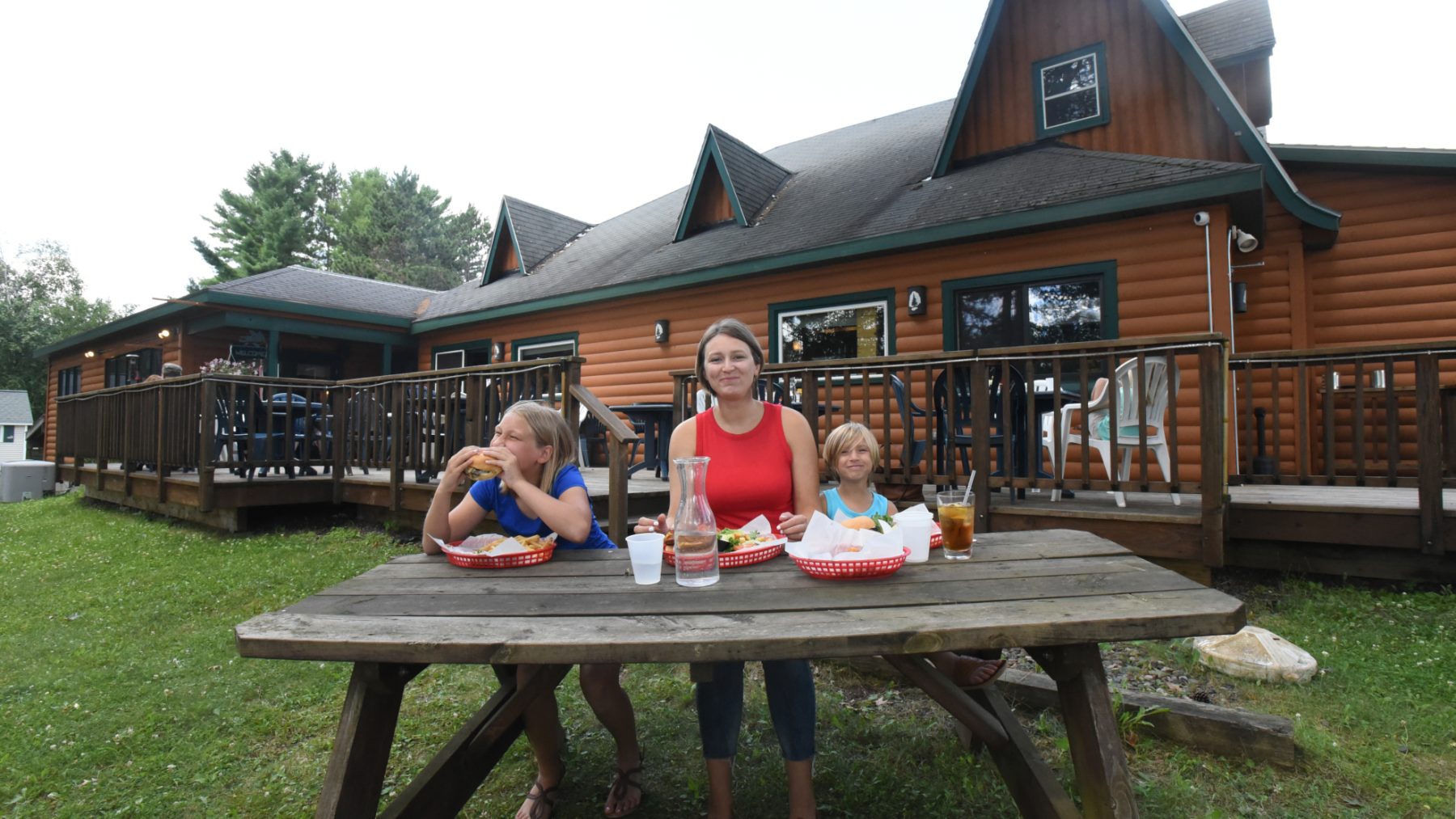 Amazing spots for outdoor dining & drinks in Wisconsin
Everything tastes better when it's savored outside on a warm Wisconsin summer day. The patio umbrellas are up, and restaurants and bars across the state have delicious food and thirst-quenching beverages waiting for you. Here's where to place your order and enjoy the outdoors.
Boulder Junction in northern Wisconsin is home to wild lakes, towering pines, and some great outdoor dining options. Headwaters Restaurant & Tavern, which was established in 1926, is a Northwoods institution that overlooks the Manitowish River on County Highway M just south of downtown. Headwaters offers a casual, family-friendly atmosphere, scenic outdoor seating, and favorites like pan-fried walleye, lobster mac 'n cheese, and cooked-to-order steaks, as well as classic cocktail offerings and live music throughout the summer months.
This waterfront bar, restaurant, and live music venue sits on the shores of Lake Michigan in Manitowoc and is home to a massive 4,000-square-foot open-air patio (which even has a retractable roof system for inclement weather). The Wharf is open year-round for lunch and dinner and has live music several nights a week from May through September. The bar offers several signature cocktails, including lavender vodka lemonade and watermelon margaritas on tap.
Head to the Northwoods to find this popular European-style pub and restaurant in downtown Minocqua. Otto's offers nearly a dozen beers on tap in its large beer garden, as well as  tasty Sheboygan  bratwurst and other delicious German specialties. The beer garden also hosts live music throughout the summer.
In northern Door County, head to this Sister Bay beer garden for a relaxing experience that's hard to beat. Next to the iconic Al Johnson's Swedish Restaurant, you'll find a green space that's anchored by a large beer garden. Years ago, this was the site of an old grocery store—Al's purchased this prime piece of real estate and transformed it into an expansive beer garden that serves some simple but delicious food, beer and specialty cocktails. Enjoy an order of cheese curds, or if you're feeling Scandinavian, choose the Stockholm Cooler, made with Svedka Vodka, lemonade and a splash of lingonberry simple syrup garnished with a Swedish Fish. It's a refreshing way to toast the county's Scandinavian heritage!
In central Wisconsin, an old ice cream factory has been transformed into a fresh and stylish brewpub that wows customers with great food and beer. Marshfield's Blue Heron Brewpub has an expansive menu of appetizers, fresh soups and salads, sandwiches and wraps, pizza and hand-made desserts. If you're a beer lover, this place will not disappoint—they have a great selection of handcrafted varieties to sample. A sunny row of patio tables flanks the pub, offering diners a relaxing space to take in some fresh air while sipping some of the best beer in Marshfield.
Rhinelander in Oneida County is known as the home of the Hodag, a creature that supposedly roams the nearby Northwoods forests. While you might spot the Hodag out on the trails or lakes, finding a refreshing drink is a surer bet. Head to Backwaters Bar & Grill, which sits along the northern end of the Boom Lake chain offers outstanding views of the Wisconsin River. It's a popular destination for boaters (you can pull your watercraft right up to the dock to park) and offers a large outdoor seating area in the summer. Enjoy something from the grill or choose from a wide array of specialty cocktails and craft beer.