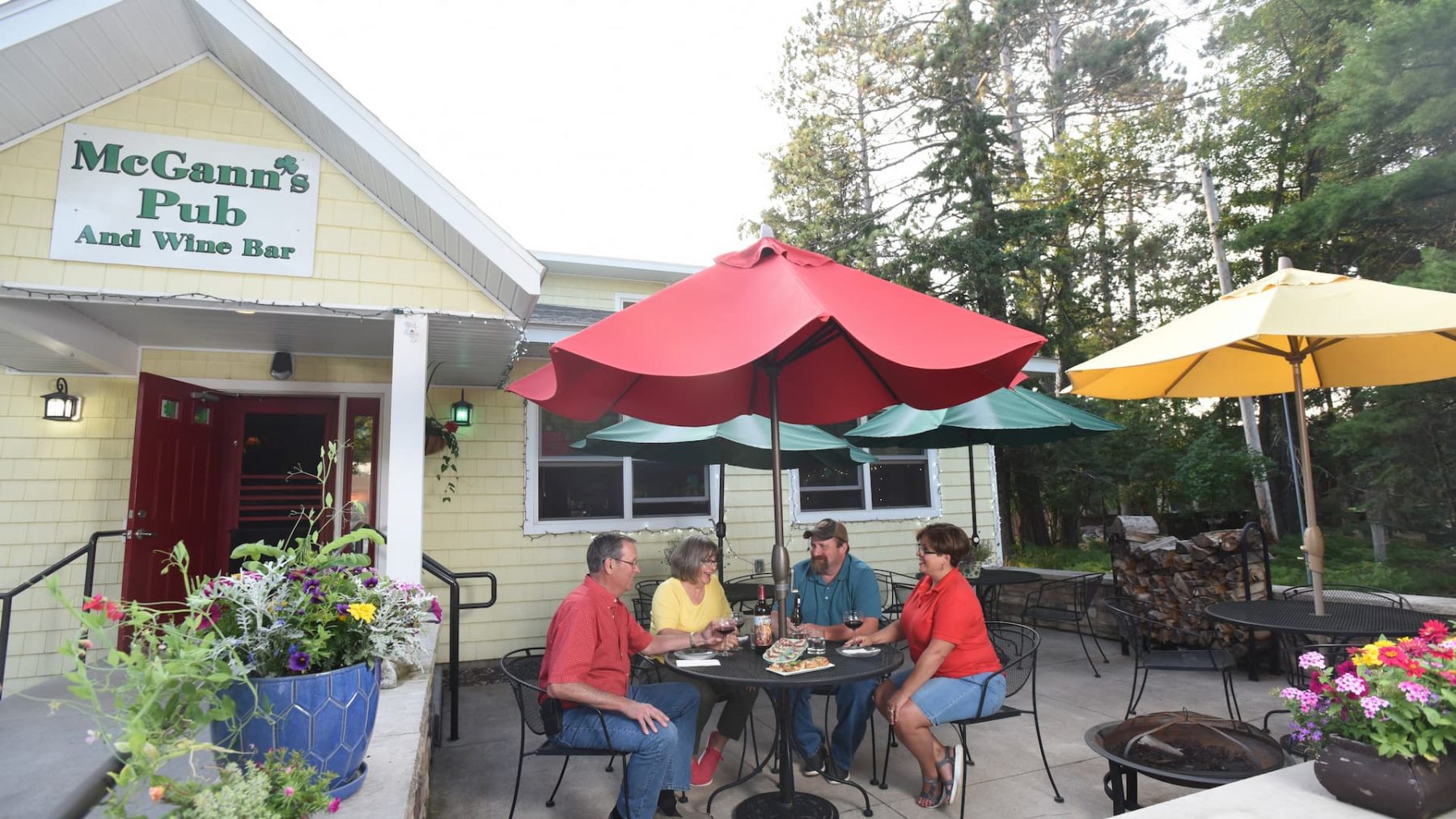 Summer sips: Enjoy refreshing drinks on these outdoor patios
Everything tastes better when it's savored outside on a warm Wisconsin summer day. The patio umbrellas are up, and restaurants and bars across the state have a beverage waiting for you. Pick your poison: order a handcrafted ale, a specialty cocktail or a glass of wine from a little vineyard that's turning out big Chardonnays. Here's where to place your order.
The Northern Highland-American Legion State Forest is home to wild lakes, towering pines and one wonderful wine bar. McGann's Pub & Wine Bar is located in downtown Boulder Junction, a community surrounded by this vast state forest. McGann's is the perfect place to reconnect with civilization after exploring the trails and lakes that draw people to this wonderful corner of northern Wisconsin. The wine bar serves appetizers and pizza that you can enjoy on a cute patio out front. Take time to explore the wine menu—there are carefully curated selections from Italy, Spain and Chile, as well as some excellent domestic vintages. Enjoy a glass as you plan your next hiking or boating adventure!
In northern Door County, head to this Sister Bay beer garden for a relaxing experience that's hard to beat. Next to the iconic Al Johnson's Swedish Restaurant, you'll find a green space that's anchored by a large beer garden. Years ago, this was the site of an old grocery store—Al's purchased this prime piece of real estate and transformed it into an expansive beer garden that serves some simple but delicious food, beer and specialty cocktails. Enjoy an order of cheese curds, or if you're feeling Scandinavian, choose the Stockholm Cooler, made with Svedka Vodka, lemonade and a splash of lingonberry simple syrup garnished with a Swedish Fish. It's a refreshing way to toast the county's Scandinavian heritage!
In central Wisconsin, an old ice cream factory has been transformed into a fresh and stylish brewpub that wows customers with great food and beer. Marshfield's Blue Heron Brewpub has an expansive menu of appetizers, fresh soups and salads, sandwiches and wraps, pizza and hand-made desserts. If you're a beer lover, this place will not disappoint—they have a great selection of handcrafted varieties to sample. A sunny row of patio tables flanks the pub, offering diners a relaxing space to take in some fresh air while sipping some of the best beer in Marshfield.
Rhinelander is known as the home of the Hodag, a creature that supposedly roams the nearby Northwoods forests. While you might spot the Hodag out on the trails or lakes, finding a refreshing drink is a surer bet. Head downtown to CT's Deli for a hidden patio that's worth seeking out. CT's is famous for its carefully crafted soups and sandwiches, so you should plan to order food. But also be sure to take time to have a beverage or two on the patio—CT's has a full selection of craft beers, wine, and liquor. Feel free to bring your dog along; the patio is dog-friendly and there's even water for your pooch.